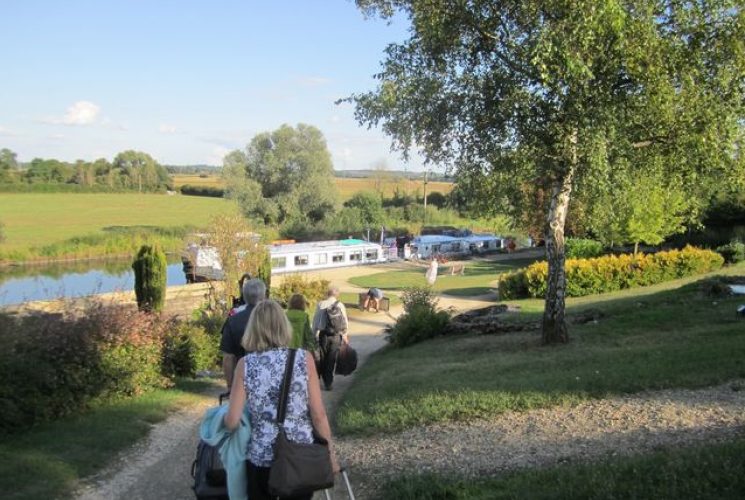 Boat and Bike in France
Would you like a active holiday then book the summer tour France The Loire Valley. The barge Anna Maria IV sails in France during the summer.
The Barge Anna Maria IV was built in 1988. A former cargo ship, nowadays a passenger barge with an old-fashioned Dutch interior.
Facilities: The barge is equipped with all the necessary requirements so that you can enjoy an unforgettable holiday! Read the description for the summer tour in France: Loire Valley Price E 895,- p.p.
Bike & Barge tour
The area of the Valley of the Loire between the cities of Nevers and Montargis in France is a very suitable region for a relaxing bike & barge holiday.
This area, approximately 100 kilometers in length, offers a landscape with slightly rolling hills and a mild climate. During the summer it is dry but never too warm. The Loire Valley region also knows a rich history and culture. The many impressive castles and small villages make this cycling holiday a unique experience. Of course you will get a taste of the fine Loire wines during this holiday! A professional tourguide is always present during your bike & barge tour in France. In Holland this is optional.
When you choose the tour in France a coach will pick you up from Paris v.v.
You cycle on comfortable bikes with 21 gears. The bikes are checked on a weekly basis so that you can safely discover the country by bike!
Bike & Barge tours are inclusive tours with an extended breakfast buffet, a self service luncheon (including a snack, fruit and soda) and a 3 course dinner.
Coffee/tea and biscuits are served when you return on board in the afternoon.
Bedlinnen and a towels are provided. You'll receive a clean set of towels during your trip.
Of course we clean and tidy up your room on a daily basis. You simply have to enjoy your holiday to the fullest!
Cabins.
The barge has 10 cabins (mostly bunk beds). Seven rooms have a private shower & toilet. Three of the ten rooms are equipped with a twin bed (with on top an extra third bunk bed). Of course small steps are available in every cabin to make the climbing into your bed a bit easier.
All rooms have a separate washing sink as well as central heating. Finally the warm wooden interior and a big cabin window (uncommon for most barges!) gives your cabin the final touch.
The Anna Maria IV has two general toilets and six of the ten sleeping cabins have their own private toilet.
In the small but practically equipped kitchen we prepare a nice variety of delicious treats for you.
The dining room can seat a between 22 - 28 people.
A comfortable little rest area is also present here as well as a small bar.
The small front-deck, the perfect place to have a quiet coffee in the morning; to enjoy in peace a romantic sunrise / sunset.
The upper sun-deck is the perfect place to relax and sunbathe when our barge is not moving.
The middle deck is the perfect place to read your favorite book in the shadow, to have a drink with your fellow travelers.
Charter price p.w.: €0,-
on request