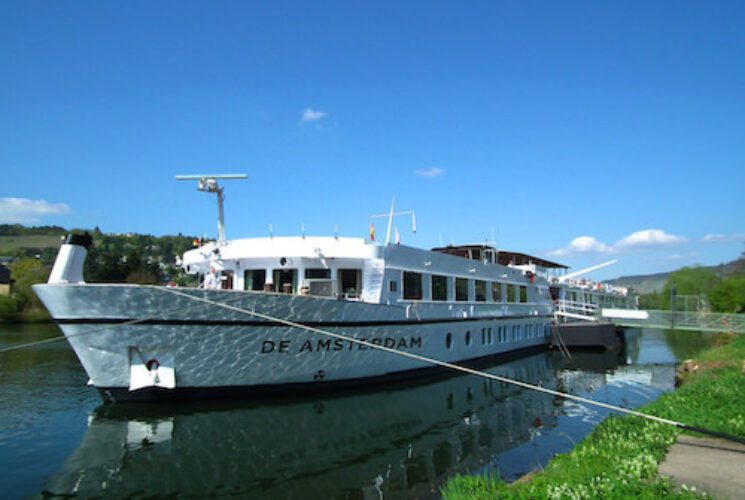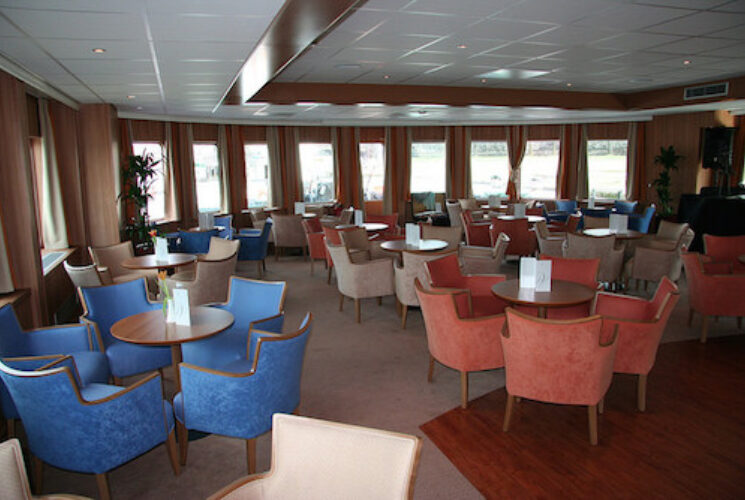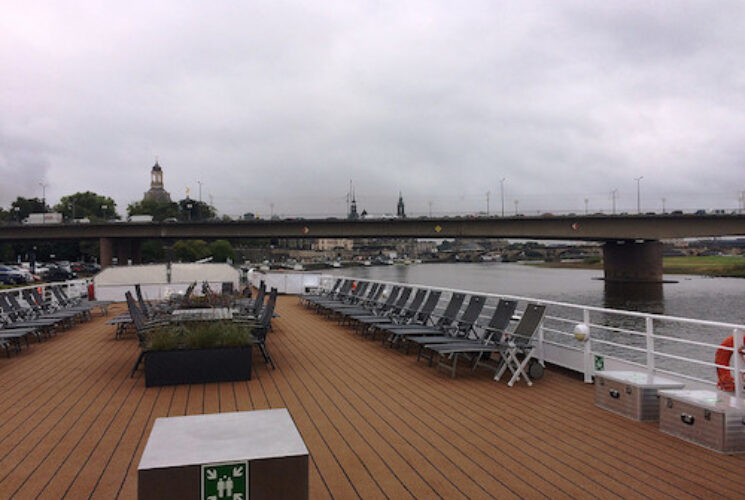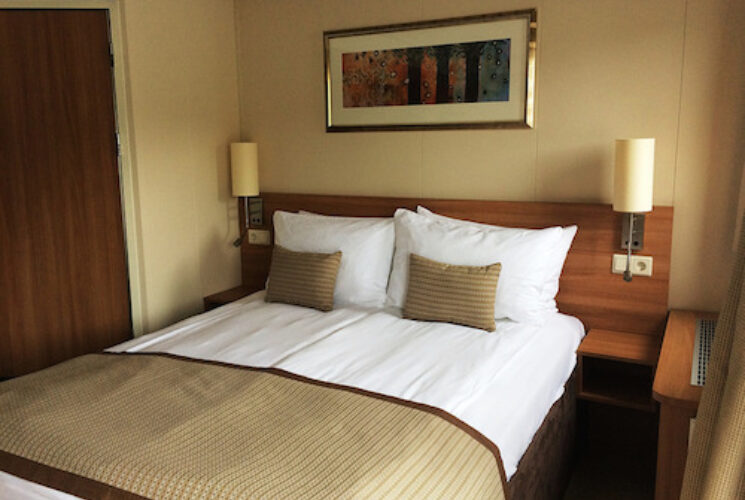 De Amsterdam
De Amsterdam is a 311 ft. long and 36 ft. wide, very well equipped river cruise ship. The vessel has 56 cabins for maximal 112 passengers. All of these cabins have a window, giving you a different view every day (outside cabins).
Lower deck cabins
The lower deck offers space to 10 twin cabins and 20 superior twin cabins (approx. 135 sq.ft.). All of these have an individual climate control system, digital TV, wardrobe, mini-safe, hair dryer, 230V and 115V sockets, 2 separate single beds (78 x 31 inches) and a private bathroom with shower, toilet, basin and bath products. All twin cabins have a large picture window (4.59 ft. x 2.95 ft.) that can be partly opened. The difference between twin and superior twin cabins on the lower deck is their location in relation to the engine room, stairs and salon.
Upper deck cabins
The upper deck has 18 superior twin cabins (identical to the ones on the lower deck) and 8 spacious suites. The suites (approx. 200 sq. ft.) have the same amenities as the superior twin cabins, but are larger and – in addition – also have a mini-bar and a French balcony (floor-to-ceiling sliding glass doors) instead of a window. The beds in all suites are set as a double bed (78 x 62 inches) and can (on request) be set as two separate single beds (78 x 31 inches).
Restaurant and lounge
De Amsterdam has a spacious restaurant on the lower deck. In the morning you can come to power for a healthy cycling day at the oval buffet in the middle. The pleasant lounge on the upper deck has large windows around, which offers you a great view of the surroundings. There is also a bar with a dance floor, so the evenings can certainly become fun! In the lounge there is Wi-Fi available for guests; complimentary limited data packages included, but additional data packages can be purchased online.
Outside
On the partially roofed sun deck the chairs and sun loungers invite you for a stay on a sunny day.
Bicycles will be stored on a separate part of the sun deck.
Please note
Inside areas of De Amsterdam are non-smoking areas. The sun deck has a smoking area.
Onboard languages are English and German. There is an international crew.
BICYCLES:
The bicycles on board are unisex touring bikes of the brand Gazelle Chamonix with lightweight frames and normal mount (ladies model), with easy-to handle Shimano 7 gears, hand brakes, gel-saddle (height adjustable), a lock on the frame and pannier bag. All bikes have 28 inch wheels. Some smaller frames are available on board for smaller persons. For large gentlemen (from 1.90 m and above) we have a few traditional men's models (with a horizontal bar) available. There are a few 7-gear bicycle with hand brake & hub brake on request available.
There are also a few e-bike available (on request and at an additional charge). The ebike is a Trenergy E-Relax Pro with Nexus 7 gears, 3 support levels and hand breaks only (or a comparable brand/model).
Prices of other bikes (e.g. E-Bikes or electrical bikes (limited stock, pending availability), children's bikes, "slip streamers", tandem bicycles, child trailer etc. and child's saddles (rear) are on request. Guests are also allowed to bring their own bicycles (at no additional fee). However, the crew or tour operators are in no way responsible for any damage, loss or theft of guests own bicycles.
In the Netherlands bikers are not obligated by law to wear a bike helmet. Please bring your own – good fitting – bike helmet. There are some helmets available on board, which can be rented for €10 per piece. (please pre-book).

CYCLING TOURS IN HOLLAND: THE "CYCLE JUNCTION NETWORK"
Throughout the Netherlands there is a network of interconnecting cycle routes, with a total length of more than 4,500 km, called the 'Cycle junction network' (Dutch: fietsknooppunten netwerk). A cycle junction is a numbered intersection that is part of a regional cycle route network. Each junction is provided with a number and an information panel. The distance to the next junction is displayed on this panel. The routes between two junctions are signposted in two directions with white and green signs (see picture). On the information panel you can orientate where you are and decide to extend or shorten the route to your destination. We use the cycle junction network in the description of the daily bike tours in the Netherlands and Flanders. The junctions are marked on the maps our guests use for the daily bike tours. The tour guide on board will explain to our guests how this easy system works. He/she will tell you the daily highlights and the detours which are worthwhile as well. On our website we show in a short video how this cycle junction network works.
Technical Details:
Year Built: 1991
last Refurbished: 2017
Registry/flag: German
Length: 94.80 m (311 ft.)
Width: 11,00 m (36 ft.)
Passenger Capacity: 112
Cabins: 56
Number of Crew: 21.
Currency on Board: Euro
accepted cards: Visa, Eurocard, MasterCard (only with PIN).
Charter price p.w.: €0,-
2020