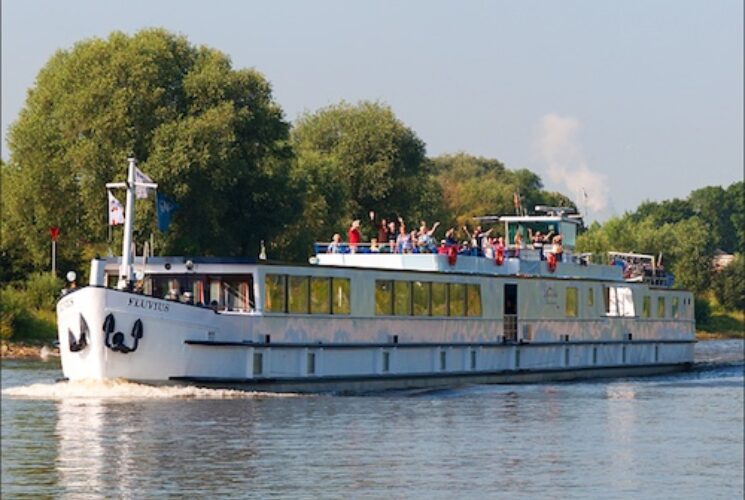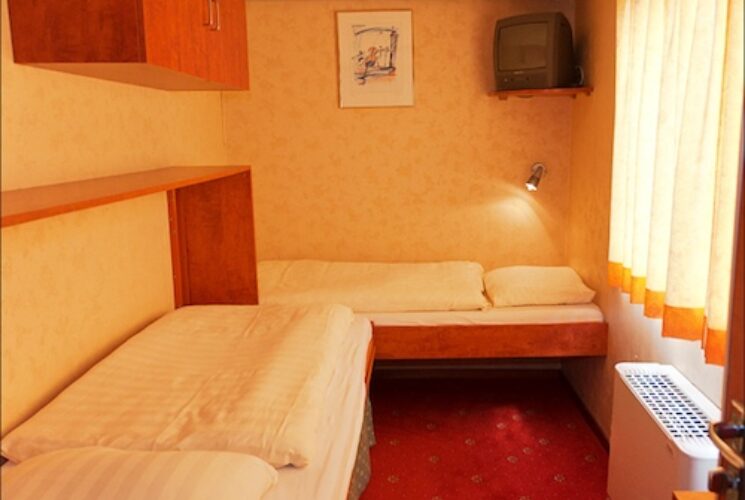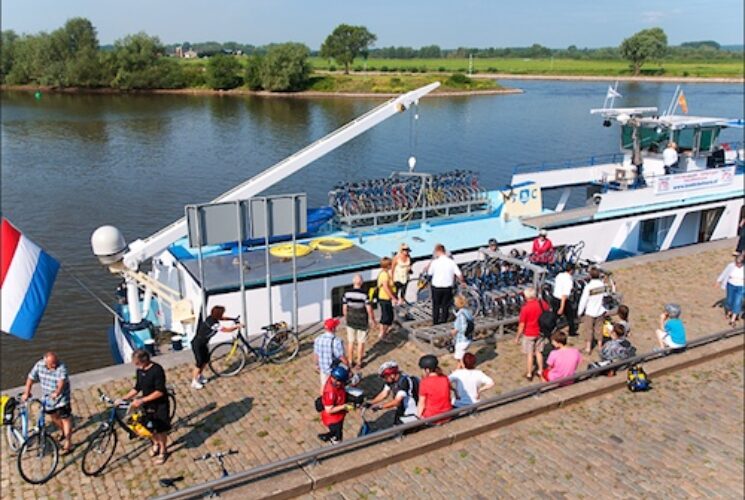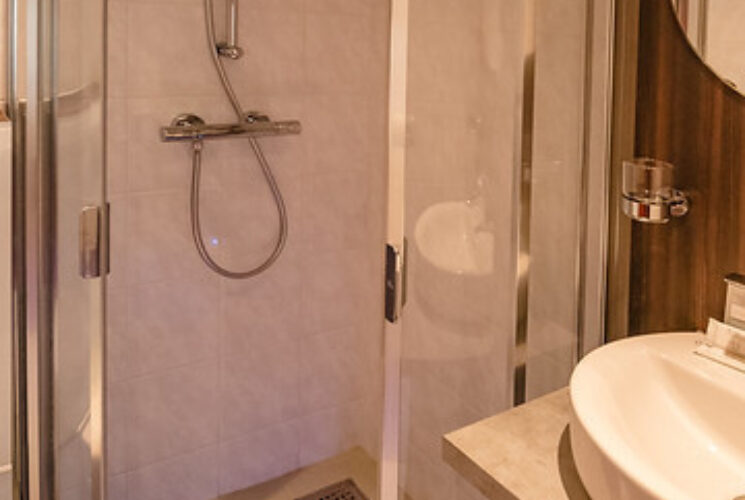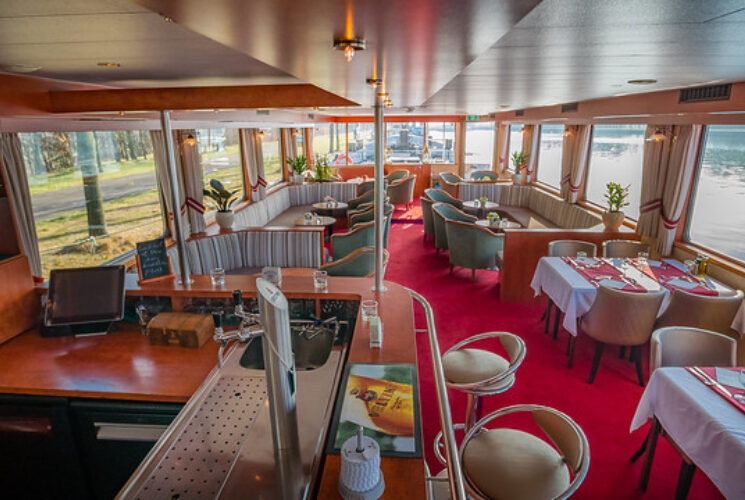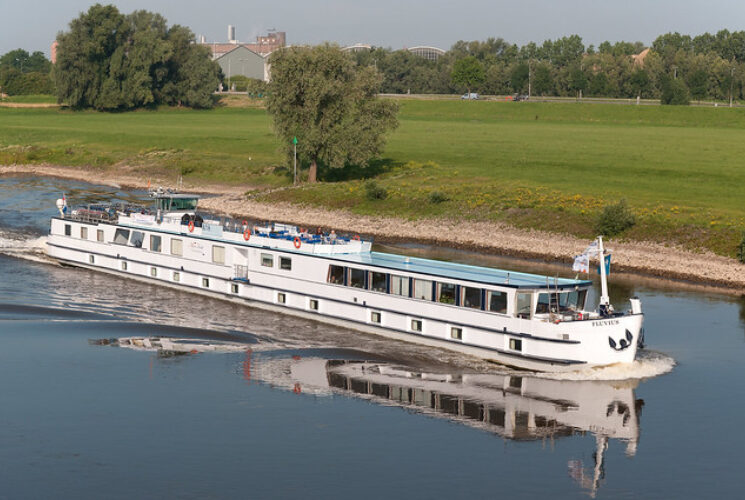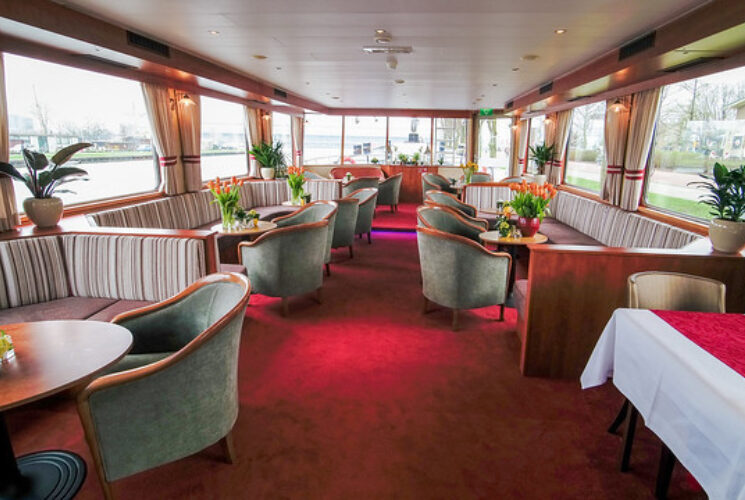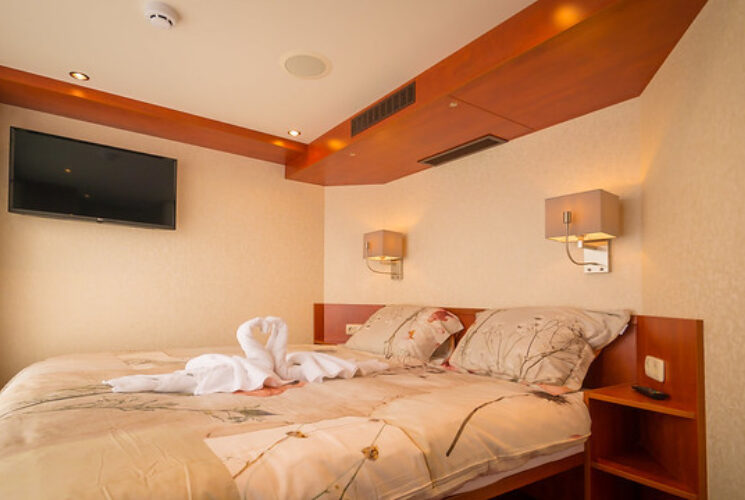 Boat and Bike tour
On ship Fluvius you will enjoy a boat and bike tour during an eight day trip.
The Fluvius has been a popular choice for guests for a number of years now on the cycling cruises between Amsterdam and Bruges. The former cargo barge was totally rebuilt and extended in 2003 into a luxury river cruise barge. In winter 2017-2018, four additional upper deck double cabins were realized. The Fluvius sails under Dutch flag and management. The Fluvius now caters for max. 44 passengers.

Description of the cabins
The Fluvius has eighteen twin cabins and four double cabins. On the upper deck, there are three standard twin cabins (11 m² – 118 sq.ft. ) with two separate single beds and four double cabins (12 m² – 129 sq.ft. ) with a double bed (140 x 200 cm) and a large panoramic window. On the lower deck you will find fourteen standard twin cabins (11 m² – 118 sq.ft.) and one smaller twin cabin (10 m² – 108 sq.ft.), all of which have two separate single beds. On prior request, a child's cot can be placed in two of the standard twin cabins
Each cabin has an en-suite bathroom with shower, toilet and basin. All twin cabins have a fixed window, the panoramic window in the double cabins can be opened. Each cabin has an individually adjustable air-conditioning unit, a ventilation system, a flatscreen TV and a hair dryer.
Description of the ship
The Fluvius has a large lounge (air-conditioned) with TV, bar and a semi-separate restaurant area. Wi-Fi is available. The barge also has a large sun deck with sitting places (tables and chairs) and a storage room for the bikes. While cruising, you can enjoy the scenery from here.
Bicycles The bicycles on board are mostly unisex touring or trekking bikes with light-weight frames and normal mount (ladies model), with 7 gears, hand brake & hub brake and pannier bag. Prices of other bikes (e.g. E-Bikes, children's bikes etc.) are on request. Guests are also allowed to bring their own bicycles (at no extra cost). In the early and late season we offer journeys through The Netherland and Germany.
Bike and Boat on Fluvius
From Amsterdam to Bruges and v.v.
During this tour some of the most beautiful cities of Holland and Flanders are highlighted: Amsterdam, Antwerp, Ghent and Bruges, where you still can feel the charm of the days long gone.
Technical information:
Length: 69.90 m
Width: 5.40 m
Heigth: 4 m
Depth: 1 m
All twin cabins have 2 low separate single beds, the 4 new cabins have a 140x200 cm double bed
All cabins have
an air-conditioning unit that is individually adjustable
a ventilation system and a window (windows in twin cabins are fixed)
and en-suite bathroom with shower/toilet and hairdryer
Charter price p.w.: €0,-
2020