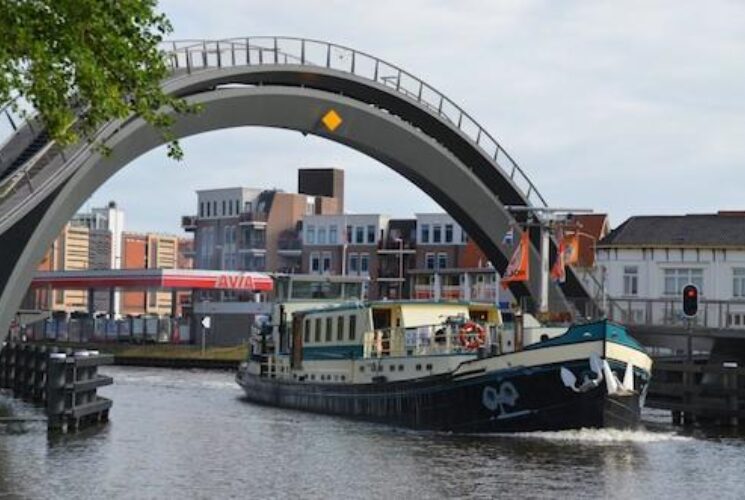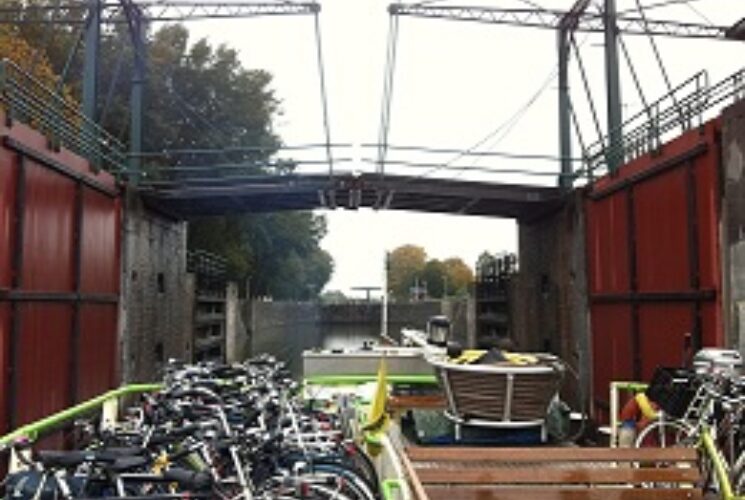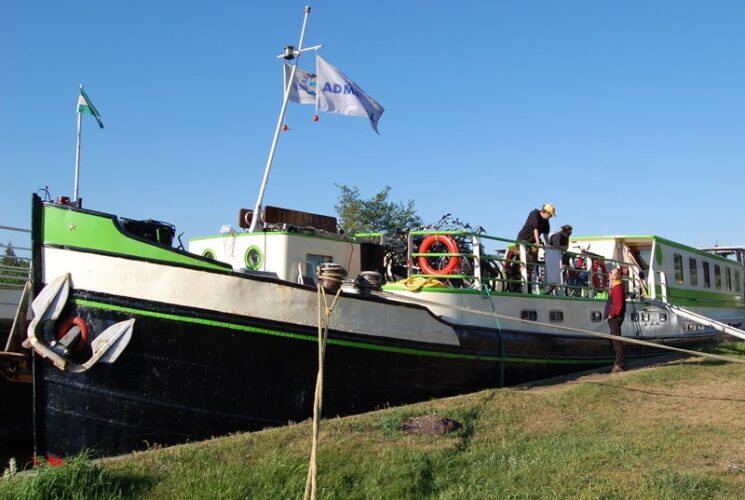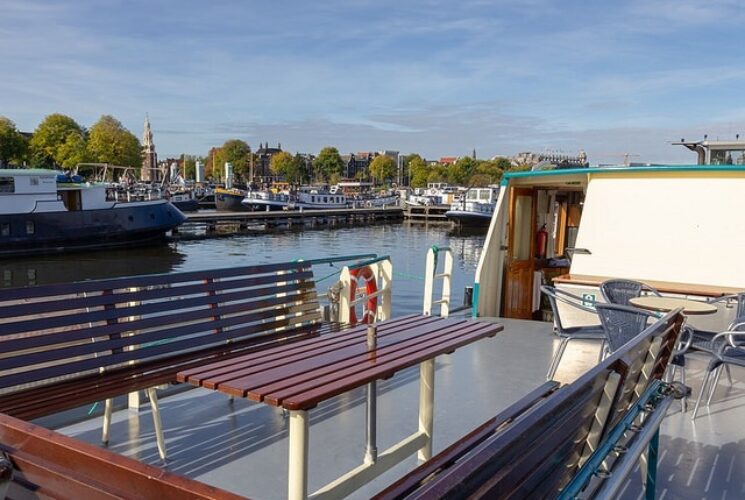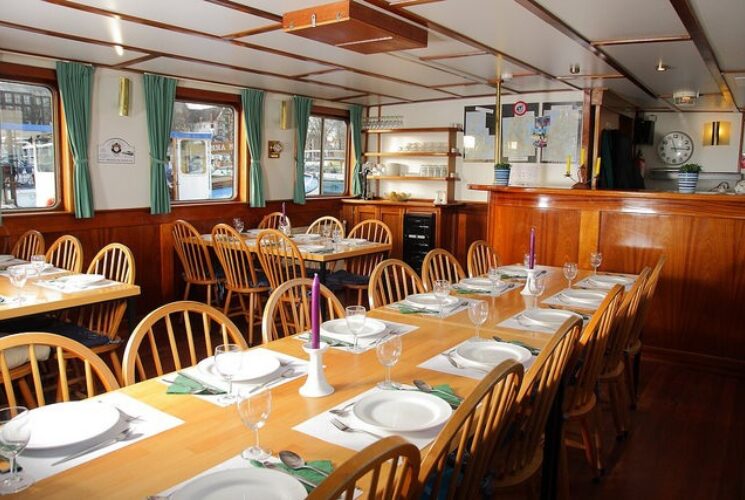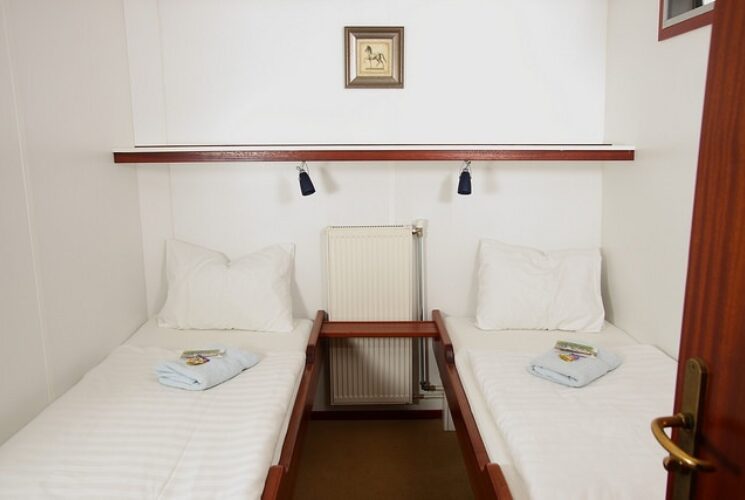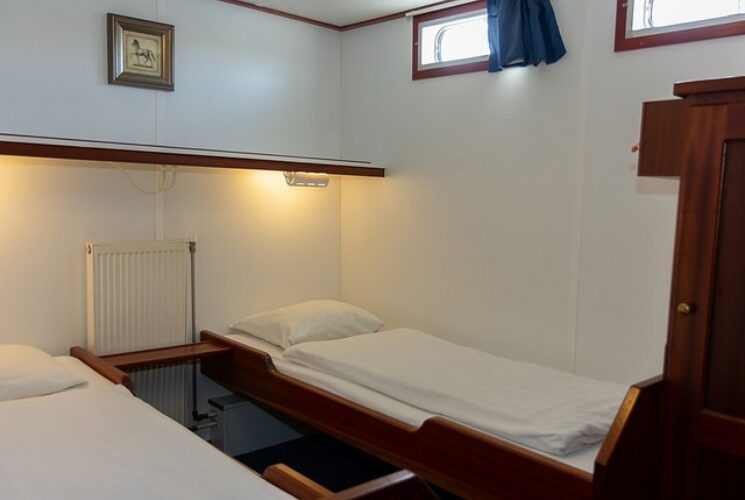 Barge charter Flora
(formerly Jelmar)
The Flora (formerly: Jelmar) is a small, cozy and comfortable passenger barge, which has successfully been sailing the Green Heart of Holland tour for several years now. The ship was renovated in 2007 and is now owned by Berthus van den Berg and Jonne Muller. The Flora is a very popular small river barge for boat and bike tours.The life on board is intimate and you and your fellow passengers will soon get to know each other well.

Description of the cabins
The Flora has ten twin cabins (8 m² – 86 sq.ft.) with two separate single beds. In two of the cabins a bunk bed for children up to age 12 (weighing no more than 40 kg) is available upon request. Each cabin has a private shower, toilet and basin. The small windows in the cabins can be opened and the cabins have central heating. A hairdryer is available upon request.
Bike and Barge Tours Holland
Bike and Barge Tours Holland; enjoy your cycling tour by day, and spend your nights aboard a comfortable barge. Almost 35.000 kilometres of cycle paths make cycling in Holland a great way to travel. You can rent a bike or bring your own! Across the Green Hart of Holland
This new route, which has only just been added to 2015's program, will take you over quiet cycle paths through green countryside with lots of water to attractive cultural cities full of history. You will sail from Amsterdam to the Zaanse Schans, a unique village with a collection of wooden houses, windmills and shops, and from there you will cycle to the beautiful town centre of Haarlem with all its wonderful little courtyards. A stunning route along the North Sea coast will take you to the university cities Leiden and Delft, where you can admire the world-famous Delft Blue. After that you will enjoy a very interesting sailing trip via the world-famous port of Rotterdam to Kinderdijk with its 19 windmills in a row. From there you will cross through the Green Hart of the province Zuid-Holland to cheese town Gouda and the small village of Kudelstraat. Early birds can visit the largest flower market in the world on Friday mornings in Aalsmeer. Will you mount your bicycle one last time for a bike tour back to Amsterdam or will you choose to sail back to the capital of the Netherlands?
Tulip Tour in the Netherlands
Day 1. cycle trip ± 10 km. After the embarkation in Amsterdam, you'll be sailing to Spaarndam, the picturesque village of Hans Brinker. From here there is a short cycling trip to Haarlem. In the evening you your tour leader takes for a nice city walk through the old centre.
Day 2. cycle trip ± 15 km Today you sail to Lisse here you disembark and cycle to the famous flower garden 'Keukenhof' for a visit. Here you see about 6 million tulips, hyacinths, daffodils and other flowers. After your visit, the cycle tour crosses the blossoming bulb fields and ends in Leiden.
Day 3. cycle trip ± 30 km In the morning you will make a walkingtour through Leiden, the birthplace of Rembrandt. Later you will cycle through the fine Dutch landscapes in the so-called Green Heart of Holland to Kudelstaart. During this cycle trip you will visit a traditional cheese farm and a miller will tell you about the history and working of his windmill.
Day 4. cycle trip ± 15 km You rise early, because you visit the world's biggest flower auction in Aalsmeer. Before leaving the barge you have to clear your cabin. After the visit you get back on board and sail back to Amsterdam. On request The Flora is sailing in North and South Holland.
On the lower deck of the approx. 40 meters (123 ft) long Flora, a maximum of 20-22 passengers can be accommodated.
The vessel has 10 small sleeping cabins with 2 low single beds each. Each cabin has en-suite, private facilities (shower + toilet) in a small bath room, a small sink, and (at least) one small window ("bull eye").
On the main deck there is a spacious salon (sitting / dining) in nautical atmosphere with large windows, dining tables + chairs and a small bar, as well as the sun deck.
Charter price p.w.: €0,-
2020