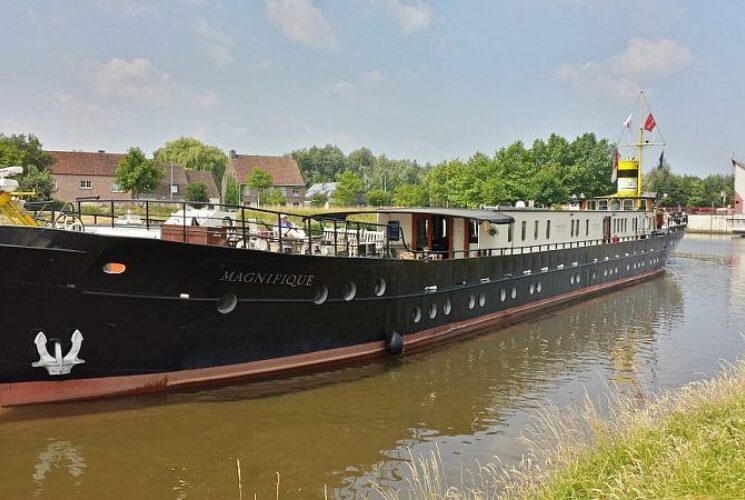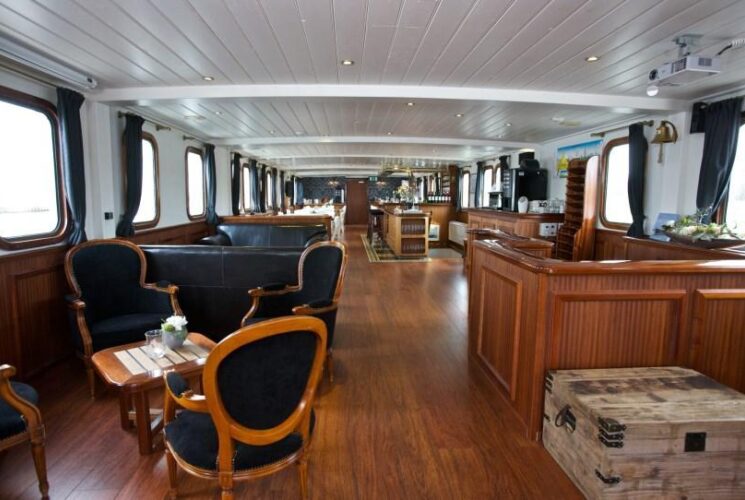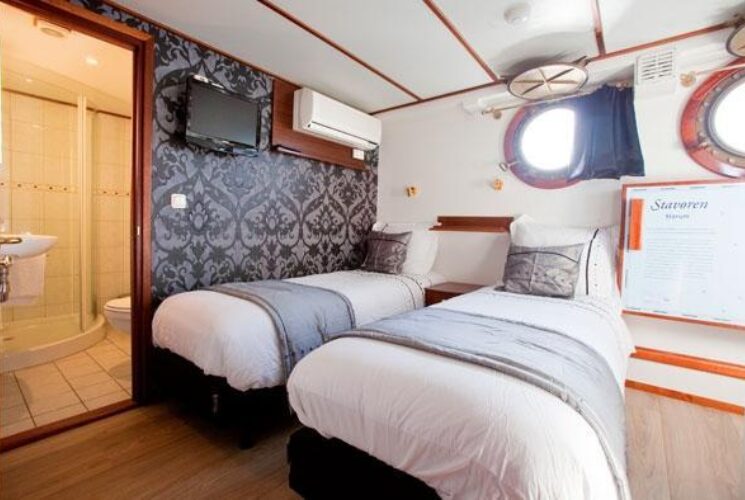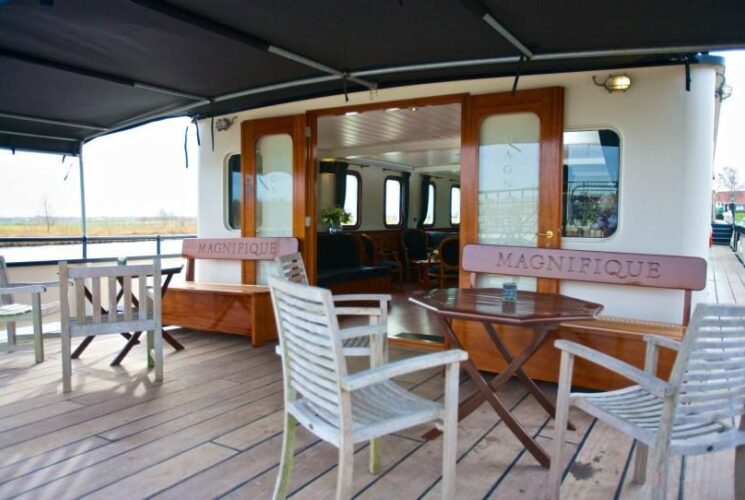 Boat and Bike tours with barge Princesse Royal
Magnifique with her new name Princesse Royal is one of the most luxurious 5 star cruise ships on the Dutch and Belgian waterways. You can enjoy a wonderful sailing holiday with the potential to explore the landscape by bike.
The premium barge is 63 meters long, accommodates 30 guests, sails under the Dutch flag and management and was completely modernized in 2010 and extended by 14 meters during the winter of 2012/13.

The lower deck has 15 cabins: 11 twin cabins (approx. 11 M², 2 single beds next to each other), and 4 premium twins (approx. 14 M², 2 single beds next to each other, small sitting area).
All cabins have portholes (portholes are fixed for safety reasons), en-suite bathroom with shower and toilet, individually regulated air conditioning, flat screen (satellite) TV, a small safe and a hair dryer. On request, an additional bed is available in some twin cabins (above one of the other beds).
On the upper deck there is a tastefully furnished salon with restaurant, bar, lounge area with wide screen TV, large windows, Wi-Fi (with unlimited data use). Two partly covered teak wooden sun decks with chairs and tables and cycle shed (front deck), and with a whirlpool/Jacuzzi and barbecue on the aft deck.
Tours, daytrips weddings and more
Daytrips The Magnifique, with her impressive 150 feet length (49m) is also available for day voyages with capacity of up to 75 guests. The comfortable and luxurious decor, combined with the spacious and assorted sections make the ship an ideal setting for corporate teambuilding trips, events or days out. Access to the sun deck with its jacuzzi and sun loungers, the terrace with ample seating and the Saloon where delicious meals can be enjoyed, mean the possibilities are endless. Weddings, anniversaries and other parties can be celebrated onboard. We endeavour to ensure that all your party requirements are met to make your party an unforgettable occasion for all.
Packages There are several tours offered during the months April to November. The sailing programme and catering are some of the features which can be tailor made to suit your needs.
Hotelboat The ship's cabins enjoy the high standards expected of a luxury hotel room, allowing the ship to double as hotel accommodation. The obvious advantage of a floating hotel is that the accommodation is able to move from place to place according to your wishes. A sailing trip or overnight stay on the ship provides an alternative venue for company outings, residential training courses and seminars. Contact us to discuss your custom made programme for your stay on board. We aim to ensure an inspirational and unforgettable experience is had by all.
There's no better place to blow away the cobwebs than out on the open sea! There are numerous programme options to consider. Among them a visit to the Zuiderzee museum in Enkhiuzen, mooring in a beautiful Frisian city, a visit to the Kuekenhof tulip fields in Lisse to name but a few. It is also possible to invite your relatives on board the Magnifique during one of the main sailing events such as, the Sail Amsterdam, Delfsail, Frisian Skutsjesilen and the German Kielerwoche. For consecutive sailing days you can of course make use of the excellent overnight accommodation onboard. If you have something to celebrate, we have a selection of packages on offer. How about celebrating your anniversary in a unique and original way aboard a cruise ship with catering and musical entertainment provided?
Wedding The IJsselmeer cities with their 17th century town halls provide a unique setting for weddings. Our ship can be used for a wedding reception or bridal party. Your wish is our command. We guarantee you a first class service, from booking a museum right through to the culinary service onboard.
The ships upper deck is spaciously laid out. The metre high railing and wide walkways along the expansive upper deck make the ship extremely child friendly and easily accessible to wheelchair users. The bar, the seating areas and the restaurant are glazed on all sides giving a unrestricted sea view.
Saloon
The saloon has a restaurant, a bar and a lounge characterised by a luxurious interior and a flexible layout. The saloon can easily be rearranged to suit the guests' wishes. Plenty of seating, a roomy dance floor, buffet space, and room for presentations or training, all add up to a wide range of possible uses for the saloon.
Restaurant
The restaurant has a seating capacity for 32 diners. There are a total of four six seater tables and one eight seater table. All of the tables are removable to provide one large space for buffet tables, parties or a dance floor.
Bar
The bar is located between the lounge and the restaurant. The bar is equipped with draught beer, an ice maker, hi-fi, glass washer and two coolers. The lounge is furnished with comfortable couches and chairs where a relaxing drink and snack can be enjoyed. Furthermore, a flat screen television is available. Leading from the lounge is the entrance to the lower deck and the terrace.
Deck
Open viewing deck – Sundeck
The viewing deck is a rear wooden deck with a Jacuzzi, sun loungers and beanbags.
Front deck - Terrace
The front deck is laid out as a terrace to take advantage of the beautiful scenic views and the rest of the ship. There are plenty of tables and chairs on which to have breakfast, lunch and dinner al fresco. Parasols are available and the option of a gazebo can be used to provide cover over a section of the front deck allowing the front deck to be made use of in all weathers.
Interior
In each of the ship's twelve cabins, there are two single beds which can easily be transformed into a double bed. There is a comfortable private bathroom equipped with a shower, wash hand basin and WC. .
Cabins
11 twin cabins (approx. 11 m², 2 single beds next to each
other)
4 premium twins (approx. 14 m², 2 single beds next to each other, small sitting area)
1 single cabin (approx. 8 m²)
Bathroom with shower, wash hand basin and WC.
Bed-side table
Wardrobe
Air-conditioning (hot + cold)
Flat screen television with digital reception and international channels
Bed linen and quilts
Small chair
Facilities
Bed linen and towels included
Fridge and freezer (50 litre capacity)
Oven and Microwave
Gas hob, combi steamer and coffee machine
Washing machine and tumble dryer
220 and 380 Volts B
Barbeque
Draught beer, radio, MP3 player, CD, TV, DVD
Air-conditioning in all rooms
Children's life jackets
Board games
Jacuzzi, sun lougers and beanbags
Fully appointed terrace
English, Dutch, German, and Frisian speaking crew.
Charter price p.w.: €0,-
Auf anfrage