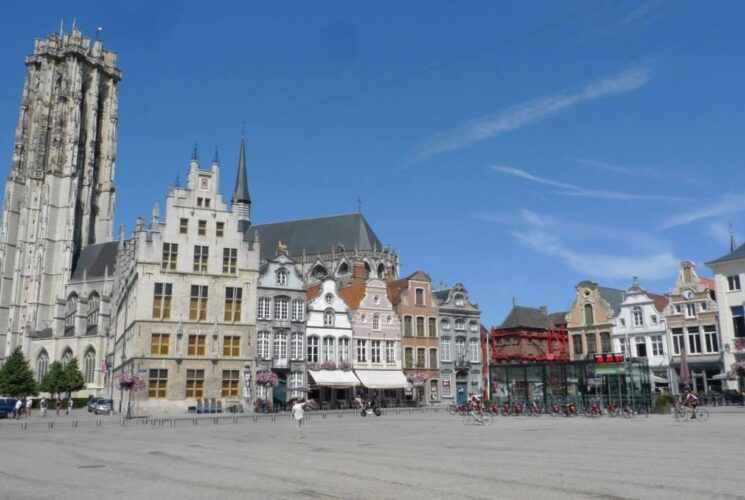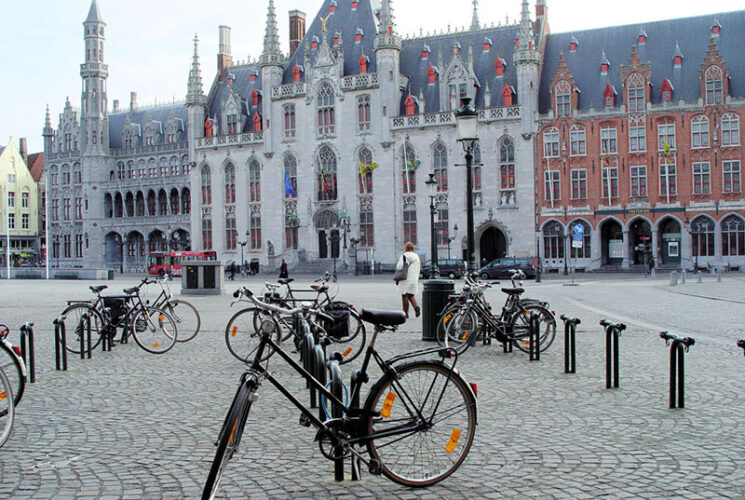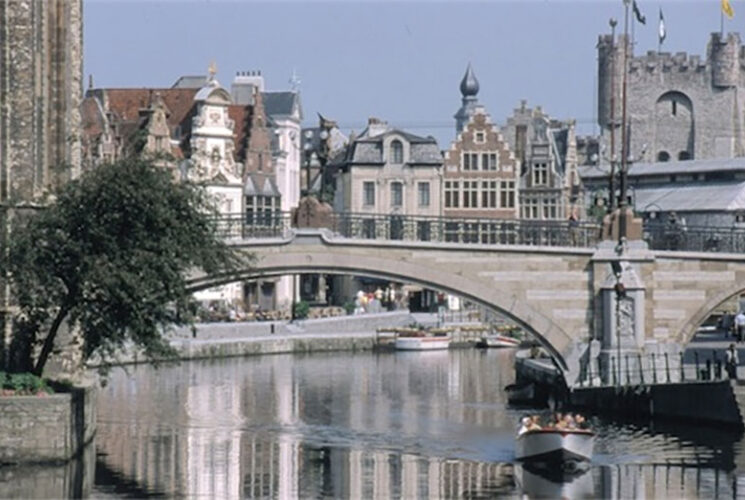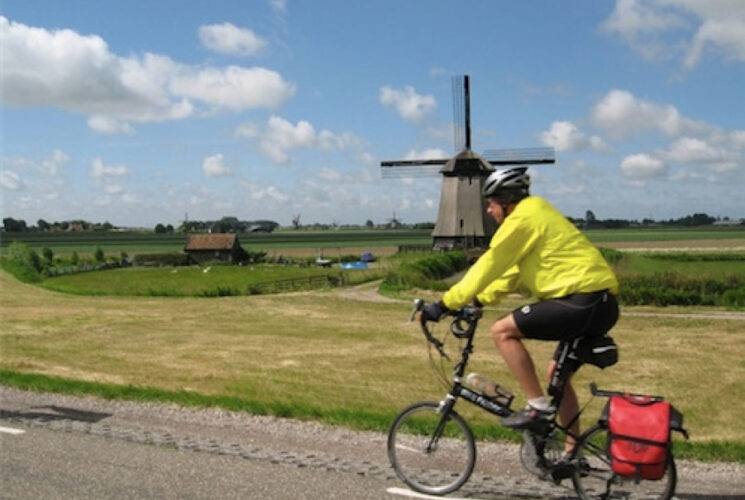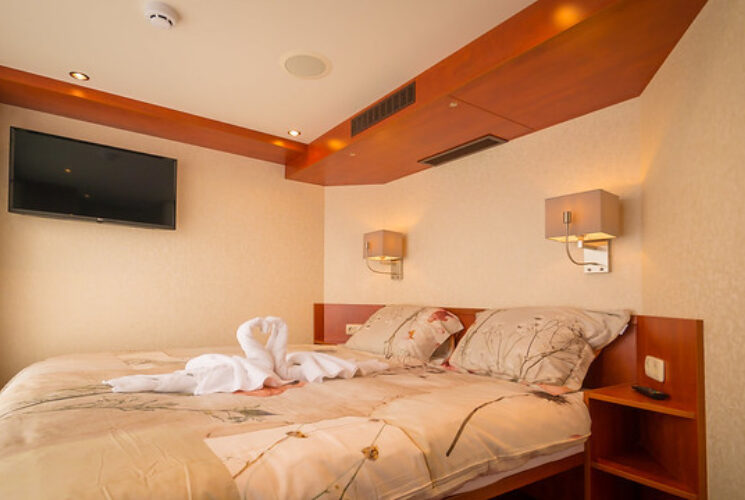 Bike and Barge Amsterdam Bruges
Barge Fluvius
The Amsterdam to Bruges bike and barge cycle tour is an exciting and diverse holiday experience that highlights some of the most beautiful cities of Holland and Belgium. On a daily basis you will cycle through a variety of flat landscapes through charming villages and historic cities while cruising along the impressive waterways of Zeeland, the River Schelde and the picturesque Vecht and Lek Rivers. The tour is perfect for families who want to cycle together and enjoy barge life or, for that matter, anyone wanting to enjoy a delightful week of cycling to a long list of historic destinations.

The picturesque Vecht, charming villages and the Dutch windmills in Kinderdijk – Amsterdam to Bruges
During the course of the 8 day, 7 night tour you will visit the world famous cities of Amsterdam, Utrecht, Antwerp, Ghent and Bruges – each in their own right are destinations of significance with a long list of sights and attractions to discover. Along the way you will cycle through the beautiful Dutch landscape of Zeeland, will visit a real Dutch cheese farm and 19 Dutch windmills in Kinderdijk and will discover the western Flanders region of Belgium. The province of Zeeland is essentially one big river delta of the Rhine, Meuse and Scheldt Rivers famous for its fantastic beaches, water sport activities and Delta works, while the Flanders region of Belgium boasts a number of world famous medieval towns and has a well-deserved reputation for superb food and drink. As well as cycling through many picturesque villages each day, you will:
Have the opportunity to discover Amsterdam
Visit Antwerp, a city famous for its vibrant nightlife
Get the opportunity to explore Ghent
Discover the UNESCO World Heritage-listed historical center of Bruges
Description of the cabins
The Fluvius has eighteen twin cabins and four double cabins. On the upper deck, there are three standard twin cabins (11 m² – 118 sq.ft. ) with two separate single beds and four double cabins (12 m² – 129 sq.ft. ) with a double bed (140 x 200 cm) and a large panoramic window. On the lower deck you will find fourteen standard twin cabins (11 m² – 118 sq.ft.) and one smaller twin cabin (10 m² – 108 sq.ft.), all of which have two separate single beds. On prior request, a child's cot can be placed in two of the standard twin cabins
Each cabin has an en-suite bathroom with shower, toilet and basin. All twin cabins have a fixed window, the panoramic window in the double cabins can be opened. Each cabin has an individually adjustable air-conditioning unit, a ventilation system, a flatscreen TV and a hair dryer.
Description of the ship
The Fluvius has a large lounge (air-conditioned) with TV, bar and a semi-separate restaurant area. Wi-Fi is available. The barge also has a large sun deck with sitting places (tables and chairs) and a storage room for the bikes. While cruising, you can enjoy the scenery from here.
Day to day schedule
Day 1 (Sat): Embarkation: Amsterdam | Amsterdam – Vianen
Embarkation and check-in where the crew will welcome you on board is at 1 PM. At around 2 PM the MS Fluvius will leave Amsterdam and will sail to Vianen, a small fortified town on the river Lek, where you will spend the night. Here the bicycles will be distributed and you can enjoy a short bike ride (5-15 km/3-9 mi.).
Day 2: Vianen – Schoonhoven – Kinderdijk | Kinderdijk – Dordrecht (56 km/34 mi.)
Today you will cycle along a beautiful route to Schoonhoven – nicknamed Zilverstad ("Silver City") – a city renowned for its talented silver smiths since the 17th century. Later in the day as you cycle through the Alblasserwaard region you will reach Kinderdijk, a village famous for its impressive row of 19 large windmills. All 19 windmills have a UNESCO cultural heritage listing and are a definite highlight – you will have the opportunity to visit one so don't forget to bring your camera! From nearby Alblasserdam you will take the "Waterbus", a fast ferry, that will take you and your bicycle in approx. 10 minutes to Dordrecht, one of the oldest towns in Holland.
Day 3 (Mon): Dordrecht – Tholen | Tholen – Kreekrak lock (Approx. 34 km/20 mi.) | Kreekrak lock – Antwerp
During breakfast the Fluvius will sail to Tholen where you will start your day's cycling by visiting the "Wouwse Plantage" forest. Another attraction on the day is the impressive Kreekrak lock. After once again meeting up with the Fluvius you will finish your day by sailing to the port city of Antwerp which is situated on the river Schelde. Antwerp is famous for handling up to 80% of the world's rough diamonds and has many attractions that include: the City Hall, one of several majestic buildings constructed during the Renaissance period, the historical City Square Grote Market, the Onze-Lieve-Vrouwe Cathedral and the medieval Steen Castle. After dinner visit the beautiful old city centre.
Day 4 (Tue): Antwerp – Temse – Dendermonde (Approx. 55 km/34 mi.)
Today's tour will see you cycle out of Antwerp on a beautiful cycle path along the picturesque tidal Schelde River to Dendermonde, your home for the night. There is only one way to describe the landscape around the Schelde and that is "magnificent". It is without doubt one of the natural highlights of the tour.
Day 5 (Wed): Dendermonde – Ghent (Approx. 53-40 km/32-24 mi.)
Today you will continue to follow the river Schelde to Ghent where the ship will moor for the night at a lock in a suburb of town. Ghent is a lively university city that boasts a rich history. The city's position at the junction of Leie and Schelde Rivers has meant it to be a major trading port since Roman times. In total the city features an Opera House, 18 museums, more than 100 churches and over 400 historical buildings. A major attraction is St. Bavo Cathedral where a number of masterpieces of medieval art including the world famous 'Adoration of the Mystic Lamb' by Jan van Eyck are kept.
Day 6 (Thu): Ghent – Bruges (Approx. 45 km/28 mi.)
Your bicycle tour will lead through the beautiful Flemish countryside of western Flanders around this beautiful city widely described as the 'Venice of the North'. The city attracts more than two million visitors every year who come for the ambience of the UNESCO World Heritage-listed historic centre. An outstanding example of a medieval settlement, Bruges has managed to maintain its historic fabric as it has evolved over the centuries, with the result that the city's original Gothics constructions form an integral part of the town's identity. While you are here you can visit one of Bruges many museums or simply take in the stunning beauty and culture of this unforgettable city from the comfort of a sidewalk café.
Day 7 (Fri): Tour around Bruges to the North Sea (Approx. 50 km/30 mi.)
Your final day of cycling takes you along a quiet canal and past beautiful poplar trees through an attractive polder landscape (a polder is a low-lying tract of land enclosed by embankments) dotted with small farm houses to the North Sea coast. Here if you want you can swim in the sea along an inviting sandy beach, visit any one of numerous cafés and see the attractive dune landscape. On the return ride to Bruges you will cycle along a small picturesque canal.
Day 8 (Sat): Disembarkation: Bruges
Disembarkation after breakfast until 09:30 AM: End of your trip.
Parts that are printed in italics parts will be covered by the ship.
All distances are "approximate distances" of recommended bike tours. The tour details are barring changes, a.o. as a result of nautical, technical or meteorological reasons. The detailed tour programs for the various ships, which are being operated on this tour, can differ in details.
Fluvius: On this Tour with more than 22 guests the daily cycling tours will be accompanied by 2 knowledgeable and multi-lingual tour leaders. On most days the tour leaders will offer a long and a short (or a quicker and a more relaxed) bicycle option.
Not all mentioned highlights will be visited during the short bicycle option.
You can also choose to ride individually with the help of a map and route notes (available on board). GPS tracks will be sent to you 4 weeks before the start date of the tour.
In case you prefer a day of rest, you can skip the bicycle tour and relax on board while cruising to the next town.
On the arrival day is it possible to bring your luggage on board from 12-noon.
Inclusive:
8 days/7 nights
7 x breakfast
Packed lunches
7 x 3-course dinner
Coffee and tea on board during breakfast and after the cycling tours, till 4 PM
Welcome drink
Use of bed linen and towels
Daily cleaning of the cabin (Gandalf: cleaning of the cabin once a week)
Climate-controlled cabin (Fluvius)
Daily briefings
Fully guided cycling tours (Fluvius: 2 tour leaders, 2 groups; Gandalf: 1 tour leader)
Some short walking tours
Maps and notes for cycling tours (1 set per cabin)
GPS tracks
Use of a waterproof pannier bag
Fees for ferries / waterbus
Wi-Fi
Exclusive:
Drinks
Coffee and tea on board on other hours
Bicycle rental or E-bike rental
Helmet rental
Wi-Fi (Fluvius: unlimited data package to be purchased on board: €10)
Personal insurances
Gratuities (at your discretion)
Entrance fees and excursions
Transfers to/from the docking place
Parking fees
Extra 2023:
Rental bicycle: €90 per week
Rental E-Bike: €195 per week (only on request, limited number available)
Limitation of liability (damage) rental bicycle €10/week
Limitation of liability (damage) rental e-bike €25/week
Parking own bicycle: €10 per week (only a limited number of parking places available: pref. reservation by booking)
Parking + charge station own E-Bike: €25 per week (only a limited number of parking places available: pref. reservation by booking)
Helmets: A helmet can be rented for €10 per week, only on prior reservation and payment
Transfer between Amsterdam and Bruges:
There is a good train connection between these two cities. Please visit one of the following websites for timetables, tickets or more information www.goeuro.co.uk or www.trainline.eu.
| Cabins 2023 p.p. | April 16 | April 23 - Sept. 23 | Sept. 24 (7 days) |
| --- | --- | --- | --- |
| Small twin cabin below deck | € 1039 | € 1089 | € 959 |
| Twin cabin below deck | € 1089 | € 1139 | € 999 |
| (Small) Twin cabin below for single use | € 1633.50 | € 1708.50 | 1463.50 |
| Twin cabin upper deck | € 1289 | € 1339 | € 1169 |
| Upper deck double cabin | € 1489 | € 1539 | € 1339 |
| Bike rent | € 95 | | |
| E-bike | € 195 | | |