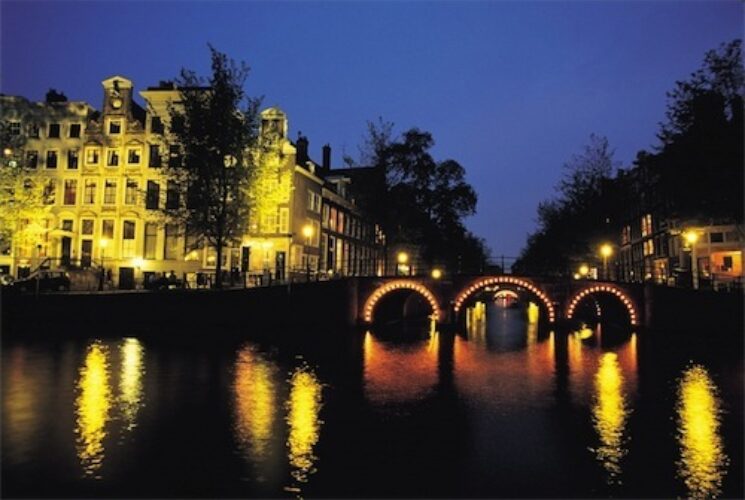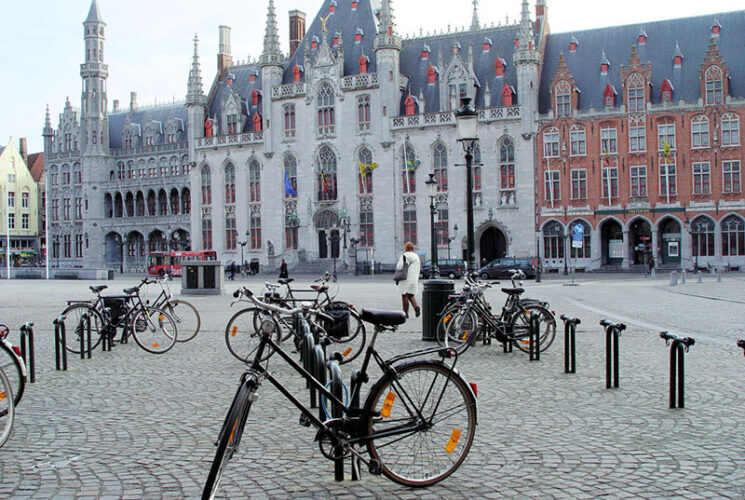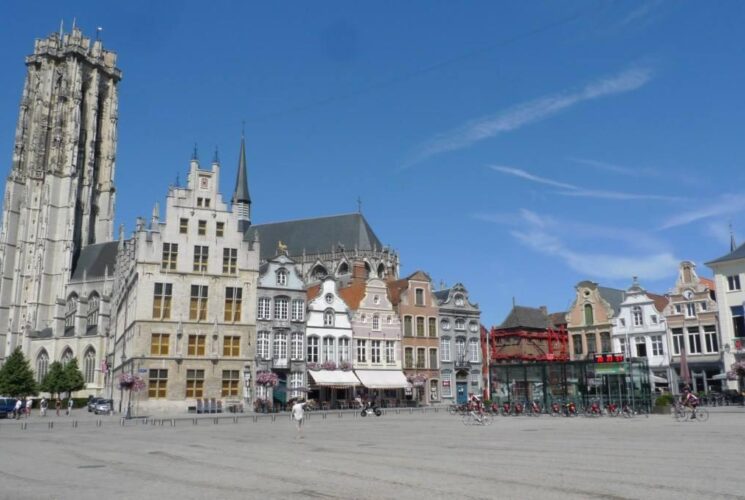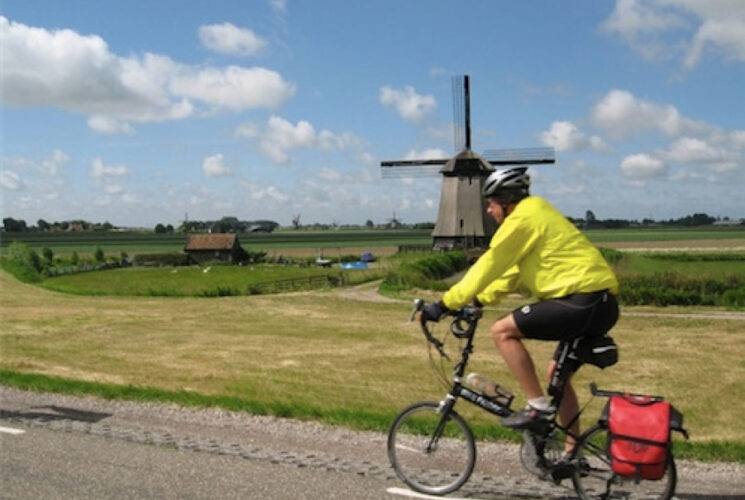 Bike and Barge Netherlands & Belgium:
Bruges - Amsterdam Relax
This 11-day boat and bike tour through the lowlands of the Netherlands and Belgium has all the ingredients a successful bike & barge tour needs.
Highlights like the iconic windmills at Kinderdijk; north Belgian culture in the beautiful Flemish cities of Antwerp, Ghent, and Bruges; personal encounters with local producers as you bike through Flanders; and above all, very nice cycling off the beaten path, along quiet country roads. And because this tour per bike and ship lasts a couple of days longer than most of our tours, you will have that extra bit more time to wander around in this region's intriguing cities, visit one or more of their world-class museums or spend an afternoon shopping.
Cycling through countryside and famous cities
This tour's relaxed cycling passes through the gorgeous, green – and flat – Dutch countryside in the Lower Rhine delta, the province of Zeeland, and Flanders, the western region of Belgium.
Attractions along the way include many charming villages, a visit to a real Dutch cheese farm, the 19 Dutch windmills in Kinderdijk, and the world-famous historic cities of Antwerp, Ghent, and Bruges in Belgium. You will cycle through and discover the Dutch province of Zeeland, which is essentially one big river delta where the Rhine, Meuse, and Scheldt rivers converge, and is famous for its fantastic beaches, water sport activities, and Delta works. Then, the Flanders region of Belgium awaits you, which has a reputation for its medieval towns — and superb food and drink.
Discover the famous cities
Each day you will be able to discover many picturesque villages — both on your bicycle and on foot. The barge will stay for two nights in Antwerp, a cultural capital famous for its vibrant nightlife. So this means you have a whole day to discover this city, not only known as a diamond and harbor city but also as the hometown of the painter Rubens. No matter where you go, you'll never be far from one of his masterpieces. Then there is Ghent, a lively university city, again one with a rich past. From Ghent, you bike through the pleasant countryside of Western Flanders to Bruges, widely described as the 'Venice of the North' and arguably the most beautiful of all the Flemish cities. Bruges attracts more than two million visitors every year who come to see the picturesque medieval town center of the UNESCO World Heritage-listed historic city and a long list of historic attractions.
Day 1 (Wed): Bruges (11 km/6 mi.)

Embarkation time is between 1 p.m. and 2 p.m. in Bruges, where your lovely ship awaits you in the Bruges Harbor. After a welcome and briefing from your friendly and experienced crew at 2 p.m., there is time for bicycle allocation and a short but sweet test-ride through the countryside around Bruges. After dinner, our guide will introduce you to the city with a short walk through its gorgeous medieval center.
Day 2 (Thu): Roundtrip from/to Bruges & North Sea (38 km/23 mi.)

After a sound night's rest, your tour leader will guide you on a morning bike tour of about 37 km. Your first tour will set out along a quiet canal, past beautiful poplar trees and through attractive landscapes of flat green polder fields dotted with small farmhouses (a polder is a low-lying tract of land enclosed by embankments). On the return ride to Bruges, you will cycle along a charming little canal.

In the afternoon, you will have time to discover this marvelous UNESCO World Heritage-listed historical city, which is aptly nicknamed "the Pearl of Flanders." While you are there, make sure you visit one of Bruges' many museums or simply take in the stunning beauty and culture of this unforgettable city from the comfort of a sidewalk café.

Day 3 (Fri): Bruges – Aalterbrug | Aalterbrug – Ghent (37 km/23 mi. or 45 km/28 mi.)

After enjoying breakfast on board, you'll start cycling out of Bruges, zigzagging through charming woodland and pastures. Your barge will be patiently waiting for you halfway along the canal between Bruges and Ghent. Once everyone is back on board, the anchor will be lifted, and you can enjoy the scenery as you cruise onwards to Ghent. In the evening, you can take a nice guided tour through the historical center of Ghent, seeing it from one of the best perspectives possible — from a small canal boat that passes delightful areas like the Graslei and Korenlei.

Ghent is a lively university city, also with a rich past. The city has its origins in Roman times, where it arose at the confluence of the rivers Leie and Scheldt. This favorable site resulted in great prosperity over the years, which peaked in the late 13th, and early 14th centuries when textile manufacturing brought great wealth to Ghent. In the city center, many old patrician houses have been skillfully preserved in all their glory. The impressive Clothmakers' Hall (1425) is where textile merchants used to meet, and Ghent's major church is St. Baafs' Cathedral, which was built across various ages and in various styles. In the cathedral, you can admire a number of masterpieces of medieval painting, of which the "Adoration of the Lamb" by Jan van Eyck is the most famous.
Day 4 (Sat): Ghent – Dendermonde/St. Amands (40 km/24 mi. or 55 km/34 mi.)

After a delicious breakfast in Ghent, you will cycle downstream through diverse landscapes, along the tidal Schelde River to Dendermonde, located at the confluence of the Dender and Schelde rivers. There is only one way to describe the scenery along the Schelde and that is: "magnificent". Its natural splendor is, without doubt, one of the highlights of the tour. During this section of the Schelde, the speed of your ship will be determined by the height of the tide. You will travel from Dendermonde to St. Amands by either bicycle or barge, depending on the tides. You and your ship will spend a relaxing night docked in St. Amands.

Day 5 (Sun): St. Amands – Temse – Antwerp (33 km/21 mi. or 49 km/31 mi.)

Today, we will follow the Schelde River further downstream through the Temse region to Antwerp. Over the centuries the Schelde River held strategic importance for the Romans, Vikings, Spanish, and Napoleon… Today it is a stunning waterway just perfect for bike and barge holidays! Antwerp, your shining destination for the day, is a harbor city famous for handling up to 80% of the world's rough diamonds — and as the birthplace of the famous painter Sir Peter Paul Rubens. This city has many delights in store for you, including the City Hall — one of several majestic buildings constructed during the Renaissance period — the Grote Markt historical city square, the Onze-Lieve-Vrouwe Cathedral, and the medieval Steen Castle.

Day 6 (Mon): Antwerp

Today your ship stays in Antwerp. This means you will have an entire day to discover this city of culture, cobblestones, and Flemish Baroque masterpieces. You can visit the Rubens House, the palazzo where the brilliant and versatile artist lived with his family. You will find some of his paintings to admire just a ten-minute walk away in the "Onze Lieve Vrouwe (Our Dear Lady) Cathedral."

Other ideas for spending a pleasant afternoon here are to visit the famous beer brewery of 'de Koninck' for a tour and tasting, explore the fascinating Museum on the Scheldt River (MAS — Museum aan de Stroom) or go shopping in Antwerp's welcoming shopping area. Dinner tonight is not included as you have the chance to dine at a restaurant of your choosing. If needed, your crew can provide restaurant recommendations.
Day 7 (Tue): Antwerp – Kreekrak locks | Kreekrak locks – Tholen | (36 km/23 mi. or 20 km/13 mi.)

This morning, your ship will sail along the Schelde-Rhine Canal and through the huge Kreekrak lock system. Here, your bicycle tour starts through the beautiful "Wouwse Plantage" forest to Tholen. Tholen once was an island in the middle of the large Zeeland waterways, where many people fished for their living. Nowadays Tholen is connected to the mainland in various ways but it is still a picturesque village with many relics from an eventful past.

Day 8 (Wed): Tholen – Willemstad | Willemstad – Dordrecht (44 km/26 mi. or 36 km/23 mi.)

Your bike tour today passes through the pleasant Tholen village of Oud-Vossemeer to Willemstad, an old fortified town on the Haringvliet inlet of the North Sea. From here you will board the ship again for a pleasant afternoon sail to the city of Dordrecht, one of the oldest cities in the Netherlands. In the evening, your guide will lead you through the city as they bring the history of the Netherlands to life.

We spend the night in the port of Wolwevershaven, which has a rich history dating back to 1609 when it emerged as a trading center for wool weavers.
Day 9 (Thu): Dordrecht – Alblasserdam (waterbus ferry) | Alblasserdam – Kinderdijk – Schoonhoven – Vianen (32 km/19 mi. or 57 km/36 mi.)

Today you will start your tour with the "Waterbus", a fast ferry that will take you and your bicycles to Alblasserdam in just 10 minutes. After a few minutes of cycling, you will reach Kinderdijk, a village famous for its impressive row of 19 UNESCO cultural heritage-listed windmills – one of which you can visit (don't forget your camera!). The windmills were constructed in the 18th century to pump water out of the low Alblasserwaard polder. You will then continue to cycle to Vianen via Schoonhoven, a small fortified town on the river Lek (Lower Rhine), where you will stay for the night and where you can explore at your leisure after a scrumptious dinner.

Day 10: Vianen – Breukelen | Breukelen – Amsterdam (37 km/22 mi. or 47 km/29 mi.)
As you enjoy breakfast, the ship will cruise to Breukelen where you'll disembark to begin your final day of cycling. Ride along the Vecht River in an area famous for its beautiful mansions, small castles, and impressive houses with expansive gardens. After cycling through the villages of Nieuwersluis, Loenen, and Vreeland, you will arrive at Nigtevecht where you can treat your tastebuds by visiting a traditional cheese farm. Continue cycling through the historical town of Muiden and on to Amsterdam, where you will meet your lovely barge for the final time in the Amsterdam harbor.
Day 11: Amsterdam

The end of your tour: enjoy your last breakfast on board and disembark before 9.30 a.m.

INCLUDED:
11 days/10 nights
10 x breakfast
Packed lunches
9 x 3-course dinner
Coffee and tea on board during breakfast and after the cycling tours, till 4 p.m.
Welcome drink
Use of bed linen and towels
Cleaning of the cabin 3 times during the tour
Daily briefings
Fully guided cycling tours (1 tour leader)
Some short walking tours
Fees for ferries / waterbus
Maps and notes for cycling tours (1 set per cabin)
GPS tracks
Use of a waterproof pannier bag
Wi-Fi
NOT INCLUDED:
1x dinner in Antwerp
Drinks
Coffee and tea on board on other hours
Bicycle rental or E-bike rental
Helmet rental
Personal insurances
Gratuities (at your discretion)
Entrance fees and excursions
Transfers to/from the docking place
Parking fees
Rental bicycle: €110,- p.p. (€ 115,- in 2020)

Rental E-Bike: €265 p.p. (only on request, limited number available) (€ 255,- in 2020)

Helmets:
A helmet can be rented for € 10 per week, only on prior reservation and payment.
Transfer between Amsterdam and Bruges:
There is a good train connection between these two cities. Please visit one of the following websites for timetables, tickets or more information www.goeuro.co.uk or www.trainline.eu.
| Cabins prices p.p. | Cabins 2019 | Cabins 2020 |
| --- | --- | --- |
| Twin cabin | € 1.349,- | € 1.379,- |
| Single use | € 1.649,- | € 2068.50 |
| 3-pers. | € 1.269,- | € 1.299,- |
| Bike rent | € 110,- | € 115,- |
| E-bike | € 265,- | € 255,- |