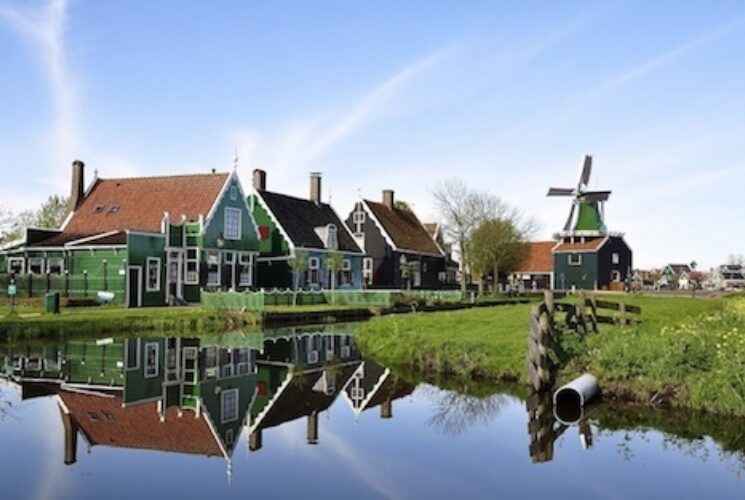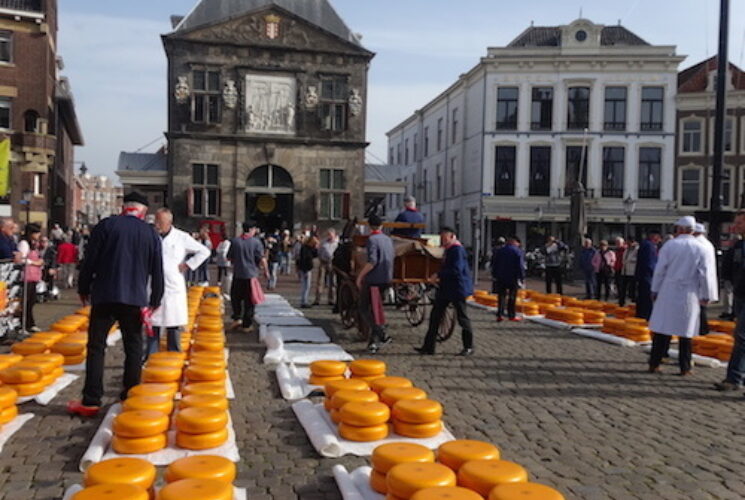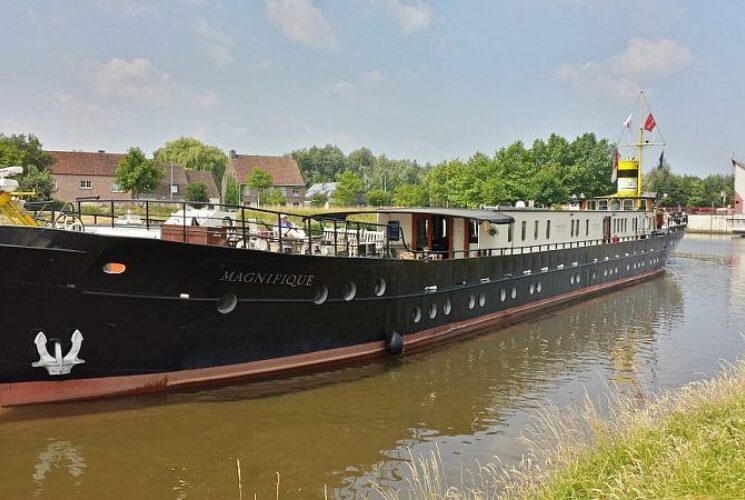 Bike and Barge Netherlands: Best of Holland
This new tour with the premium barges Magnifique, Magnifique II and Magnifique III combines many highlights and gives you a fantastic impression of characteristic Holland. The cycling cruise starts in Amsterdam, with an enjoyable dinner cruise to Zaandam. Followed by the Zaanse Schans open air museum as a must see highlight the day after.
Enjoy a cycling tour to Volendam through the unique wetlands of Waterland, a large open area with tiny lakes and canals. This town is famous for its harbor, fresh fish – like eel and herring – pictures in typical Dutch costumes and the 'Palingsound'; a kind of Dutch folk or country music. You will also visit the picturesque former island of Marken.
From there you will cycle to IJburg, the newest part of Amsterdam. This part of the city was built just a decade ago on the polder land, what once was the bottom of the sea. Continue by barge to the small town of Vianen on the Lower Rhine River. Visit Schoonhoven, well known for its silver, and the UNESCO site at Kinderdijk, with its 19 windmills. Lovely views guaranteed!
Enjoy the old city of Dordrecht that already obtained city rights in 1220 ad. From here the tour continues north to Gouda, world famous for its cheese and candles. Explore the Green Heart of Holland, a large rural and green area amidst the horseshoe-shaped ring of cities in the western part of the country. You'll spend the night in a small village in the Green Heart. Cycle or sail into Amsterdam, where your journey ends.
Description of the cabins
The upper deck has five spacious suites (16 m² – 172 sq.ft.) with two separate single beds, a small sitting area and a "French Balcony": ceiling-to-floor sliding glass doors. The lower deck has fourteen beautiful twin cabins (12 m² – 129 sq.ft.) with two separate single beds and two single cabins (9 m² – 97 sq.ft.). In most cabins and all suites, on prior request, the beds can be set together as a double bed. On request, an additional third bed is available in one of the suites and one of the twin cabins (Pullman bed, above one of the other beds).
All cabins have en-suite facilities with a shower, toilet and basin. The cabins on the lower deck have portholes (fixed for safety reasons), upper deck suites have sliding glass doors that can be partly opened. The air conditioning in all cabins can be individually regulated. Furthermore, in each cabin you will find a flat screen satellite TV, a mini safe and a hair dryer.
Description of the ship
The upper deck has a large, tastefully furnished salon with a restaurant area, a nice bar and a lounge area with cozy sitting corners, a wide screen TV and large panoramic windows. There are also two TV screens (a camera and a navigation system) to see the real-time movement and position of the barge. Wi-Fi is available. Large glass doors open to the beautiful partially roofed teak wood sundeck with chairs and tables on the aft deck. There is a cycle deck on the front deck. On the top deck, the barge has a whirlpool/Jacuzzi and some deckchairs to relax and enjoy the scenery while cruising.
Day 1: Amsterdam | Amsterdam – Zaandam
Embarkation and check-in. The crew will welcome you on board between 1 and 2 p.m. As soon as all guests have arrived a short cruise will bring you to Zaandam, a spot famous for its windmills. Here, your barge will berth in the center of the city for the night. Upon arrival you can enjoy taking your new bike for a brief test ride through the surrounding area. In the evening, enjoy a short walk through the picturesque center of Zaandam.
Day 2: Zaandam – Zaanse Schans museum – Waterland – Volendam (33 km/21 mi. or 43 km/26 mi.)
After breakfast: start of the first cycling tour to the open-air museum Zaanse Schans for a short visit. Continue cycling through small villages in the beautiful wetlands of Waterland to Volendam. The ship sails via Amsterdam to Volendam. Late afternoon, dinner, evening and night on board in Volendam, the small and picturesque fishing harbor on the shores of the Lake IJsselmeer.
Day 3: Volendam – Marken (ferry) | Marken – Waterland – Muiden | Muiden – Vianen (39 km/24 mi. or 46 km/28 mi.)
After breakfast, you will take the ferry for a 30 min. crossing from Volendam to the former island of Marken. Visit this nice, authentic village and continue cycling along the coastline towards IJburg, a new and modern part of Amsterdam that was recently built on reclaimed land from the sea. From here you'll cycle to the historical town of Muiden with its 14th Century castle on the waterfront. Your cycling tour ends close to the village of Weesp, where the ship is moored. Around 5 p.m. the ship departs for Vianen and you can enjoy dinner while cruising. Evening and night on board in Vianen, a small fortified town on the lower Rhine River.
Day 4: Vianen – Schoonhoven | Schoonhoven – Alblasserdam | Alblasserdam – Dordrecht (waterbus ferry) ( 41 km/ 26 mi. or 55 km/34 mi.)
Today you have 2 cycle options, both starting in Schoonhoven. The ship will sail during breakfast to the 'Silver City'. The cycling tour takes you from Schoonhoven through the Alblasserwaard polder to Dordrecht. In the morning you will visit a cheese farm where you will learn about the traditional cheese-making process and you will have the opportunity to taste the results. Dordrecht, or Dordt as it is called by insiders, is one of the oldest Dutch cities, on the conjunction of 3 major rivers. In the evening, after dinner, you can join for a short city walk. You will spend the night in Dordrecht on board of the ship.
Day 5: Dordrecht – Alblasserdam (waterbus ferry) | Alblasserdam – Gouda (37 km/22 mi. or 52 km/33 mi.)
When you've finished breakfast you will return by Waterbus to Alblasserdam to start your cycling tour. You cycle through the Alblasserwaard region to Kinderdijk, a village famous for its impressive row of 19 large windmills. All 19 windmills have a UNESCO cultural heritage listing and are a definite highlight – so don't forget to bring your camera! Continue cycling to Gouda, the cheese and candle capital of Holland. Enjoy this beautiful historical city, the old market square and the Cheese Weighing House during the afternoon and evening. This evening dinner is not included, so you will enjoy a wonderful meal in one of many restaurants in Gouda. We have various restaurant recommendations available on board.
Day 6: Gouda – Leiden – Oude Wetering (25 km/16 mi. or 54 km/34 mi.)
In the morning you will spend some time in Gouda. Enjoy this beautiful historical city, the old market square and the Cheese Weighing House. A visit to the St. Johns church with it's world-famous stained glass windows in on the program. Today's cycling tour starts in Gouda and shows you the typical scenery of the so-called Green Heart of Holland with green landscapes, wide views, small canals and tiny lakes – all below sea level! The cycling tour leads via Leiden, the birthplace of famous painter Rembrandt and residence of the oldest university of the Netherlands. The short option ends in Alphen, the long option in Oude Wetering. Dinner, evening and night on board the ship in this small village.
Day 7: Oude Wetering – Amsterdam | Roundtour Amsterdam Waterland (28 km/18 mi.)
This morning the ships starts sailing early to take you through Amsterdam. During the afternoon you either have the opportunity to make a last beautiful cycling tour through the wetlands of Waterland or to discover this amazing city. Visit the inner city flower market, a museum, do some shopping… there is just so much to do! In the evening you can join a boat tour through the beautiful canals of old Amsterdam (UNESCO cultural heritage). A wonderful way to conclude of your trip!
Day 8: Amsterdam
Check-out and disembarkation right after breakfast, before 9.30 a.m.
Good to know Parts that are printed in italics parts will be covered by the ship.
All distances are "approximate distances" of recommended bike tours. The tour details are barring changes, a.o. as a result of nautical, technical or meteorological reasons.
On this Tour with more than 22 guests the daily cycling tours will be accompanied by 2 knowledgeable and multi-lingual tour leaders. On most days the tour leaders will offer a long and a short (or a quicker and a more relaxed) bike option.
Not all mentioned highlights will be visited during the short bike option.
You can also choose to ride individually with the help of a map and route notes (available on board). GPS tracks will be sent to you 4 weeks before the start date of the tour.
In case you prefer a day of rest, you can skip the bike tour and relax on board while cruising to the next town.
On the arrival day is it possible to bring your luggage on board from 11 a.m.
INCLUDED:

8 days/7 nights
7 x breakfast
Packed lunches
6 x 3-course dinner
Coffee and tea on board
Welcome drink
Use of bed linen and towels
Daily cleaning of the cabin
Climate-controlled cabin
Daily briefings
Fully guided cycling tours (2 tour leaders, 2 groups)
Some short walking tours
Maps and notes for cycling tours (1 set per cabin)
GPS tracks
Use of a helmet
Use of a waterproof pannier bag
Water bottle
Fees for ferries
Visit mill at Zaanse Schans
Visit original Dutch cheese farm
Visit St. Johns church in Gouda
Entrance 'This is Holland' a unique flying experience
Wi-Fi
NOT INCLUDED:

1 x dinner (Gouda)
Drinks
Bicycle rental or E-bike rental
Personal insurances
Gratuities (at your discretion)
Entrance fees and excursions (not mentioned under inclusions)
Transfers to/from the docking place
Parking fees
Rental bicycle (incl. helmet and water bottle): €85 per period
Rental E-Bike (incl. helmet and water bottle): €185 per period (only on request, limited number of e-bikes available, early bookings strongly recommended.
MS Magnifique III

After the overwhelming success of the premium barges Magnifique and the in 2016 launched Magnifique II, we can proudly announce the construction and launch of the new premium barge Magnifique III for April 2018.

Facts & figures:
Number of guests: 40
Length/width/draught: 70 m / 7.2 m / 1.6 m
All cabins and suites have en-suite bathrooms with shower and toilet, individually regulated air conditioning, flat screen (satellite) TV, a small safe and a hair dryer. On request, an extra bed is available in some twin cabins (above one of the other beds). Most cabins can also be booked as cabins with a double bed (on previous request only).
Lower deck
• 14 regular twin cabins (approx. 11 M² , 2 single beds as twins, next to each other)
• 2 single cabins
Upper deck
• 5 upper deck suites with a small sitting area and large windows (a part of the windows can be opened). (approx. 14 M², 2 single beds as twins, next to each other)
• the spacious salon with large windows combines a restaurant area, bar and lounge
• 2 screens (a camera and a navigation system) to see the real time position of the barge
• large doors open to the partially roofed sundeck
Top deck
• a whirlpool/Jacuzzi and deckchairs to relax
| Cabins 2020 | Price p.p. |
| --- | --- |
| Twin cabin | € 1.279,- |
| Premium twin (only on MAG and MAG II) | € 1.4791,- |
| Upper deck suite (only on MAG II and MAG III) | € 1.779,- |
| Single cabin | € 1.918,50 |
| Triple cabin | € 1.229,- |
| Premium Triple cabin (only on MAG) | € 1.409,- |
| Triple Upper deck suite (only on MAG II and MAG III) | € 1.679,- |
| Bike rent | € 85,- |
| E-bike rent | € 185,- |