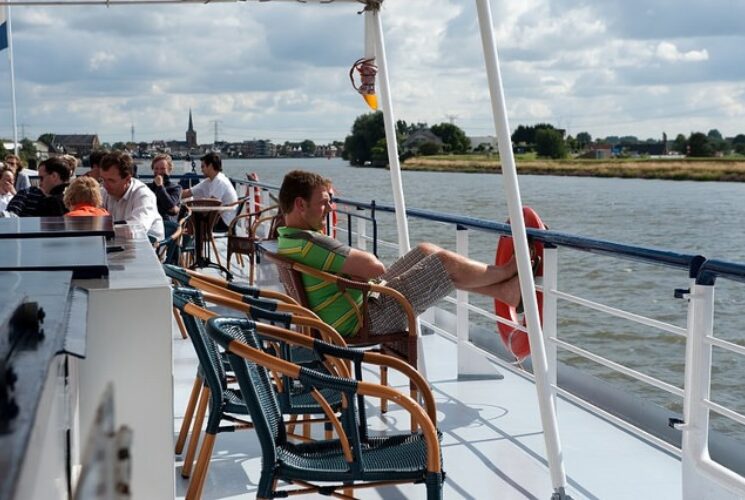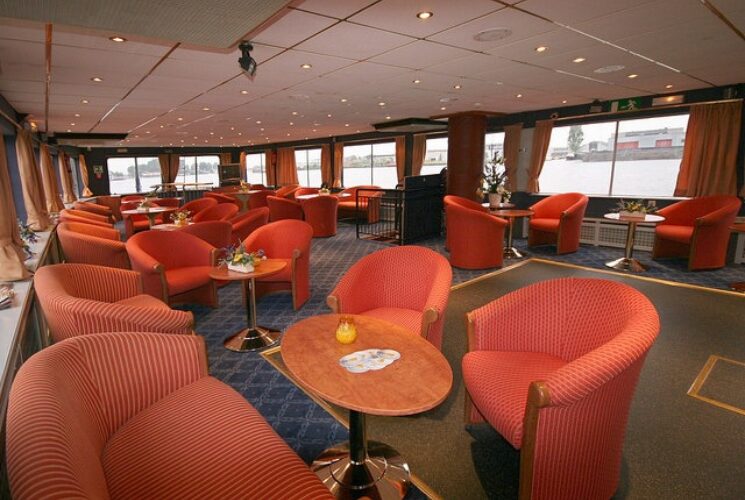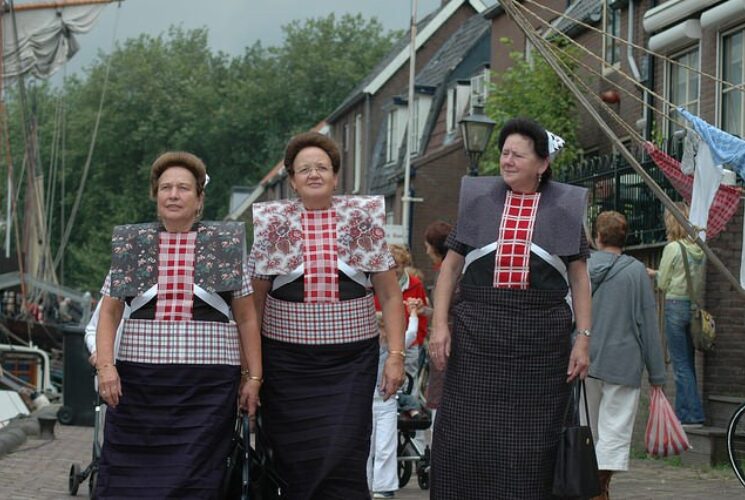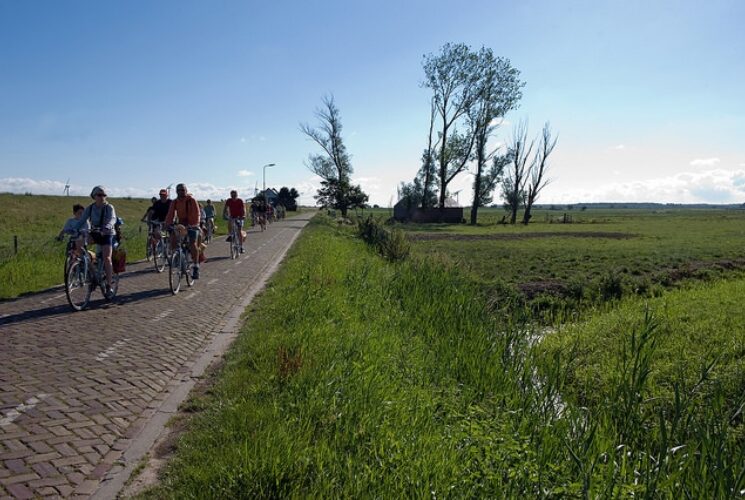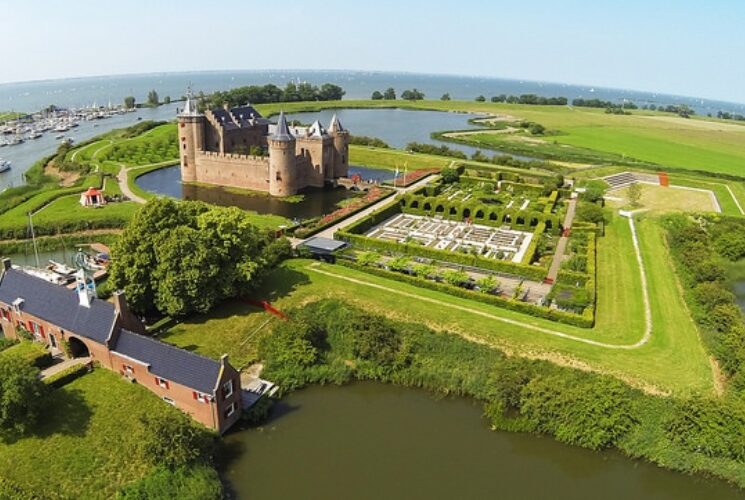 Bike and barge Netherlands: Hansa Highlights
This tour leads you through a region that's one of the most beloved among Dutch cyclists. Come and explore it yourself, by bike and barge.
Every day while cycling, you'll get to know more of its numerous historical cities, beautiful river landscapes and diverse natural areas. Every evening, you'll return to your floating hotel barge named the Nassau, docked in a picturesque harbour along the route. The Nassau has room for up to sixty guests. You'll cycle at your own pace, while your well trained tour leader is only a phone call away for your questions, problems or emergencies. *
Cycle along an important trading route
The area you'll be traversing was shaped over millennia by numerous rivers and streams. It thrived during the Middle Ages, when the rivers Rhine and IJssel were among the most important trade routes in Europe. Many of the cities along their banks were members of the Hanseatic League. This confederation protected the economic interests of its members in large parts of the Netherlands, Germany and Northern Europe. The affluence of those years is visible everywhere in abundant civil and religious architecture.
Through the natural beauty of the Rhine Valley
Your tour starts in the delightful city of Amsterdam. From there, you'll sail and cycle to many larger and smaller Hanseatic towns like Arnhem, Deventer, Zutphen, Kampen, Harderwijk and Elburg. The natural beauty of the Rhine valley and its enchanting tributary, the IJssel, will duly impress you. Another attraction along the way are the so-called Bordering Lakes. These are situated between the "old" mainland with many beautiful harbour towns, and the "new" reclaimed land of the province of Flevoland, that was once the bottom of the sea.
The flat terrain in the 125 km long IJssel valley makes this a perfect tour for those who love to cycle leisurely along many winding trails in a diverse area.
* The Hanseatic Tour is a semi-guided tour. You'll get a daily briefing by the tour leader, but you cycle on your own. On certain dates it is an option to book the tour as fully-guided.
Day 1 (Sat): Amsterdam | Amsterdam – Wijk bij Duurstede
Embarkation and check-in in Amsterdam. The crew welcomes you on board between 1 and 2 p.m. At approximately 2 p.m. De Nassau sails from Amsterdam on the Amsterdam-Rhine Canal to Wijk bij Duurstede, a town on the Rhine River. Here, you will spend your first night aboard the ship.
Day 2 (Sun): Wijk bij Duurstede – Wageningen | Wageningen – Arnhem (35 km/21 mi. or 44 km/28 mi.)
While you are enjoying breakfast, the ship sails to Wageningen. From this town, your first cycling tour of the week takes you through the lovely valley of the Lower Rhine river, and then on through the Veluwe, a large area of woods and heathlands. At the end of the day you pedal to Arnhem, via suburbs and past the lovely parks named Sonsbeek and Zijpendaal. Close to the center of this former Hanseatic city, the Nassau docks for the night. During World War II, Arnhem was the battle scene of Operation Market Garden, the largest airborne operation in history. It ended in a failure, as the inability to capture a bridge over the Rhine River resulted in the destruction of the British 1st Airborne Division.
Day 3 (Mon): Arnhem – Doesburg | Doesburg – Zutphen – Deventer (45 km/27 mi. or 55 km/35 mi.)
We leave Arnhem on the Nassau, and then today's cycling tour starts in the small town of Doesburg. There are two cycling options to get you to Zutphen and Deventer. The shorter option goes along the river IJssel to Bronkhorst, a seeming hamlet that's proud to be the smallest town in Holland. From Bronkhorst you continue to Zutphen along the riverbank. The longer longer trip goes via Vorden, where you'll be passing country houses, castles and rural estates. Both options end in Deventer, a city known for its delicious spicy gingerbread. In the evening, your tour leader offers a short guided walking tour of the city. Make sure to join!
Day 4 (Tue): Deventer – Zwolle| Zwolle – Kampen (44 km/27 mi or 56 km/35 mi.)
During breakfast the Nassau will take you to Wijhe, where your bicycle ride begins. In the morning you will enjoy a nice bicycle ride to Hattem. You can choose a short option along the banks of the river, or opt for a longer ride across the east Veluwe area. Hattem has a rich history, which is still clearly visible today. Leaving Hattem, it is only a short ride to the city of Zwolle, one of the most beautiful Hanseatic cities. From Zwolle you continue to Kampen. In the evening, an optional guided walking tour takes you to some of the most interesting sights in this largest Hanseatic town in the Netherlands.
Day 5 (Wed): Kampen – Elburg – Harderwijk (48 km/29 mi.)
From Kampen, our cycling tour leads along the Border Lakes to the fishing harbor of Elburg. Here, swimming, boating, surfing and fishing are favorite summertime activities. From Elburg the cycling tour continues through the woods and moorlands of the Veluwe to lovely Harderwijk, where the night will be spent in its old fishing harbor. In the 1500s Harderwijk boasted the largest fish market in the Zuiderzee region. Today, it is still a lovely old city very much worth exploring.
Day 6 (Thu): Harderwijk – Spakenburg – Huizen (45 km/28 mi. or 56 km/35 mi.)
Again, you have two routes to choose from. A shorter bike ride along the coast of the Border Lakes, or a combination of the coast route and a longer alternative that runs through adjacent woodlands. In the afternoon you will pass Spakenburg, a fishing village well-known for its traditional costumes that are worn to this day. Docking destination for today is Huizen.
Day 7 (Fri): Huizen – Naarden – Muiden – Amsterdam (35 km/21 mi.)
Huizen is the starting point for a ride to the beautiful fortress towns of Naarden and Muiden. The latter is famous for its historic castle on the waterfront. From Muiden you will cycle along quiet roads to your final destination, the world famous city of Amsterdam. You have the afternoon and evening to spend in the Dutch capital any way you like. Seize the chance to do a canal tour, to visit Anne Frank's home or any of a number of world renowned museums around the Museumplein. Or just enjoy looking at everyday life in this bustling city.
Day 8 (Sat): Amsterdam
The last part of your tour is today, but we won't let you leave with an empty stomach. So before disembarkation until 9.30 a.m., enjoy a nice breakfast first
Good to know
Parts that are printed in italics parts will be covered by the ship.
All distances are "approximate distances" of recommended bike tours. The tour details are barring changes, a.o. as a result of nautical, technical or meteorological reasons.
A knowledgeable and multilingual tour leader is available on board. He/she will provide you with all necessary tour information during daily briefings. You will cycle the tours independently, at your own pace, with the help of a detailed cycling map, GPS-tracks and printed route notes (available on board). The tour leader will also be cycling the daily tours and can – for assistance – be reached on his/her mobile phone in cases of emergency or technical breakdown of the bicycle. During days when several bicycle options are possible, not all mentioned highlights can be visited during the shorter cycling options.
Guided option on De Nassau On a few departure dates you can book a fully guided option. That means you will cycle with a tour leader in a small group of max. 20 guests.
If you don't feel like cycling for a day (or more) you are welcome to relax and stay on board while the ship is sailing. But please note: lunch will not be served on board. So you can enjoy your packed lunch.
On the arrival (first) day it is possible to put your luggage on board from 11:00 a.m..
Included
8 days/7 nights
7 x breakfast
Packed lunches
7 x 3-course dinner
Coffee and tea on board till 4 p.m.
Welcome drink
Use of bed linen and towels
Daily cleaning of the cabin
Climate-controlled cabin
Daily briefings
Semi guided cycling tours (independent cycling, tour leader is available for questions and/or emergencies)
Some short walking tours
Maps and notes for cycling tours (1 set per cabin)
GPS tracks
Use of a waterproof pannier bag
Wi-Fi
Not included
Coffee and tea on board after 4 p.m.
Drinks
Bicycle rental or E-bike rental
Helmet rental
Personal insurances
Gratuities (at your discretion)
Entrance fees and excursions
Fees for ferries
Transfers to/from the docking place
Parking fees
Additional options 2021
Rental bicycle: € 85 per week
Rental E-Bike: € 185 per week (only on request, limited number available)
You can find a description of the bicycles under 'ship'.
Limitation of liability (damage) rental bicycle €10/week
Limitation of liability (damage) rental e-bike €25/week
Parking own bicycle: € 10 per week (only a limited number of parking places available: pref. reservation by booking)
Parking + charge station own E-Bike: € 25 per week (only a limited number of parking places available: pref. reservation by booking)
Helmets: A helmet can be rented for € 10 per week, only on prior reservation and payment.
Canal cruise Amsterdam: Ticket for a 1-hour canal cruise through Amsterdam – special price for our guests: € 14 (at the ticket desk approx.: € 18). Please book your ticket in advance and you can collect it on board of your ship on the first day of the tour.
| Cabins p.p. 2021/2022 | A | B | C | D |
| --- | --- | --- | --- | --- |
| Twin cabin lower deck | € 649,- | € 799,- | € 899,- | € 949/999 |
| Triple cabin lower deck (3rd bed for child, max. 3) | € 629,- | € 779,- | € 879,- | € 929,- |
| Twin lower deck for single use (max. 2) | € 973.50 | € 1198.50 | € 1348.50 | € 1423.50/1498,50 |
| Twin cabin upper deck | € 899,- | € 1049,- | € 1149,- | € 1249/1299 |
| Twin upper deck for single use (max. 1) | € 1348.50 | € 1573.50 | € 1723.50 | € 1873.50/1948,50 |
| Suite upper deck | € 1099,- | € 1249,- | € 1349,- | € 1449,/1499- |
| Bike rent | € 85,- | | | |
| E-bike rent | € 185,- | | | |
| 2021 Season A: March 27; April 3 and 10; Oct. 9 | 2022 Season A: March 26; April 2 and 9; Oct. 8 | | | |
| 2021 Season B: April 17 and 24; Sept. 25 and Oct. 2 | 2022 April 16 and 23; Sept. 24 and Oct. 1 | | | |
| 2021 Season C: Sept. 11 and 18 | 2022 April 30; Sept. 10 and 17 | | | |
| 2021 Season D:weekly from May 1 up to and incl. Sept. 4 | 2022 weekly from May 7 up to and incl. Sept. 3 | | | |