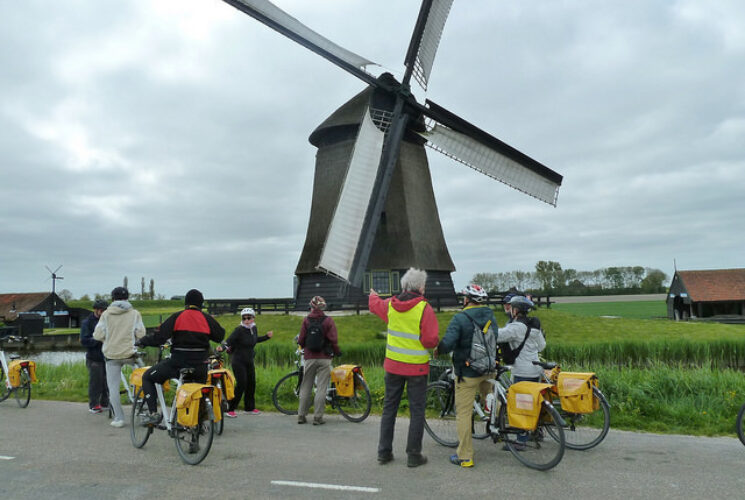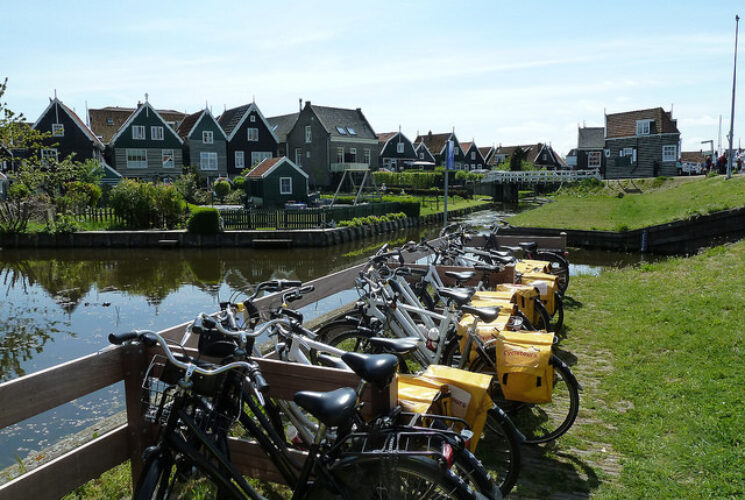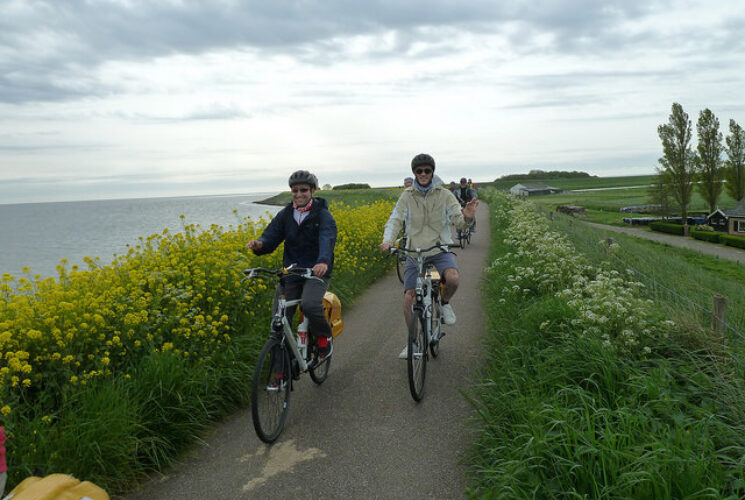 Bike and Barge Super Tulip tour 2022
This bike and barge Tulip tour between April and mid-May is totally dedicated to this beautiful flower. You will cycle through hectares of spring flowers and tulips, learn all about growing tulips and of course you visit the "Keukenhof".
The tulip originated in Turkey. The tulip bulb reached The Netherlands at the end of the 16th century. The plant became very popular (the " Tulip Mania"): In 1634 there was one single bulb that was so expensive, a whole canal side house in Amsterdam did cost the equivalent.
Of course you also will visit the world-famous, 32-hectares' park The Keukenhof, where you can admire the wonderfully colorful fields with flowering bulbs in peace and quiet.
On Tuesday morning you will have to wake up early to visit the impressive flower auction at Aalsmeer. Aalsmeer controls a market share of 44% for the turnover of bulbs and tulip flowers. At midday you will cycle from Amsterdam to the Zaanse Schans.
The Zaanse Schans is a unique hamlet where people live and work, with original houses and windmills from the river Zaan area (17th century). Around Alkmaar you will find the most beautiful dunes in the country. From Alkmaar to Purmerend the route leads you through the 17th century polders. When time permits you will visit a water mill. The last part of the week the green " Waterland" surrounds you, while you're cycling through the Beemster Polder, dating from the early 17th century.
Highlights include:

Cycling through the tulip fields
Keukenhof
Flower auction at Aalsmeer
The route from day to day + km
Sat: Amsterdam, embarkation at 2 PM near Central Station. Sailing to Spaarndam and cycling to Haarlem 15 km
Sun; Haarlem - Keukenhof - Leiden, 40 km
Mon; Leiden - Kudelstaart, 45 km
Tue; Visit to flower auction. Sailing to Amsterdam- cycling to Zaanse Schans- Wormerveer, 45 km
Wed: Wormerveer - Alkmaar, 45 km
Thu: Alkmaar - Purmerend, 35 km
Fri: Purmerend - Amsterdam, 20/35 km
Sat: Amsterdam, debarkation before 10 AM near Central Station
1 km = 0.62 miles
The lightest cycling holiday, suited for everyone and people of all ages. On virtually flat terrain, with distances up to 50 kilometers. You spend about 4 hours on your bicycle.
Day 1. Saturday Amsterdam, boarding between 1 PM and 2 PM. Sailing to Spaarndam. Cycling to Haarlem, 15 km.


You are expected on our barge on Saturday the latest at 2 PM. The barge needs to leave the mooring place in Amsterdam at 2.15 PM. It is very important you are on time. The barge can't wait due the opening hours of bridges and/or locks.
When you arrive on board you can put your luggage away in your cabin and then enjoy a cup of coffee or tea. It is also a good moment to become acquainted with the guide, skipper and crew and of course your fellow passengers.
The first part of the tour you will sail to Spaarndam. Spaarndam has always been strongly connected to water. Now, besides the river and the fishing, it also is famous because of a story within the 1865 American novel, Hans Brinker or the Silver Skates. The story within the book is about a Dutch boy, "The Hero of Haarlem," who stuck his finger in a dike to prevent the town from flooding. The story became a popular legend in America, and in 1950 the local tourist bureau put a statue of this character in Spaarndam.
From here we make an easy ride into the beautiful city of Haarlem.
Haarlem, which rendered its name to Harlem, New York, is a lively city with good shopping possibilities. At the same time there are many interesting 17th-century sights here. Back on board, after the bike ride, the programme for the next day and the rest of the week will be explained to you at dinner time.
Day 2. Sunday Haarlem – Keukenhof Leiden, 40 km.
Today's trip leads you through the oldest tulip fields of Holland, including a visit of the Keukenhof gardens, the most beautiful spring park in the world. Keukenhof is the place where the spring breaks. An overwhelming blaze of colours; seven million flowering tulips in a magnificent 80-acres' background of traditional and modern gardening architecture. You also can admire the various hyacinths, narcissus and many other colorful flowers.


You spend the night in Leiden, which is a historic city with many little courtyards, façades, and historical buildings built between the 15th and 18th century. Leiden, meaning 'built on waters', came into existence around 800 AD as a market place at the confluence of the rivers Old and New Rhine, the Vliet and the Mare. It was a centre for the mediaeval linen industry. For a long time it was second only to Amsterdam in importance. A well-known episode of Leiden's history is the Spanish occupation in the 16th century. In 1574 the Spanish siege was eventually broken as a result of a deliberate inundation and the assistance of the Protestant fleet called the 'Geuzenvloot'. This fact is still celebrated annually on October 3rd. As a reward for its courage in face of the Spaniards, Leiden was given the right to found a university in 1575. Leiden is also the city where Rembrandt van Rijn was born.
Day 3. Monday Leiden – Kudelstaart, 45 km.
Today you continue your tour around the Haarlemmermeer. In case you have a lunchstop at the other side of the bridge in Leimuiden. Imagine that this polder once was the biggest lake in Holland and nicknamed 'the waterwolf'. The cycleroute leads you through the green heart of Holland, an area characterized by small cycle paths, typical black and white cows and despite the work of
Mr. Leeghwater, a lot of water. Your destination for today is Kudelstaart: a small town bordered by the Westeinderplassen.
Day 4 Tuesday Visit to flower auction. Sailing to Amsterdam – cycling to
Zaanse Schans - Wormerveer, 45 km.


In the early morning you can visit one of the many flower auctions in Aalsmeer. Every day 'Bloemenveiling Aalsmeer' sets the world price for flowers and plants. This happens by bringing supply and demand together by means of the auction clock- a fascinating process during which large and small batches of flowers are sold within fractions of seconds. As a visitor to Bloemenveiling Aalsmeer, you will walk over a specially designed gallery. Enjoy the gorgeous flowers; experience the hustle and bustle of auction. The flowers and plants that are sold at the auctions are exported all over the world, a wonder of logistics. Afterwards you will have breakfast while sailing in the direction of Amsterdam.
From the lock at the Nieuwe Meer you can cycle along the borders of the river Amstel into the city and after the ferry into the green again to the Zaanse Schans, a unique hamlet where people live and work, with original houses and windmills from the river Zaan area. The hamlet is dominated by three operating windmills, the oldest built in 1673, for grinding mustard, spices, paint and oil and for sawing wood into planks. As you walk through the village you will see a clock museum, an old-fashioned grocery store, a house with period furniture, a clog maker and a cheese farm. Afterwards to Wormerveer.
Day 5 Wednesday Wormerveer - Alkmaar, 45 km From Wormerveer you will cycle to and through the most beautiful dunes of the Netherlands.
Todays' overnight stay is in cheese town Alkmaar. An historic lively city with many small and bigger shops. A little less than 400 heritage sites, canals and harbor dominate the townscape.
Day 6 Thursday Alkmaar – Purmerend, 45 km
Today time to cycle into the polder landscape of the Beemster and Purmer, part of a big green polder area. The Beemster Polder, dating from the early 17th century, is an exceptional example of reclaimed land in the Netherlands. It has preserved intact its well-ordered landscape of fields, roads, canals, dykes and settlements, laid out in accordance with classical and Renaissance planning principles. Also time to visit one of the big water mills at the Rijp.
Graft and De Rijp are two proud, typical 17th century villages that enjoyed great prosperity at the heyday of the fishing and whaling industries. You spend the night in Purmerend.
Day 7 Friday Purmerend –Amsterdam 20 / 35 k
Purmerend lies at the edge of an area called ' Waterland' where roads and water are nearby on the same level. We visit the nice village of Zunderdorp and Ransdorp. The better cyclists can cycle the long route to Edam and Volendam and if time permits you can cross the lake Gouwzee to a dmire the traditional fisherman's village Marken with its typical wooden houses.
In Amsterdam you can look back at cycling seven days in great variation of typical Dutch landscapes, towns and many highlights.
Day 8 Saturday Amsterdam, end of tour after breakfast before 10.00 AM.
Inclusive:
All nights on board (incl. bedding, towels, soap)
Breakfast and dinner on board
Lunch packages when on the road
Coffee and tea on board
Tour guide, cycles with the group
Min. 3 city walks with tour guide
Entrance Keukenhof and Flower Auction
Road book, 1x per cabin
Ferry fares on the route
GPS-tracks (on request)
Free WiFi (limited available in lounge and on deck)
Exclusive:
Bicycle rent
Bicycle insurance (optional) E 20,- per bicycle
Bicycle insurance electric bike (optional) E 40,- per bicycle
Entrance fees to museums; approx. E 15 per tour
Travel risk insurance / cancellation insurance
Personal insurance
Extra
Bike rental incl. bike helmet: € 95,- (Hybrid bike with 24 gears, pannier bags, lock, water bottle)
E-bike rental incl. bike helmet: € 180,- (with 21 gears)
Child's bike: € 60,- (incl. helmet) with 21 gears; for children from approx. 9 years and older
Bike seat: € 15,- (incl. helmet; suitable for children from approx. 11 months until 5 years; max. weight 25 kg)
Trailer bike: € 55,- (incl. helmet; bike attached to adult's bike; suitable for children from approx. 5 until 9 years; max. weight 35 kg)
Bike trailer: € 199,- (incl. helmet; suitable for babies who cannot sit by themselves; a car seat/baby seat not included)
Set of bike maps: € 21,- (to be ordered and paid in advance; cannot be purchased on board)
Special details
Dutch Barge Cruises reserves the right to cancel tours with fewer than 12 participants up to 21 days prior to the date of departure
The program is subject to change without notice.
Extra options:
If you have special meal requirements (vegetarian meals, or if you are on a diet), we ask you to mention this when booking. In case of gluten free/Celiac/vegan diet there is an additional charge of € 50,- per week. When ordered upon arrival the additional charge is € 100,- per diet per week, to be paid on spot.
| Cabins 2022 | Prices p.p. |
| --- | --- |
| Small double cabin in front | € 1.200,- |
| Twin cabin | € 1.415,-,- |
| Luxury double cabin | € 1.580,- |
| Single cabin in the front | € 1.805,- |
| Bike rent + helmet | € 95,- |
| E-bike + helmet | € 180,- |
| Child's bike | € 60,- |