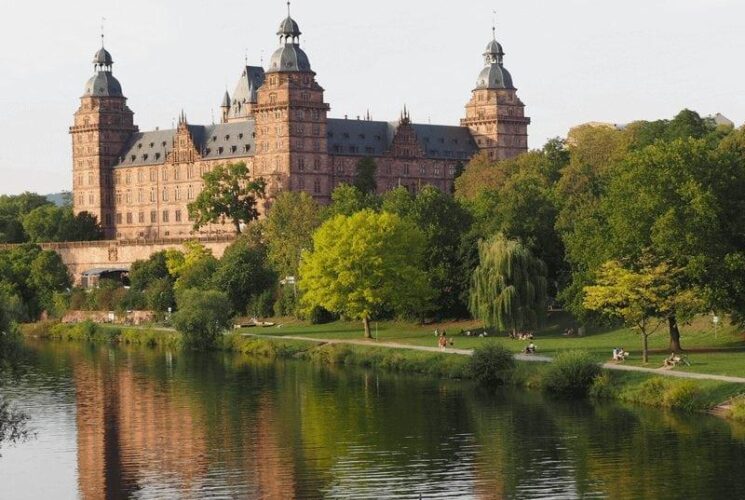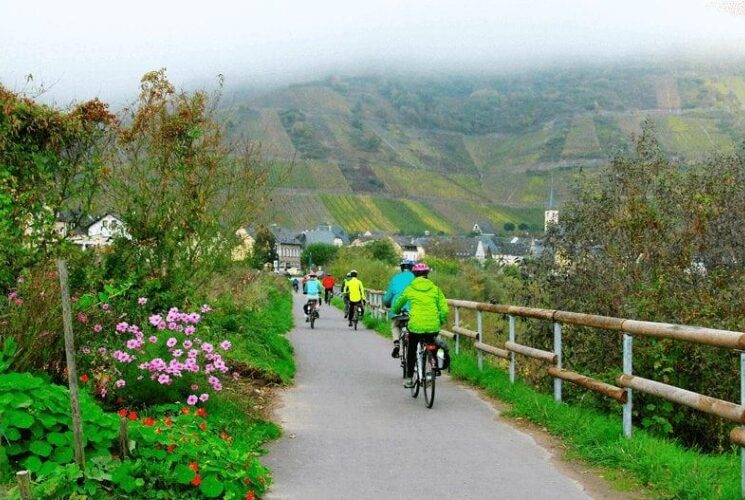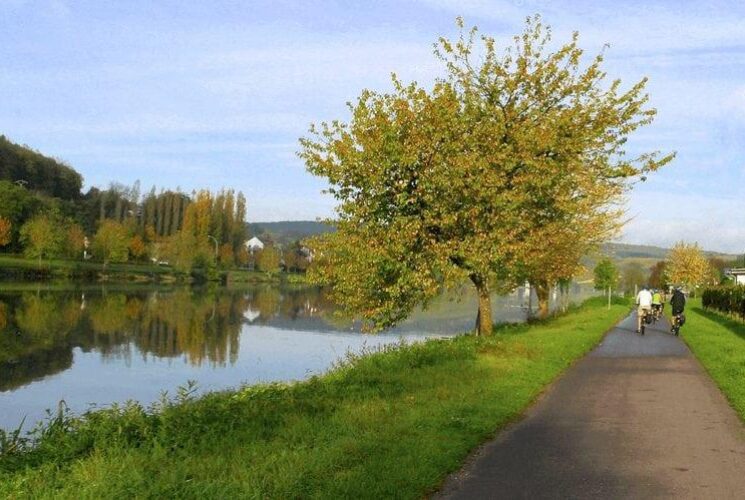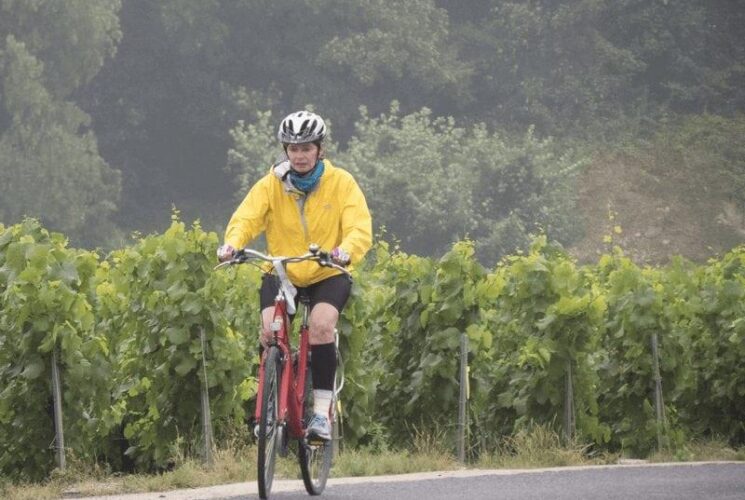 Aschaffenburg – Bamberg
Bike and Barge through Germany. The Main valley tour is a friendly, gentle boat and bike tour along the flat land of the river through the ever changing countryside of the Bavarian region, famous for the good wines and many historic towns and villages.
Absolute highlight of the tour is the city of Bamberg a UNESCO World Heritage City that not only embodies a thousand years of art and culture, but also remains vibrant and young at heart.
The bike tour follows the river, encountering many traditional half-timbered houses within the various small villages. The region of Bavaria will impress you with its wealth of idyllic vineyards as you sail to the tranquil town of Hassfurt, where many 15th and 16th century monuments are of note. The lively little town of Kitzingen is a wine trade center. It has a reputation for producing some unique and flavorful white wines.
The trek to the wine town of Volkach is filled with picturesque rolling vineyards, orchards and quiet river meadows. Historic Marktbreit is one of the region's most beautiful villages with splendid houses and narrow alleys.
The tour will also bring you to Würzburg, Germany's Baroque city where you will visit the Residenz Palace and gardens in rococo style, listed on the list of UNESCO World Heritage Site. And then there is Aschaffenburg where you can visit the famous Johannisburg.
Description of the cabins
The Allure has ten comfortable cabins. One double cabin (8 m² – 68 sq.ft.) with a double bed and nine twin cabins (8 m² – 86 sq.ft.) with two single beds which can be set together in most cabins. In two cabins there is the possibility to place a bunk bed for children. Each cabin has a private shower, toilet and basin. Windows can be opened and the cabins have central heating. Furthermore, you will find a mini safe and hair dryer in each cabin. The corridor is air-conditioned, thus also cooling the cabins.
Description of the ship
The Allure has a cozy lounge (air-conditioned) with wide screen TV, a small sitting area and a bar. Wi-Fi is available. The barge also has a beautiful large sundeck, where the meals of excellent quality can be served if the weather is fine. On nice evenings or while cruising you can enjoy the scenery from here. The whole barge has central heating.
Day 1 (Sat): Embarkation: Aschaffenburg
Individual arrival and embarkation from 4 p.m. in Aschaffenburg, where you will stay for the night. After a welcome by the captain, crew and tour leader there is time for a walking tour town. The tranquil university-city is located at the foot of the Spessart and offers numerous magnificent buildings. Johannisburg Castle, build with red sandstone, is one of the most important and most beautiful Renaissance buildings in Germany. The lively center with narrow streets offers many half-timbered houses and numerous wine bars and cafes.
Day 2 (Sun): Aschaffenburg – Bürgstadt (Miltenberg) (Approx. 40 km/24 mi)
Your first bike ride leads from Aschaffenburg along the river. Shortly before you reach Bürgstadt, you can cycle either on the right or left side of the river Main. The floodplain forest between Nilkheim and Niedernheim is pleasant to ride on in the summer. You will cycle on the "planet-cycle track" from Kleinwallstadt to Erlenbach. Along this track you will find information about the universe. All along the river you will find benches or rest areas where you can rest or even take a swim. In Miltenberg, the modern hotel "Zum Riesen", which was built in 1590, is one of the oldest hotels of Germany. Famous is also the Schnatterlochturm, where you can walk straight into the woods from the market place. You spend the night on board the ship in Bürgstadt, located about 2 km from Miltenberg.
Day 3 (Mon): Bürgstadt (Miltenberg) – Wertheim | Wertheim – Lohr (Approx. 40 – 45 km/24-27 mi)
During a relaxing breakfast, the ship brings you to Wertheim, which has a castle with the same name as a landmark. The historical market place, with what probably is the narrowest house of the Franconian land, is the center of town. From here, your bike tour starts through the typical landscape of the Main. There is much to see on the route to Lohr. Typical for the beautiful old town are the historic Franconian timbered buildings. Lohr am Main is the gateway to the lower Spessart mountains. Some people say it was the place where Snowwhite used to live…. Buildings like the castle Lohr (Kurzmainer Schloss) emphasize the enchanting character of the city.
Day 4 (Tue): Lohr – Karlstadt | Karlstadt – Wurzburg (Approx. 30 km/18 mi)
In the morning your will join the barge to Karlstadt first and start biking from there. The romance of an old town and the idyll of a village – Karlstadt has both. Explore the more than 800 year old buildings in the by walls, towers and Gates surrounded old town. Enjoy the relaxing bike tour to Wurzburg, where you will meet the ship again in the afternoon. For sure you will visit the UNESCO World Heritage Residenz Palace, with its palace gardens and square. But there is much more to see and do. You may also enjoy the magnificent view from the fortress Marienburg and don't forget to walk the 180-metre long Old Main Bridge, which is lined with impressive statues of saints.
Day 5 (Wed): Wurzburg – Kitzingen (Approx. 40 km/24 mi)
Today you will cycle along the main cycle track from Wurzburg through the fruitful Ochsenfurt district to Ochsenfurt with its lance tower that is worth seeing and through the historic village Marktbreit with its fine residences to Kitzingen. In this city wine growing is a big thing. In Kitzingen you will also find the German Fastnachtsmuseum (carnival museum). Here you will get an impression of the history of carnival; you will also find information about the medieval Franconian customs. In Kitzingen, the old and former beer breweries have changed to wine production, as the historic cellar equipment will show you.
Day 6 (Thu): Kitzingen – Dettelbach | (Kitzingen -) Dettelbach – Schweinfurt (Approx. 40 – 60 km/24 – 36 mi)
In the morning the Allure sails to Dettelbach, you can join the ship on this stage or you can start the bike tour from Kitzingen. From Dettelbach your bike tour goes through the vineyards to Volkach. Here it is worth visiting the pilgrimage church of St. Maria in Weingarten. Then you go on to Fahr, where a welcome notice in the form of a wine bottle greets you, via the Volkach loop in the Main river – here the valley becomes narrower and narrower and the vineyards more and more numerous – to Schweinfurt.
Day 7 (Fri): Schweinfurt – Haßfurt | Haßfurt – Bamberg (Approx. 35 – 40 km/21 – 24 mi)
First you will cruise with the ship to Haßfurt. Afterwards you cycle via Zeil am Main, unique, exactly located on the borderline between the Franconian wine and beer country – to Bamberg. Like Rome, the city was built on seven hills and one therefore likes to call it the "Franconian Rome". Experience the fascinating heritage of world culture. The fishermen's quarter of "Little Venice", a row of residences from the 17th century, is also worth seeing. If you like beer, you have to drink a nice cool beer here. There are still eleven independent breweries in the city!
We advise you to stay in Bamberg one or more extra days, so that you will have plenty of time to discover this UNESCO World Heritage City that not only embodies a thousand
Day 8 (Sat): Disembarkation: Bamberg
Disembarkation after breakfast until 9 a.m. End of your trip.
Parts that are printed in italics parts will be covered by the ship.
All distances are "approximate distances" of recommended bike tours.
Schedule/timetable: the schedule and programme are always subject to change. • If a certain route cannot be taken due to high or low tides, the Skipper retains the right to change the route for reasons of safety without this constituting any legal entitlement to a claim.
Bike tours: the bike tours are individual and unguided. They cover distances between 30 and 60 km / 18 and 36 miles. All of the stated kilometre distances are approximate distances for the recommended bike tours. The tour description is only available in German, but the crew speaks English and is willing to explain the tour in English. The tracks are well signposted.
Characteristics: Almost all parts of the bike tours are easy to ride.
Luggage: please make sure that your vacation luggage includes good rainproof gear (jacket and pants), a sun hat and sunscreen as well as tennis shoes. Due to the lack of storage room in the cabins we advise you to bring suitcases or bags which are foldable.
Travel Documents: EU-citizens (without special situations like dual citizenship, main residence abroad or a limited-validity passport) are required to have a valid passport or ID-card, not expiring within six(6) months of the return of your cruise. We kindly ask non-EU citizens, EU-nationals with multiple citizenship or anybody who has to respect special legal entry requirements for the country to visit, to inform about visa and entry documents at the competent embassy.
This trip is not suitable for guests with reduced mobility.
Included
8 days/7 nights
Program according to itinerary
Full board-Plus-Arrangement: 7 x breakfastbuffet Packed lunches or noontime snack 7 x 3-course dinner incl. 1 glass of wine Coffee and tea on board during breakfast and in the afternoon Welcome drink
Use of bed linen and towels
Daily cleaning of the cabin
Daily briefings by the skipper (board tour guide, English & German speaking)
Maps and information material (German) for cycling tours (1 set per cabin)
Use of a helmet (2 per cabin)
Wi-Fi
Not Included
Drinks
Coffee and tea on board at other hours
Bicycle rental or E-bike rental including pannier bag
Personal insurances
Gratuities (at your discretion)
Entrance fees and excursions
City maps
Fees for ferries
Transfers to/from the docking place
Parking fees
Rental bicycle (incl. rental bike insurance): € 75 per week/person
Rental E-Bike (incl. rental bike insurance): € 165 per week/person (only on request, limited number of e-bikes available, early bookings strongly recommended.
Bicycles: Only a very limited amount of E-bikes is available on these tours. Special bicycles (e.g. children's bicycles, tandems, etc.) are not available in this area and cannot be ordered for these tours. Due to limited space on deck guests can't bring their own bicycles or E-bikes. This is only possible in exceptional cases when you need a special bicycle or tandem.
Information material cycling tours: Only available in German, but the crew speaks English and is willing to explain the tour in English. The cycling tracks are well signposted.
Transfer by train: Between Aschaffenburg and Bamberg, there is a good train connection. Please visit one of the following websites for timetables, tickets or more information www.goeuro.co.uk or www.trainline.eu.
Parking possibilities (subject to change, stand May 2019):
Aschaffenburg: Parking Luitpoldstraße: Luitpoldstraße 9, approx. €10/day
Bamberg: Tiefgarage Centrum-Nord/Georgendamm 2a (walking distance to docking place), approx. €10/day or Park & Ride on the outskirts of the city with low parking rates, cheap tickets and quick bus links to the center (for example: P&R Heinrichsdamm)..
Minimum number of participants: 15 guests (must have been reached within 21 days prior to departure).
| Cabins 2020 | Prices p.p. EUR |
| --- | --- |
| Twin cabin. | € 999,- |
| Cabin with French bed for single use (only 1) | € 1.399,- |
| Bicycle rent | € 75,- |
| E-bike rent | € 165,- |