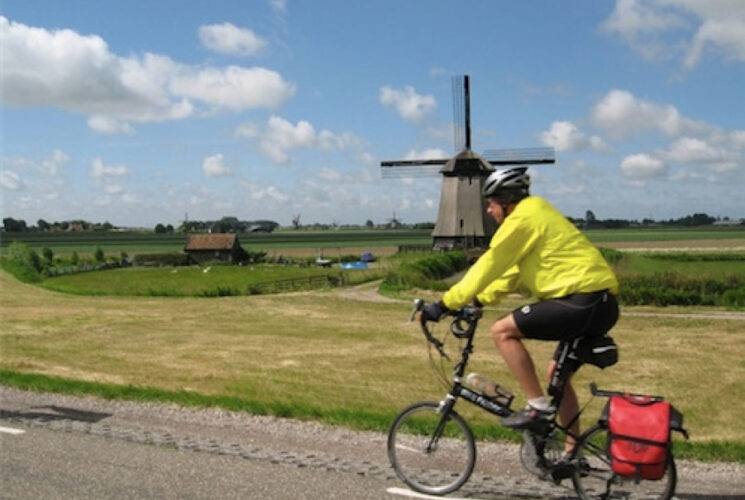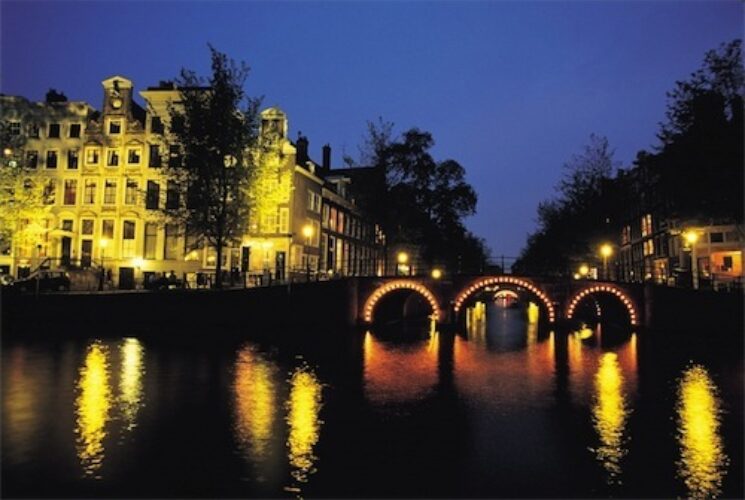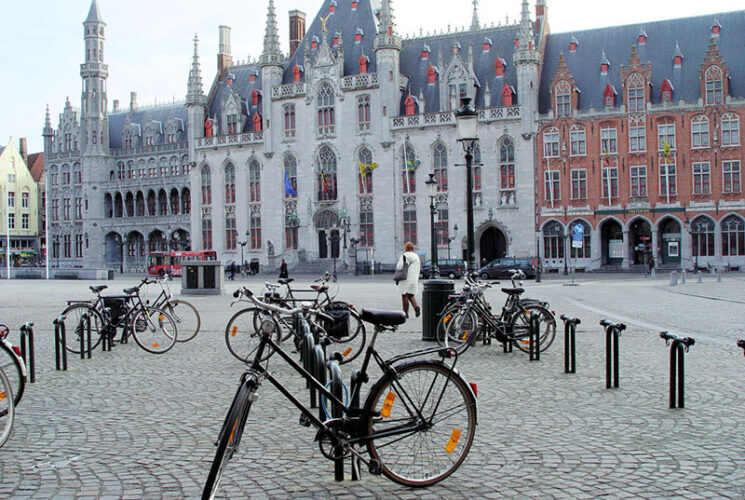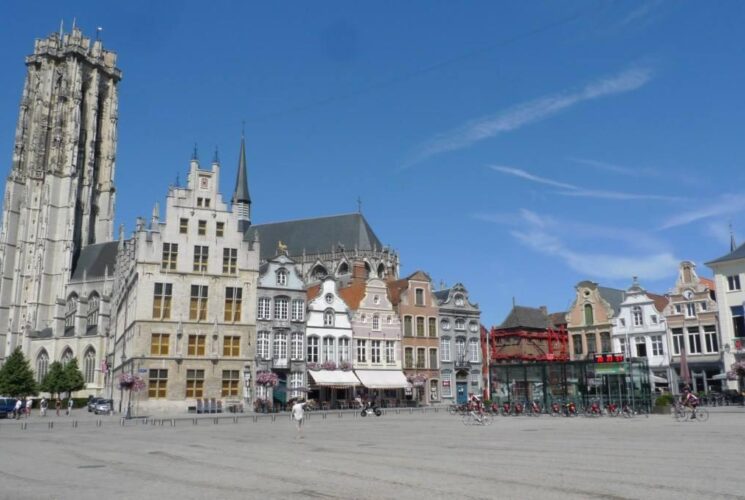 Bike and Barge Tour Netherlands & Belgium
Bruges - Amsterdam | MS Zwaantje
There is simply no better way to discover the charm and the best of what Belgium and Holland has to offer than on this exciting 8 days, 7 nights tour on board the barge MS Zwaantje – a newcomer to bike and barge holidays.
Charming villages, a real Dutch cheese farm and the 19 famous windmills in Kinderdijk – Amsterdam to Bruges
During the day you will cycle to world famous destinations such as Bruges, Ghent, Antwerp, Utrecht and Amsterdam, while at night you will relax in the comfort of your floating hotel. The cycling on this tour is through the beautiful – and flat – Dutch countryside of Zeeland and the western Flanders region of Belgium. Attractions along the way include many charming villages, a visit to a real Dutch cheese farm, the 19 famous Dutch windmills in Kinderdijk and the world famous cities of Antwerp, Ghent and Bruges in the western Flanders region of Belgium. You will cycle through and discover the Dutch province of Zeeland, which is essentially one big river delta of the Rhine, Meuse and Scheldt Rivers famous for its fantastic beaches, water sport activities and Delta works and the Flanders region of Belgium famous for its medieval towns and a reputation for superb food and drink. As well as being able to discover many picturesque villages each day – both on your bicycle and on foot – you will:
Visit the UNESCO World Heritage-listed historical centre of Bruges
Get the opportunity to discover the best of Ghent
Visit Antwerp, a city famous for its vibrant nightlife
Have the opportunity to discover Amsterdam
The MS Zwaantje ("Little Swan") is a fully converted passenger barge under Dutch flag and management with a length of 40 meters (131 ft.) that can accommodate 24 passengers.
Tour details Belgium & Netherlands: From Bruges to Amsterdam | MS Zwaantje
Day 1 (Sat): Arrival and embarkation: Bruges
Arrival and embarkation early afternoon in the beautiful city of Bruges, also called "Pearl of Flanders". The crew will welcome you. You will have plenty of time to discover the beautiful historical city of Bruges. Afternoon and evening with city tour in Bruges.
Day 2 (Sun): Bruges – Ghent (Approx. 56 km/34 miles)
Today, your day starts on the water and the barge will leave Bruges early. Just outside, your first bike tour to Ghent through the flat land of West-Flanders will start. Your destination today is the historical center of Ghent. Enjoy the beautiful parts of Ghent during an afternoon stroll. The barge is docked in the city of centre of Ghent.
Day 3 (Mon): Ghent – Dendermonde/St. Amands (Approx. 40-53 km/24-32 miles)
Today, the barge will sail over the river Schelde to Dendermonde, a nice town on the conjunction of the rivers Dender and Schelde. The bike tour leads along one of the most beautiful parts of the Schelde, a tidal river. You will follow this beautiful tidal river downstream. The departure time will be set by the skipper and is depending on high or low tide. The tide has affect on the speed of the barge. By bike or by barge from Dendermonde to St. Amands. Night in St. Amands.
Day 4 (Tue): St. Amands – Temse – Antwerp (Approx. 47/59 km/28-35 miles)
Today we will follow the Schelde further downstream over Temse to Antwerp. There is a beautiful cycling track along the river and the scenery is magnificent. Harbor city Antwerp whit it's beautiful inner city is well known as diamond city and the city where the famous painter Rubens was born. Dinner in town in a restaurant of your choice (not included). On request, you will receive some restaurant recommendations on board.
Day 5 (Wed): Antwerp – Kreekrak locks | Kreekrak locks – Tholen (Approx. 34/43 km/20-26 miles) | Tholen – Dordrecht
The barge will cruise over the Schelde-Rhine Canal to the huge Kreekrak locks. Here starts your bike tour. You will cycle through several estates along Bergen op Zoom and Halsteren to Tholen, a former fishing village amidst the large streams of the province of Zeeland. The barge is waiting for you to sail along the impressive large Volkerak locks to the fortified town of Willemstad, then further to end in Dordrecht, one of the oldest cities of the Netherlands. Today, the skipper will discuss with you which part of the tour will be covered by bicycle.
Day 6 (Thu): Dordrecht – Kinderdijk | Kinderdijk – Schoonhoven – Vianen (Approx. 55 km/33 miles)
Today you will start your tour with the "Waterbus", a fast ferry that will take you and your bike in just 10 minutes to Alblasserdam. After just a few minutes of cycling you will reach Kinderdijk, the most famous windmills in the Netherlands with 19 windmills in line (don't forget your camera!). The windmills were constructed in the 18th century to pump water out of the low Alblasserwaard polder. You can visit one of the windmills. Then bike tour via silver city Schoonhoven to Vianen, a small fortified town on the river Lek. In the evening you can explore this town.
Day 7 (Fri): Vianen – Breukelen | Breukelen –Amsterdam (Approx. 46 km/28 miles)
First the ship cruises to Breukelen, where you disembark and your cycling tour starts. Ride along the small Vecht river: this area is well known for its beautiful mansions, small castles and beautiful houses with large gardens and parks. Over the small villages of Nieuwersluis, Loenen and Vreeland to Nigtevecht, where you can visit a traditional cheese farm. Continue cycling through the historical town of Muiden and on to Amsterdam where you will meet the barge for the final time in the Amsterdam harbour.
Day 8 (Sat): Disembarkation: Amsterdam
After breakfast: end of the tour and disembarkation till 10:00 AM. If you wish, you can visit Amsterdam or one of its numerous museums, do some shopping or make a canal tour (not included).
Details: In italics printed parts will be covered by the ship.
All distances are "approximate distances" of recommended bike tours.
When a guest don't want to cycle one day, he can skip the bike tour and relax on board while cruising to the next harbor.
Program and details barring changes, a.o. as a result of nautical, technical or meteorological reasons.
On the arrival day is it possible to put your luggage already on board as from 10 AM.
Your tour guide will guide the bike tour daily,however it is also possible to ride the bike tour individually (self-guided). Tour descriptions and detailed cycling maps are available on board for anyone interested in taking the self-guided option. The guide can be reached on his/her mobile phone in cases of emergency or technical breakdown of the bicycle.
INCLUDED:
8 days/7 nights
7 x breakfast
Packed lunches
6 x 3-course dinner
Coffee and tea on board
Welcome drink
Use of bed linen and towels
Daily cleaning of the cabin
Climate-controlled cabin
Daily briefings
Fully guided cycling tours (Magnifiques/Fleur: 2 tourleaders, 2 groups; Zwaantje: 1 tourleader)
Some short walking tours
Maps and notes for cycling tours (1 set per cabin)
GPS tracks
Use of a helmet
Use of a waterproof pannier bag
Water bottle
Fees for ferries
Visit Kinderdijk mills
Entrance cathedral Antwerp
Canal trip through Ghent
Wi-Fi
NOT INCLUDED:
1x dinner (Zwaantje/Fleur: Antwerp; Magnifiques: Antwerp or Bruges)
Drinks
Bicycle rental or E-bike rental
Personal insurances
Gratuities (at your discretion)
Entrance fees and excursions (not mentioned under inclusions)
Transfers to/from the docking place
Parking fees
Additional options & Information
Rental bicycle (incl. helmet and water bottle): €100 per period
Rental E-Bike (incl. helmet and water bottle): €220 per period (only on request, limited number of e-bikes available, early bookings strongly recommended.
Transfer between Amsterdam and Bruges: There is a good train connection between these two cities. Please visit one of the following websites for timetables, tickets or more information www.goeuro.co.uk or www.trainline.eu.
| Cabins p.p. EUR | 2023 |
| --- | --- |
| 2 pers. | € 1329,- |
| 1 pers. | € 1993.50 |
| Bike rent | € 100,- |
| E-bike | € 220,- |