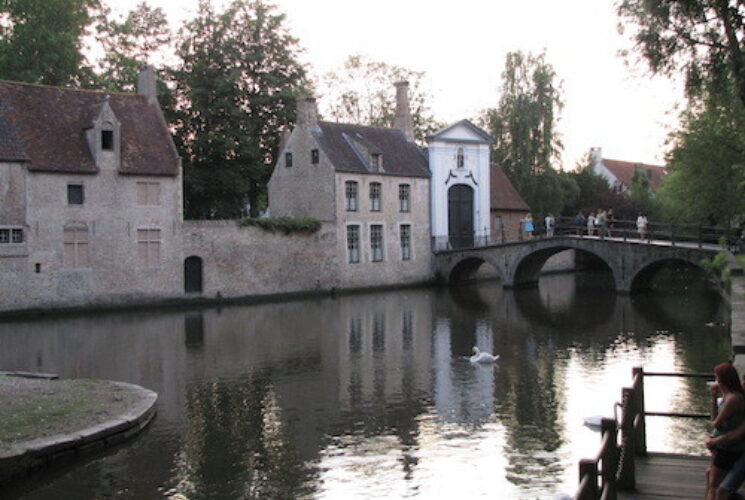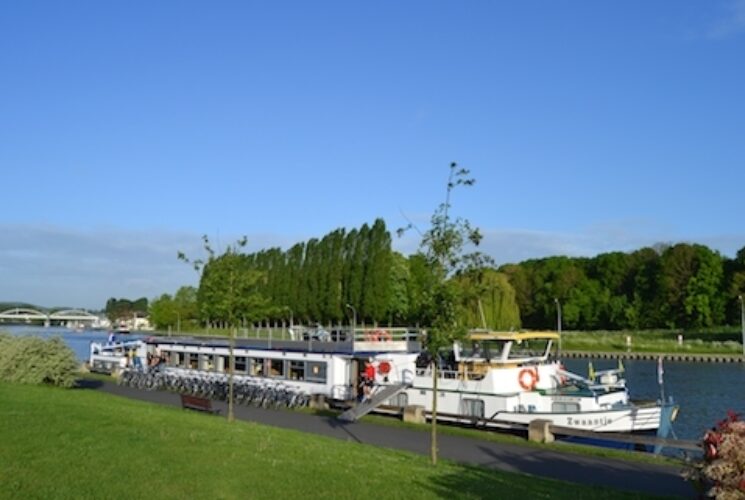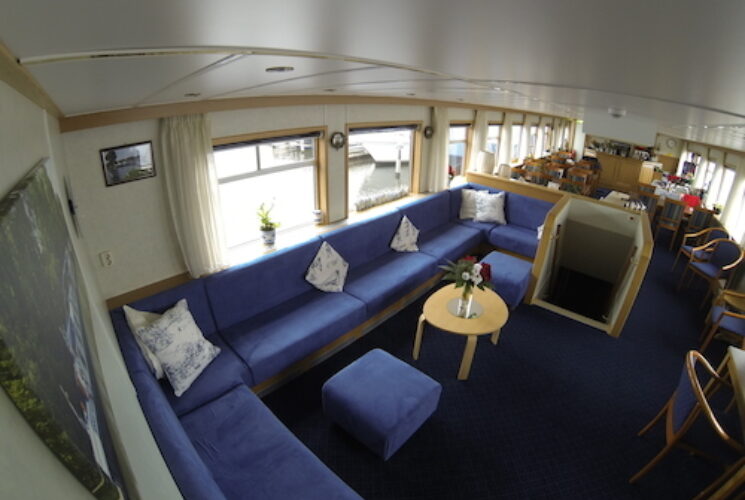 Bike and Barge Tour France: Paris – Bruges
During this trip through northern France and Flanders, from Paris to Bruges, you will cycle through attractive landscapes, over gently forested undulations and across open farm land, along the rivers Seine, Oise and Somme, Scarpe and Scheldt, where the watershed appears to be the actual border. You will walk through interesting cities; for example a visit to Paris and its exceptional parks is on the program, but also to small art-deco towns such as Ham and Ronse. You will pass through Oudenaarde and Ghent with their historically renowned production of tapestries and sheets, past the impressive cathedrals and ancient bishoprics such as Noyon, Cambrai and Tournai.

We'll visit the lively Creil, the imperial city of Compiegne and the tourist town of Péronne; and inspiration for painters such as Van Eyck in Bruges, Corot in Arleux, Van Gogh in Auvers and Permeke in St. Martens-Lathem. You will get to see imposing remains of the abbeys at Royaumont and Our-champs, of Marchiennes and St. Amand, view the palaces of Chantilly, Compiegne and Blérancourt and admire the castles in Pierrefonds and Péronne. There are many reminders of the First World War such as in the Armistice and Péronne museums and the farmer's craft traditions in Hertsberge.
Day 1 (Sat): Embarkation: Paris
Embarking takes place from 16.00 on board the barge MS Zwaantje in Paris from the Port d'Austerlitz, close to the eponymous station. In the evening you can walk to Ile Saint Louis, a distance of around 3 kilometers.
Day 2 (Sun): Paris: City Center
During breakfast a cruise on the river Seine through the center of Paris. At around 10.30 you will be able to go ashore to visit the city at your leisure or you can go on a city walk of around 5 kilometers through the beautiful green areas of Parc de la Vilette, Buttes Chaumont and Belleville. The ship sails on and mores close to the outer area of the city. You can reach the berth using public transport (day tickets not included, around €3) and will be able to board at around 17.30 for dinner.
Day 3 (Mon): Saint Germain and Laye, Conflens and Auvers sur Oise (ca. 40 km/ 24 miles)
After breakfast you will cycle along quiet towpaths along the river Seine to the higher situated St. Germain, the gardens of Le Nôtre provide a magnificent view across Paris. Next you will go through the woods to Conflans for a picnic on the pier amongst the terraces. After a short stop at the Pontoise Bridge, you cycle further across the picturesque Chemin des Monts to the church of Auvers, famous for Van Gogh's paintings. We will visit his grave during the evening walk.
Day 4 (Tue): Beaumont sur Oise, Royaumont, Chantilly, Creil (ca. 50 km/ 31 miles)
After a short stop in Beaumont we will have a picnic at the Royaumont abbey; one of the best preserved abbeys from the 13th century. During the afternoon we will visit the splendid Chantilly; a luxurious castle with an impressive art collection and horse dressage. After dinner there will be a stroll through the lively provincial town of Creil.
Day 5 (Wed): Pont St.Maxence, Pierrefonds, Compiegne (ca. 55 km/ 34 miles)
During breakfast the MS Zwaantje will take us to Pont Saint Maxence. From there you will cycle through little towns and have a short stop in Verberie and then through the forest to Castle Pierrefonds; the leading restoration project by Viollet le Duc. In the evening we will be exploring the historical center with its medieval market and many alleyways.
Day 6 (Thu): La Clairière, Tracy, Ourschamps or Blérancourt, Noyon (ca. 40 – 55 km) 24 / 34 miles)
First we'll go to l'Armistice de la Clairière to the forest clearing and the carriage where the First World War armistice was signed. Then through Tracy and the Our-champs abbey with its charming ruin then on through rolling woodlands to Noyon and its imposing cathedral. You can extend the route by cycling to Blérancourt, where there is a lovely town hall from the 17th Century and a charming palace with flower gardens to be admired.
Day 7 (Fri): Through Ham to Péronne (ca. 65 km / 40 miles)
Today we will embarking on a long bike ride leaving at 8.30 for a ride through gently rolling, open countryside, the art deco town of Ham and along the river Somme and the picturesque villages.
Day 8 (Sat): Day in Péronne
The MS Zwaantje will be moored just outside this charming town with its intimate square and church as well as a castle and the fascinating Grande Guerre museum. Dinner in town in a restaurant of your choice (not included, recommendations available on board).
Day 9 (Sun): Bapaume, Ruyaulcourt (ca. 45 km / 27 miles)
We will continue cycling along the river Somme and then through the sparsely populated open and rolling landscape to Bapaume which was re-built after the First World War. We will then go on to Canal du Nord in Ruyaulcourt, here the MS Zwaantje will pass through the divide between the rivers Somme and the Scheldt through a tunnel; the original border between Flanders and France. Mooring is in an outer area.
Day 10 (Mon): Cambrai and Arleux (ca. 45 km/ 27 miles)
Today we will visit Cambrai, a lively provincial town with historic monuments and a beautiful park to picnic in and then past the marshlands of Chantraine on to rural Arleux.
Day 11 (Tue): Lewarde, Montigny, Marchiennes, Saint Amand les Eaux, Tournai (ca. 65 km / 40 miles)
A long day of cycling through former mining towns with beautifully preserved heritage from around 1900, and past the Scarpe-river through Marchiennes and St.Amand where there are monumental remains of baroque abbeys. Just across the border with Belgium lies Tournai, where we will take an evening walk through its historic center.
Day 12 (Wed): Kluisbergen, Ronse, Oudenaarde (ca. 50 km/ 31 miles)
North of Tournai we will cycle across flat farmland with a few hills to the wooded Kluisberg, known for its cycling tours. The church in Ronse has a beautiful crypt from the 13th Century and Art Deco-villa's and a crypt from the 11th Century. In Oudenaarde you will find the splendid town hall with a magnificent collection from the 16th and 17th Century as well as the Tour of Flanders Centre. After dinner you can enjoy a Belgian beer at the atmospheric Market place.
Day 13 (Thu): Through Nazareth, Ooidonk, Sint-Martens-Lathem, Afsnee (ca. 50 km/31 miles) or directly to Ghent (ca. 35 km / 21 miles)
First we will cycle along the river Scheldt then on through the idyllic Ooidonk landscape, the artists' village of St.Martens-Lathem, the small ferry of Afsnee and the bustling Gent-South. There is the option of cycling directly along the river Scheldt to Ghent to spend an afternoon in this lively university town. Of Romanian origin and situated at the merging point of the rivers Scheldt and Leie, Ghent was, between the 14th and 16th Century, a wealthy trade and textile city, evidence of which lies in the cloth hall, cathedral and town hall. In the evenings the town center is a very atmospheric place to be. There is the option of joining a canal tour to the center and returning to the ship by taxi (not included).
Day 14 (Fri): Bellem, Hertsberge, Moerbrugge, Bruges (ca. 50 km/ 25 miles)
During breakfast the MS Zwaantje will take us to Aalter where will get on our bikes and cycle through wooded areas and fields, past quiet villages and castles to the Hertsberge estate where there is an interesting agricultural museum to visit. Timely arrival in Bruges, the most picturesque city in Flanders and from the 14th to the 16th Century renowned as one of Europe's most important centers of banking and art, and during the romantic period rediscovered for time travel in the Middle Ages.
Day 15 (Fri): Disembarkation: Bruges
After breakfast you will leave the ship. Disembarkation till 10.00.
Details: In italics printed parts will be covered by the ship.
All distances are "approximate distances" of recommended bike tours.
When you do not want to cycle one day, you can skip the bike tour and relax on board while cruising to the next town.
Program and details barring changes, a.o. as a result of nautical, technical or meteorological reasons.
On the arrival day is it possible to put your luggage already on board as from 09:30 AM.
Guided bike tours: it is also possible to ride some shorter bike tours self-guided, on an individual basis: descriptions and maps are available on board.
During the day the tour leader is guiding the daily bike tour and – for those who want to cycle individually – can be reached on his/her mobile phone in cases of emergency or technical breakdown of the bicycle.
INCLUDED:
15 days/14 nights
14 x breakfast
Packed lunches
13 x 3-course dinner
Coffee and tea on board
Welcome drink
Use of bed linen and towels
Daily cleaning of the cabin, 1x change of bed sheets
Climate-controlled cabin
Daily briefings
Fully guided cycling tours (from 18 guest: 2 tour leaders, 2 groups)
Some short walking tours
Maps for cycling tours (1 set per cabin)
GPS tracks
Use of a helmet
Use of a waterproof pannier bag
Water bottle
Fees for ferries
Visit museum Glade of the Armistice
Entrance castle of Chantilly
Visit town hall Oudenaarde
Canal trip through Ghent
Wi-Fi
NOT INCLUDED:

1 x dinner
Drinks
Bicycle rental or E-bike rental
Personal insurances
Gratuities (at your discretion)
Entrance fees and excursions (not mentioned under included)
Transfers to/from the docking place
Parking fees
Zwaantje: Rental bicycle (incl. helmet and water bottle): €190 per period Rental E-Bike (incl. helmet and water bottle): €420 per period (only on request, limited number of e-bikes available, early bookings strongly recommended. You can find a description of the bicycles when you click on ship.
2023:
Rental bicycle Premium: €200 per period
Rental E-Bike Premium: €440 per period (only on request, limited number of e-bikes available, early bookings strongly recommended.
You can find a description of the bicycles under ship.
Parking own bicycle/E-Bike: it is not possible to bring your own bicycle/E-Bike on these ships, due to a lack of space on deck.
Transfer between Paris and Bruges: There is a good train connection between these two cities. Please visit one of the following websites for timetables, tickets or more information www.omio.com or www.trainline.com.
| Cabins EUR | 2022 p.p. | 2023 p.p. |
| --- | --- | --- |
| Twin cabin | € 2.469,- | € 2659 |
| twin cabin for single use | € 3.703,50 | € 3988.50 |
| Bike rent | € 190 | € 200 |
| E-bike | € 420,- | € 440 |