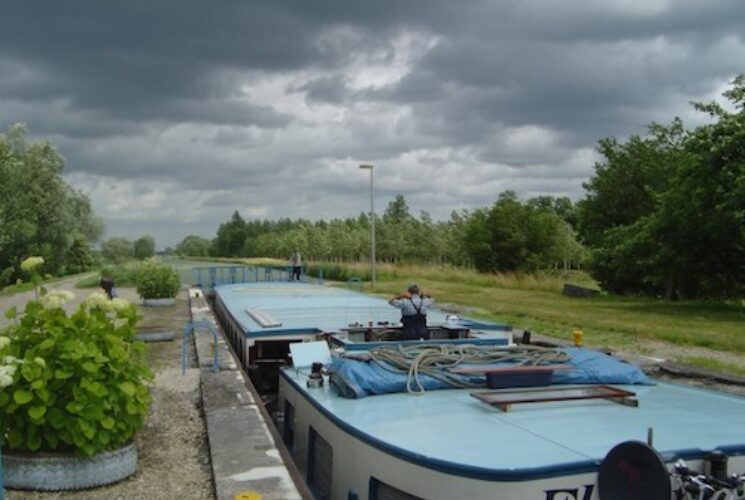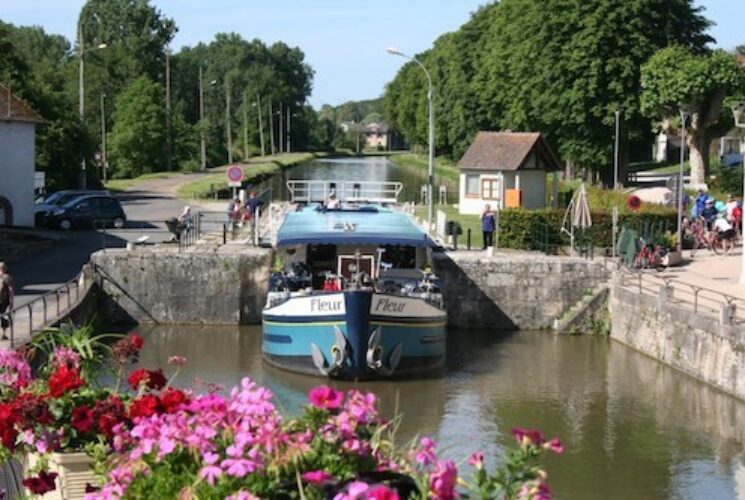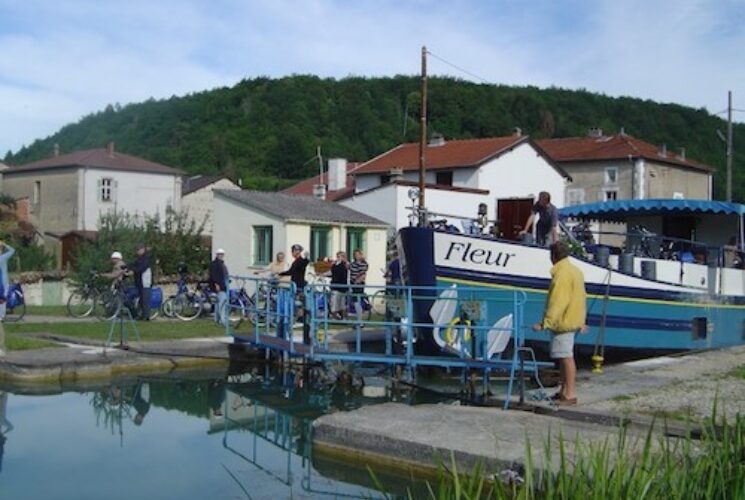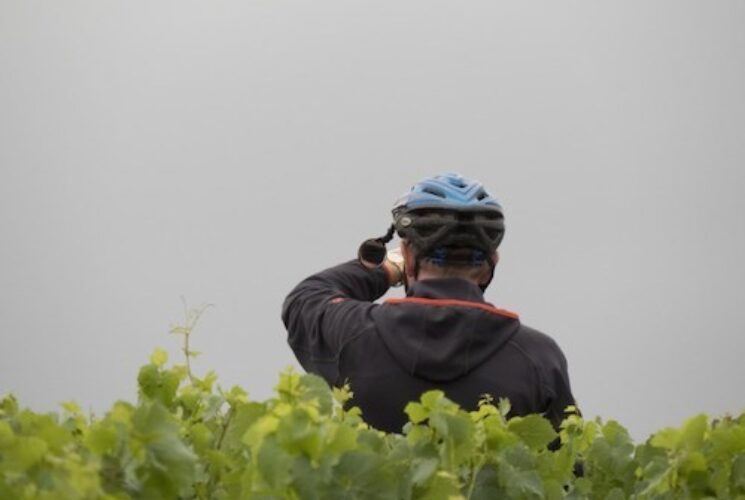 Bike and Barge Tour France: Paris – Montargis
This boat and bike tour starts on Paris, where you find the Fleur in the port d'Arsenal, not far from the Notre Dame. We follow the Seine in southern direction. This region has a rich, royal history and the castle of Fontainebleau is a magnificent example of this past. Just as impressive are the royal gardens, which the French kings had their royal architects lay out for them. The perfectly symmetrical gardens are a fine example. We cruise the woods of Fontainebleau heading for the artists village Barbizon.

We follow the Seine up to Moret-sur-Loing, a cosy village on the banks of the Loing. From there we follow the canal du centre to the beautiful medieval towns Ferrieres and Chateau-Landon. Our final destination is Montargis, a pictoresque town with beautiful little canals.

Itinerary: Paris – Melun – Moret-sur-Loing – Chateau-Landon – Montargis or the other way around
NB: From 18 guests there will be two guides and you can decide each day if you want to join the longer or the shorter ride.
Day 1 (Sat): Paris
Embarkation and check-in at 2 p.m. at the Quai de Bercy on the Seine river in the center of Paris. After a welcome by the captain, crew and tour leader there is time for a walking tour through Paris. After dinner on board there is a first briefing about the barge, bicycles and tour program
Day 2 (Sun): Paris – Evry | Evry – Melun, (30 km/19 mi.)
Breakfast while sailing. You will spend the morning on board to enjoy Paris from the river. Around 9 a.m. there will be a safety lecture. After lunch, the bicycle tour starts from the lock of Evry. You will stay along the banks of the Seine river for a while. Destination of your first bicycle tour is Melun, a town which is known as "le domaine des reines blanches", because in former years it used to be the domain of the widows of the French kings.
Day 3 (Mon): Melun – Moret-sur-Loing, (40 km/25 mi.)
Today you will cycle through the wonderful forests of Fontainebleau. First destination is the artistic village of Barbizon, where since the first half of the 19th century many painters have found inspiration. At the time, a group of landscape painters formed the "Barbizon School". You can visit the local museum. After this, you continue your tour to the palace of Fontainebleau, much in favor among the French kings, because of the extensive possibilities to hunt in the surrounding forests. The castle itself houses a museum of Napoleon, among other things. Fontainebleau is also a pleasant town to walk around or to shop. You will find the Fleur again in Moret-sur-Loing, a charming medieval fortified town, strategically situated on the banks of the Loing river, where painter Sisley found inspiration for his beautiful impressionist paintings.
Day 4 (Tue): Moret-sur-Loing – Nemours, (21 km/13 mi. or 45 km/28 mi.)
You will stay in the valley of the Loing and visit Grez-sur-Loing, where many artist used to live in the early years of the 20th century. In the charming town hall of Bourron-Marlotte you can admire a few magnificent impressionist paintings. You will meet the Fleur again in Nemours. Nemours is supposed to derive its name from the woods (nemora) in the midst of which it formerly stood and relicts of Gallo-Roman remains indicate its early origin. The castle, erected around 1120, now is a prehistoric museum of the Ile-de-France region.
Day 5 (Wed): Nemours – Néronville, (35 km/22 mi.)
Breakfast during sailing. Today you will cycle through a wooded area with rugged rocks. Before lunch you will visit the sculpture garden "Jardin Bourdelle". In this garden you can admire some 57 bronze monumental sculptures by the artist Antoine Bourdelle. Around lunchtime you will reach Egréville. This village has been an important commercial crossroads for hundreds of years. Its markets and fairs enjoyed great renown. Final destination of today is rural Néronville.
Day 6 (Thu): Néronville – Montargis, (44 km/27 mi.)
Today you will first cycle to Chateau-Landon, a beautifully situated town, with the Abbey of St. Séverin from the 13th century. Your bicycle tour goes to the medieval town of Ferrières with its old town center, which has been preserved beautifully. And in the middle of the narrow streets you find a splendid monastery. Today's destination is Montargis, even with 15000 inhabitants the biggest town of the Loiret, after Orléans. Unfortunately this former royal residence was destroyed by a fire in the 16th century. But the canals are still there. They are decorated with many flowers and give the town a lot of charm. Today there is no dinner on board. You can select one of the local restaurants of Montargis.
Day 7 (Fri): Montargis, (45 km/28 mi.)
From Montargis you will cycle to Château-Renard, where you can visit the ruins of a castle from the 10th century. You will also visit an Apiculture's Living Museum. There you can see beekeepers and their bees at work, and you'll be able to sample their delicious honey. Along the river Ouanne you will return to Montargis.
Day 8 (Sat): Montargis

End of your tour: Disembarkation after breakfast until 9.30 a.m.
Parts that are printed in italics parts will be covered by the ship.
All distances are "approximate distances" of recommended bike tours.
The planned itinerary is subject to change due to nautical, technical or meteorological reasons and other unforeseen circumstances. If there is low or high water and a route cannot be shipped, the captain reserves the right to change the route in view of your safety (this cannot be accepted as a reason for free withdrawal).
With 18 guest or more, the daily cycling tours will be accompanied by two knowledgeable and multi-lingual tour leaders. On most days, the tour leaders will offer a long and a short (or a quicker and a more relaxed) cycling option. The option for a long tour is also depending on weather conditions and wishes of the group. When there are less than 18 guests aboard, the tours will be accompanied by one knowledgeable and multi-lingual tour leader. During days when two bicycle options are possible, the tour leader will make a choice to guide the longer or the shorter option after consultation of the group
In case you prefer a day of rest, you can skip the bike tour and relax on board while cruising to the next town.
On the arrival day is it possible to bring your luggage on board from 11 a.m.
Not all mentioned highlights can be visited during the short cycling option.
Included in the price
8 days/7 nights
7 x breakfast
Packed lunches
6 x 3-course dinner
Coffee and tea on board
Welcome drink
Use of bed linen and towels
Daily cleaning of the cabin
Climate-controlled cabin
Daily briefings
Fully guided cycling tours (from 18 guests: 2 tour leaders, 2 groups)
Some short walking tours
GPS tracks
Use of a helmet
Use of a waterproof pannier bag
Water bottle
Fees for ferries
Entrance garden Bourdelle
Entrance Apiculture's Living Museum
Visit town hall Bourron-Marlotte
2019: Guided visit Chateau-Landon
Wi-Fi
Not included

1x dinner
Drinks
Bicycle rental or E-bike rental
Personal insurances
Gratuities (at your discretion)
Entrance fees and excursions (not mentioned under included)
Transfers to/from the docking place
Parking fees
Transfer between Paris and Montargis: There is a continuous train service between Paris (Gare de Lyon) and Montargis. Trains depart regularly and the trip takes approx. 1 hour and costs approx. 21€. If you wish we can reserve a taxi for you to take you from the station in Montargis to the barge or from the barge to the station in Montargis. For arrivals, please notify us by e-mail; for departures, please inform the skipper of the Fleur. From the Gare de Lyon in Paris, a bus service is available every 30 minutes, Le Bus Direct nr. 4 (shuttle) to the airport Charles de Gaulle, which will bring you there in approx. 50 minutes.
Travel during corona time

On our tours we make sure that you can travel safely! We follow all possible safety measures on board by observing hygiene rules, equipping staff with face masks and with extra cleaning and sufficient ventilation. All guests, crew and tour leaders complete a health declaration in advance, and during the trip we take care that everyone stays healthy!
2023:
Rental bicycle Premium: €100 per period
Rental E-Bike Premium: €220 per period (only on request, limited number of e-bikes available, early bookings strongly recommended.
Parking own bicycle/E-Bike: it is not possible to bring your own bicycle/E-Bike on this ship, due to a lack of space on deck.
| Cabins prices p.p. | 2023 |
| --- | --- |
| Twin cabin | € 1569 |
| Single use | € 2318.50 |
| Bike rent | € 100 |
| E-bike | € 220 |