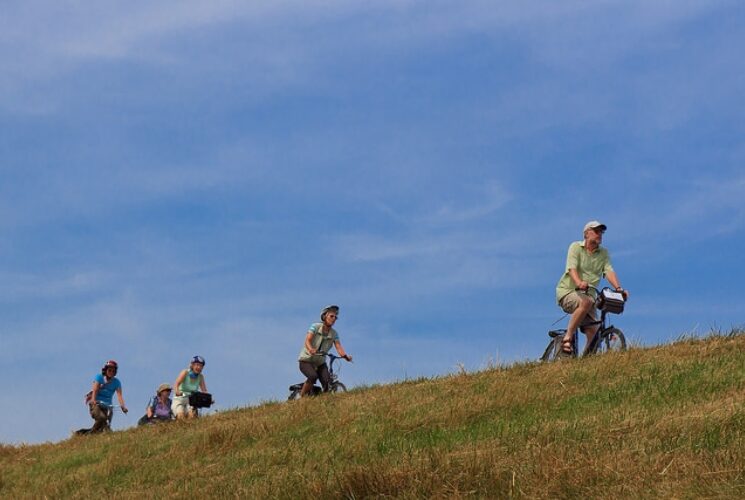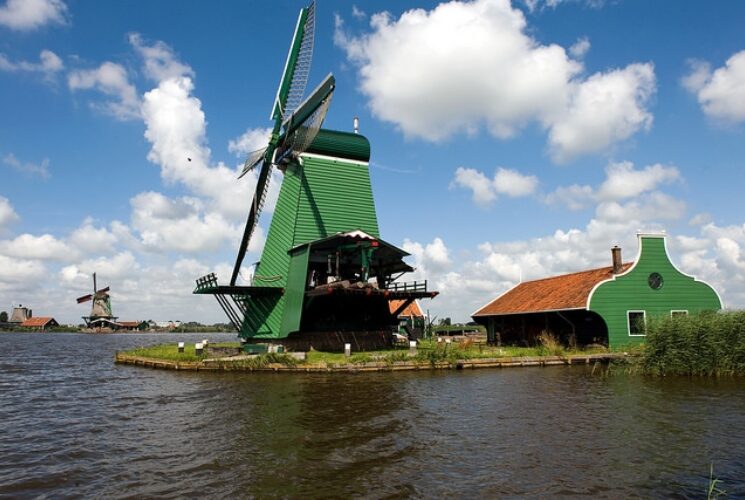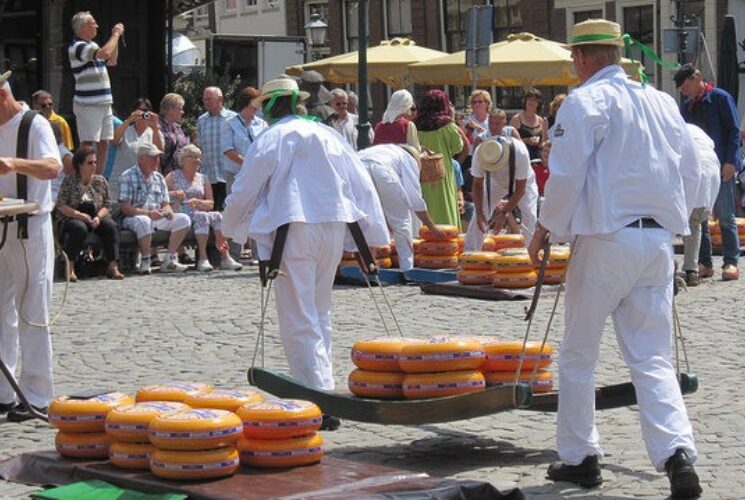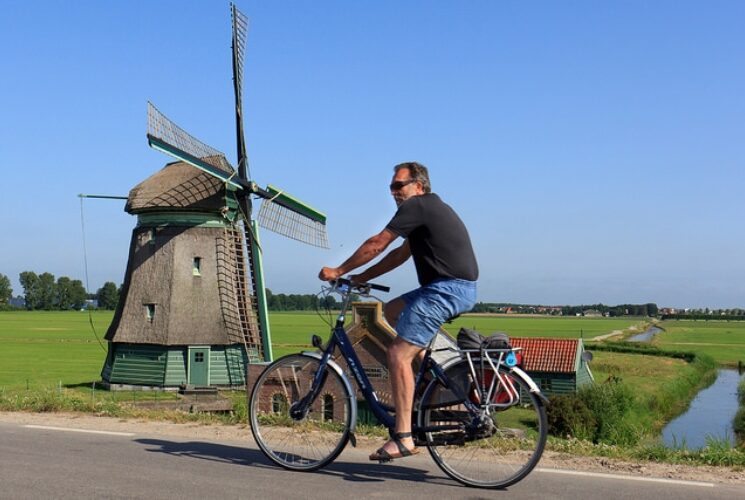 Bike and Barge: Northern Tour of Holland
| The Poseidon
During this fascinating cycling cruise on board the ship The Poseidon you will discover the best of what the beautiful Provinces of North-Holland and Friesland offer. Explore flat "polder" landscapes – a polder is a low-lying tract of land enclosed by embankments – the North Sea coast, towering sand dunes, long sandy beaches, historic windmills, the island of Texel and the many picturesque harbor towns along the coast of IJsselmeer Lake. It is without doubt a tour not to be missed!
Nowhere else in the world will you find an area as fascinating as the Dutch Provinces of North Holland and Friesland, two areas rich in tradition. Over the course of your week, you will be able to discover typical Dutch culture and cycle through a flat "polder land", extensively reclaimed over the centuries from the North Sea and the former Southern Sea (now IJsselmeer).
What you will soon realize is the truth behind the proverb "God created the earth but the Dutch made Holland", such has been the extent of land reclamation in the region you will be cycling through. Since the 17th century in an effort to save disappearing land from encroaching water, protective dikes have been built, low lying land has been pumped dry and tidal dams have been created in creeks to prevent flooding, with the result that today's green flat polder landscape is full of agricultural enterprise.
Given the Dutch love for cycling, the region is crisscrossed with many quiet cycle tracks that stretch from one end of the region to the other. You will be amazed by the beauty of the North Sea beaches, the towering sand dunes – who said there were no hills in Holland! – the extremely bicycle friendly island of Texel, the beautiful flat landscapes, small dreamlike farm villages and romantic picturesque harbor villages.
During the second part of the tour you will cross the large lake IJsselmeer to Stavoren in the Province of Friesland. Other highlights during your week tour include the open air museum "Zaanse Schans", the historic city center of Alkmaar and the old harbor cities of Medemblik, Enkhuizen, Hoorn and Volendam, the islands of Texel and Marken and – of course – Amsterdam with its beautiful canals.
Day 1: Amsterdam
Embarkation and check-in between 2 p.m. and 4:30 p.m. in Amsterdam. Take the opportunity to go shopping, to explore downtown Amsterdam, to make a canal cruise or to visit a museum. At 5 p.m. welcome drink and safety instructions, dinner and first briefing on board. First night on board in Amsterdam.
Day 2: Amsterdam – Zaandam | Zaandam – Zaanse Schans – Alkmaar (44 km/27 mi.)
The first cycling trip of this tour takes you via small villages through the beautiful flat and green polder landscape. The first stop is at the Zaanse Schans open air museum (free entry) with its traditional Old Dutch wooden houses, windmills and the cheese- and clog factory. After this visit you will cycle through the "Land of Leeghwater", a green polder area between Amsterdam, Alkmaar and Hoorn. Stroll through the former whaler's village De Rijp and pass by the windmills of Schermerhorn. Your ship will be waiting for you near the historical city center of Alkmaar.
Day 3: Dune tour: round trip from/to Alkmaar | Alkmaar – Den Helder (33 km/20 mi. or 40 km/25 mi.)
Today you can discover the beautiful North-Holland Dune reserve. This is a 5.300 hectare large forest- and dune area with its unique landscapes. In these dunes the drinking water for almost the whole province of North-Holland is gained. After a visit to the beach and artists village Bergen you will return to Alkmaar where you can visit the wonderful city center. In the afternoon the ship will sail over the North-Holland Canal to the navy harbor of Den Helder.
Day 4: Ferry to North Sea island of Texel: cycling round trips from 't Horntje | Den Helder – Den Oever (several options from 15 km/9 mi. to 65 km/41 mi.)
After breakfast you'll take a 20-minute ferry ride (ticket included) from Den Helder to the isle of Texel, where you can make beautiful cycling tours on the largest of the Dutch North Sea Isles. Ride through meadows, nature parks and dunes to small villages and have the opportunity for a stop and some bathing at the sandy North Sea beach, or visit the "Ecomare" seal sanctuary. In the late afternoon you will return by ferry to Den Helder. During dinner your ship will sail to Den Oever.
Day 5: Den Oever – Stavoren | Southwest Friesland: round trip from/to Stavoren (43 km/27 mi. or 55 km/34 mi.)
The vessel will cross the large inland lake IJsselmeer to sail to Stavoren in the Province of Friesland. You can opt for a shorter or longer cycling tour: discover the nature area of Gaasterland or explore a part of the wide lake district, that Friesland is well-known for. You can also combine both options. Night in the small harbor of Stavoren, one of the famous traditional 11 cities of Friesland.
Day 6: Stavoren – Medemblik | Medemblik – Hoorn – Enkhuizen (30 km/19 mi. or 50 km/31 mi.)
The ship will cross the IJsselmeer again during breakfast. Take the short cycling trip from Medemblik along the IJsselmeer coast directly to Enkhuizen, where you can spend the afternoon. Enkhuizen is an old city with many centuries of maritime tradition. The "herring city" boasts a beautiful old harbor, a historical old town centre and the very interesting Zuiderzeemuseum. If you prefer a longer cycling tour, ride from Medemblik to the former Dutch East India Company town of Hoorn, in the 17th century one of the world's leading harbors. Enjoy your lunch break and make a short stroll in the old city centre. Continue by bicycle to Enkhuizen via some picturesque rural villages. In the evening you can join a short city walk.
Day 7: Enkhuizen – Volendam | Volendam – Waterland – Amsterdam (35 km/22 mi. or 50 km/31 mi.)
During breakfast the ship will sail to Volendam. Your final day of cycling will lead you through the beautiful area of Waterland, with its hundreds of small lakes and tiny canals. Near Volendam you will have the opportunity to visit a cheese farm. Recommended (extra cycling miles) is a tour to the former island of Marken, to continue through the water shaped region of Waterland back to the Dutch capital city of Amsterdam. The afternoon and evening are yours to enjoy everything Amsterdam has to offer. If you didn't go for a canal cruise on the first day, you can do so today.
Day 8: Amsterdam
End of your tour: Disembarkation after breakfast until 9.30 a.m..
Good to know
Parts that are printed in italics parts will be covered by the ship.
All distances are "approximate distances" of recommended bike tours. The tour details are barring changes, a.o. as a result of nautical, technical or meteorological reasons.
A knowledgeable and multilingual tour leader is available on board. He/she will provide you with all necessary tour information during daily briefings. You will cycle the tours independently, at your own pace, with the help of a detailed cycling map, GPS-tracks and printed route notes (available on board). The tour leader will also be cycling the daily tours and can – for assistance – be reached on his/her mobile phone in cases of emergency or technical breakdown of the bicycle. During days when several bicycle options are possible, not all mentioned highlights can be visited during the shorter cycling options.
If you don't feel like cycling for a day (or more) you are welcome to relax and stay on board while the ship is sailing. But please note: lunch will not be served on board. So you can enjoy your packed lunch. On the arrival (first) day it is possible to put your luggage on board from 11:00 a.m..
INCLUDED:
8 days/7 nights
7 x breakfast
Packed lunches
7 x 3-course dinner
Coffee and tea on board till 4 PM
Welcome drink
Use of bed linen and towels
Daily cleaning of the cabin
Climate-controlled cabin
Daily briefings
Semi guided cycling tours (guest cycle independently, tour leader also cycles the tour);
Some short walking tours
Maps and notes for cycling tours (1 set per cabin)
GPS tracks
Use of a waterproof pannier bag
Ferry ticket to Texel
Wi-Fi is available in restaurant – data use is not included
Live music on board
NOT INCLUDED:

Coffee and tea on board after 4 PM
Drinks
Bicycle rental or E-bike rental
Helmet rental
Personal insurances
Gratuities (at your discretion)
Entrance fees and excursions
Fees for ferries (ferry to Texel included)
Transfers to/from the docking place
Parking fees
Additional options & information 2022
Rental bicycle: € 85 per week
Rental E-Bike: € 185 per week (only on request, limited number available)
You can find a description of the bicycles under 'ship'.
Helmets: A helmet can be rented for € 10 per week, only on prior reservation and payment.
Limitation of liability (damage) rental bicycle € 10/week
Limitation of liability (damage) rental e-bike € 25/week
Parking own bicycle: € 10 per week (only a limited number of parking places available: pref. reservation by booking)
Parking + charge station own E-Bike: € 25 per week (only a limited number of parking places available: pref. reservation by booking)
Canal cruise Amsterdam: Ticket for a 1-hour canal cruise through Amsterdam – special price for our guests: € 14 (at the ticket desk approx.: € 18). Please book your ticket in advance and you can collect it on board of your ship on the first day of the tour.
Parking in Amsterdam (valet parking): prices and pre-booking on request.
| Cabins 2022 p.p. | A | B | C | D |
| --- | --- | --- | --- | --- |
| Twin lower deck | 599 | € 749,- | € 849,- | € 949,- |
| Twin cabin lower deck for single use (max. 4) | € 898.50 | € 1123.50 | € 1273.50 | € 1423.50 |
| Twin cabin upper deck | € 799,- | € 949,- | € 1049,- | € 1149,- |
| Twin cabin upper deck for single use (max. 1) | € 1198.50 | € 1423.50 | € 1573.50 | € 1723.50 |
| Bicycle rent | € 85,- | | | |
| E-bike | € 185,- | | | |
| Helmet | € 10,- | | | |
| Season A: March 27; April 10 and Oct. 9 | | | | |
| Season B: April 17 and 24 and Oct. 2 | | | | |
| Season C: Sept. 18 | | | | |
| Season D: May 1, 8, 15 and 29; June 12 and 26; July 10 and 24; August 7 and 21 and Sept. 4 | | | | |