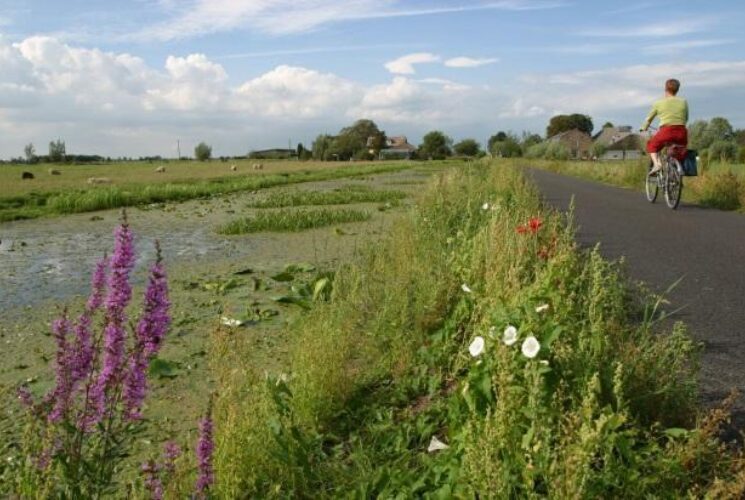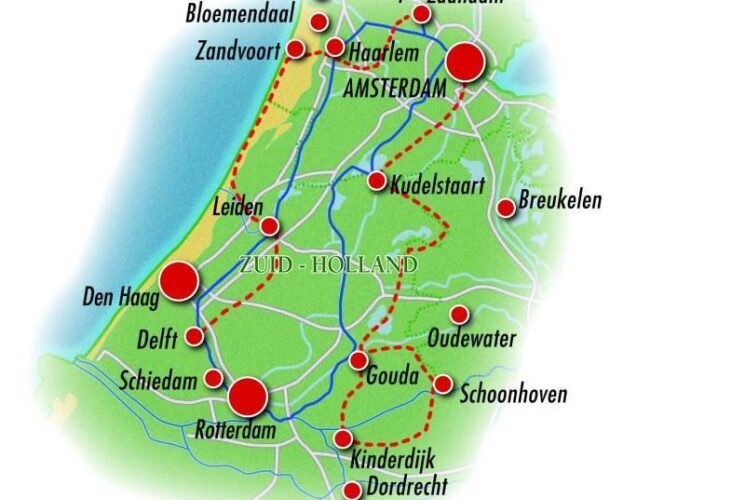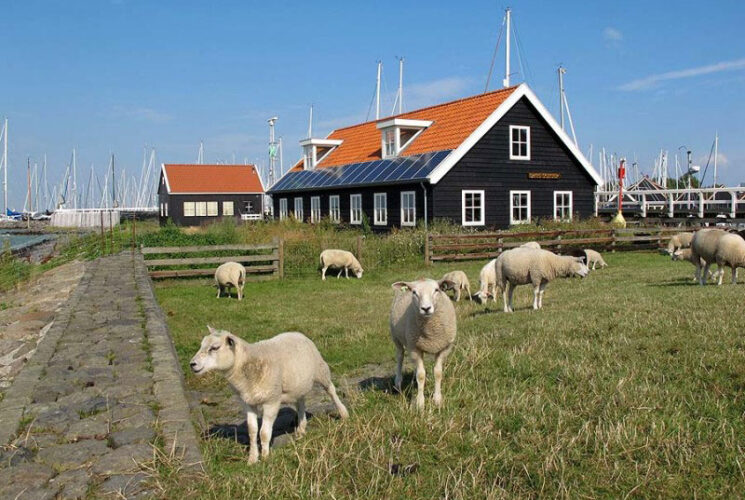 The Green hart of Holland 2021.
During this eight day/seven night, bike and barge tour on board of the charming barge Lena Maria you will discover the 'Green Heart' of Holland by bike, a region steeped in history, natural attractions, world famous cities and beautiful scenery.

Along the way you will visit historical cities such as Amsterdam, Haarlem, Rotterdam, Leiden and Gouda. You will discover many culturally historic attractions and, more importantly, you will be able to immerse yourself in the heart of this fascinating and very Dutch part of Holland.
Also, if you are an art lover, you will enjoy the visits to Leiden, Haarlem and Delft where painters such as Rembrandt, Frans Hals and Vermeer lived and worked. But far from just being about big cities and Dutch history, this tour is also about the picturesque villages and beautiful scenery of the 'green lung' districts of central part and South-Holland province. One thing is certain: by the end of the tour you will not only go home with a new-found appreciation for bike and barge cruising, but for everything that is Dutch.
A bonus during this tour is the fact that the Lena Maria docks in and around the city center of the various cities and villages visited at the end of each day's cycling, giving you the opportunity to visit and explore at your leisure at night.
The Lena Maria started her second life as a passenger barge in 2006. This ship was built by Hans de Lange who had previously built and operated similar vessels. The Lena Maria is a very comfortable ship, ideal for bike and barge tours in the Netherlands and very popular on the Hanseatic tour.
Description of the cabins
The Lena Maria has twelve spacious twin cabins (10,5 m² – 113 sq.ft.) with two separate beds. Each cabin has a private shower, toilet and basin. Windows can be opened and the cabins have ventilation and central heating. Furthermore, you will find a hair dryer in each cabin.
Description of the ship
On the upper deck of the Lena Maria you will find the cozy lounge with the bar and dining area. Wi-Fi is available. The barge also has a beautiful sundeck, where you can have a drink. On nice evenings, or while cruising, you can enjoy the scenery from here.
Day 1 (Sat): Embarkation: Amsterdam
Embarkation and check-in where the crew will welcome you on board is from 2 PM in the centre of Amsterdam (at the NEMO Museum, Oosterdok). After unpacking your luggage in your cabin you will still have plenty of time to explore this famous city. Treat yourself to a canal tour, visit one or more museums or simply do some shopping. An introduction to the tour will take place at 5.30 PM, during which the crew will be presented and your first dinner on board will be served; your rental bicycles will also be distributed at this time.
Day 2 (Sun): Amsterdam – Zaandam | Zaandam – Zaanse Schans – Haarlem (Approx. 35-55 km**/22-34 mi.**)
After a short cruise on board the MS Jelmar, you are finally off and cycling today after first visiting the lovely open-air museum 'Zaanse Schans' in Zaandam where an authentic 18th and 19th century Dutch village has been reconstructed. In the museum you will learn about iconic Dutch traditions such as windmills and cheese and clog making. You will then cycle to Haarlem where celebrated portraitist and genre painter Frans Hals lived and worked in the 16th century. In the evening you can stroll through the lovely city centre and the Grote Markt (market square). If preferred, today's bike tour can also be extended with a visit to the sea locks of IJmuiden and the Kennemer Dunes.
Day 3 (Mon): Haarlem – North Sea coast – Leiden (Approx. 55 km/34 mi.)
After enjoying breakfast with your newfound cycling friends, you will pedal today along the North Sea coast through seaside dunes via the resorts of Noordwijk and Katwijk aan Zee to the vibrant university city of Leiden, the birthplace of celebrated artist Rembrandt van Rijn. The city's picturesque old city centre is crisscrossed with canals lined by beautiful 17th-century buildings and is very definitely a must to see.
Day 4 (Tue): Leiden – Delft (Approx. 35 km/22 mi.)
From Leiden you will cycle to Delft, famous for its Blue porcelain and where you will have the opportunity to visit a porcelain studio. Another major attraction in the beautiful city centre of Delft is the royal crypt of the House of Orange. From Delft you will have the time to visit either The Hague by bicycle (or by train or tram), or, if preferred, the Binnenhof, the Peace Palace (Vredespaleis), the Scheveningen seaside resort or any one of many other attractions.
Day 5 (Wed): Delft – Rotterdam – Kinderdijk | Kinderdijk – Schoonhoven – Gouda (Approx. 30-45** km/19-28 mi.**)
This morning you will sail from Delft on the MS Jelmar through the remarkable international port of Rotterdam to Kinderdijk, a village famous for an impressive row of 19 large windmills. All 19 windmills have a UNESCO cultural heritage listing and are a definite highlight – you will have the opportunity to visit one so don't forget to bring your camera! From Kinderdijk you will cycle directly to the cheese city of Gouda, or if you prefer, on a longer tour via the silver city of Schoonhoven to Gouda, your destination for the day.
Day 6 (Thu): Gouda – Kudelstaart (Approx. 55 km/34 mi.)
The highlight of today's cycle tour is the naturally idyllic beauty of the South Holland landscape. Your destination for the day is the village of Kudelstaart where the MS Jelmar will be waiting for you. Along the way you will cycle along numerous small canals and past picture-perfect farms and small villages. At the mooring place on the banks of the Westeinder Plassen ('West End' Lakes) there is a beautiful view to savour while enjoying a wine during or after dinner.
Day 7 (Fri): Kudelstaart – Aalsmeer – Amsterdam (Approx. 15-40 km**/10-25 mi.**) | or Kudelstaart – Amsterdam
If you are keen for an early start to the day you can visit the largest trade centre for plants and flowers in the world at Aalsmeer (optional extra, not included). The market is a hive of activity; it is guaranteed that you will never have seen so many flowers in the one place. After breakfast you can either stay on board the MS Jelmar as it cruises through the City of Amsterdam to its mooring place or you can cycle into the city through the city park Amsterdamse Bos or along the Amstel River. Once you reach Amsterdam take the opportunity during the afternoon and evening to go for a canal cruise, discover Anne Frank's home, the Rembrandt House Museum, the Royal Palace of Amsterdam and Dam Square, the very centre and heart of the city.
Day 8 (Sat): Disembarkation: Amsterdam
Disembarkation and bid the crew farewell after breakfast until 9 AM: End of your trip.
Good to know

Parts that are printed in italics parts will be covered by the ship.
All distances are "approximate distances" of recommended bike tours. The tour details are barring changes, a.o. as a result of nautical, technical or meteorological reasons.
The daily cycling tours will be accompanied by a knowledgeable and multi-lingual tour leader.
During the days when 2 bicycle options are possible, the tour leader will make a choice for the longer or the shorter option together with the group.
Not all mentioned highlights will be visited during the short bike option.
You can also choose to ride individually with the help of a map and route notes (available on board). GPS tracks will be sent to you 4 weeks before the start date of the tour.
In case you prefer a day of rest, you can skip the bike tour and relax on board while cruising to the next town.
On the arrival day is it possible to bring your luggage on board from 11 a.m.
Inclusive:
8 days/7 nights
7 x breakfast
Packed lunches
7 x 3-course dinner
Coffee and tea on board
Welcome drink
Use of bed linen and towels
1 x cleaning of the cabin during the tour
Daily briefings by the tour leader
Fully guided cycling tours
Fees for ferries
Maps and notes for cycling tours (1 set per cabin)
GPS tracks
Use of a waterproof pannier bag
Wi-Fi
Exclusive:
Drinks
Bicycle rental or E-bike rental
Helmet rental
Personal insurances
Gratuities (at your discretion)
Entrance fees and excursions
Transfers to/from the docking place
Parking fees
Additional options and information
Rental bicycle: € 85 per week
Rental E-Bike: € 185 per week (only on request, limited number available)
Helmets: A helmet can be rented for € 10 per week, only on prior reservation and payment.
Limitation of liability (damage) rental bicycle €10/week
Limitation of liability (damage) rental e-bike €25/week
Parking own bicycle: € 10 per week (only a limited number of parking places available: pref. reservation by booking)
Parking + charge station own E-Bike: € 25 per week (only a limited number of parking places available: pref. reservation by booking)
Canal cruise Amsterdam: Ticket for a 1-hour canal cruise through Amsterdam – special price for our guests: € 14 (at the ticket desk approx.: € 18). Please book your ticket in advance and you can collect it on board of your ship on the first day of the tour.
Parking in Amsterdam (valet parking): prices and pre-booking on request.
| Cabins 2021 | June 12 - Sept. 11 | Sept. 18 |
| --- | --- | --- |
| Twin cabin lower deck | € 949,- | € 899,- |
| Triple cabin lower deck (max. 2) | € 909,- | € 859,- |
| Twin for single use (max. 1) | € 1423,50 | € 1.348,50 |
| Cabins 2022 | May + Sept | Sept 17 |
| Twin cabin lower deck | € 989 | € 949 |
| Triple cabin lower deck (max. 2) | € 1483.50 | € 1423.50 |
| Twin for single use (max. 1) | € 949 | € 909 |
| Bicycle rent | € 85,- | |
| E-bike | € 185- | |