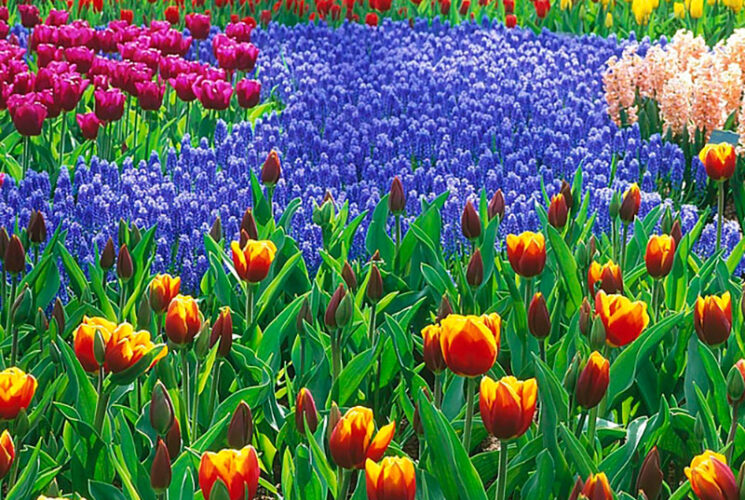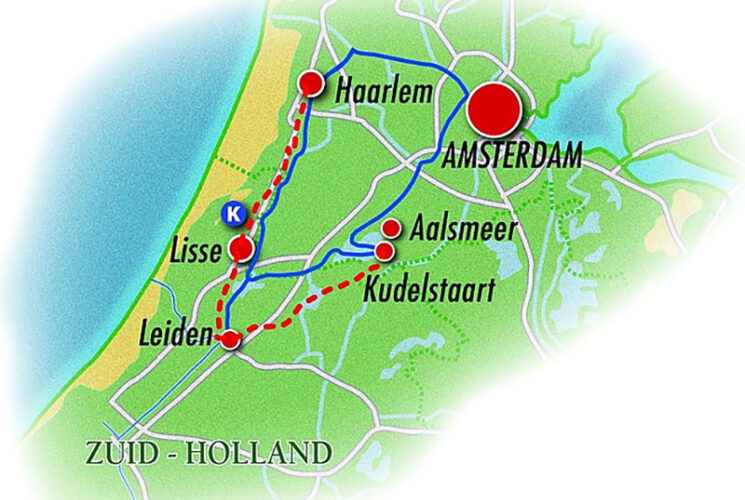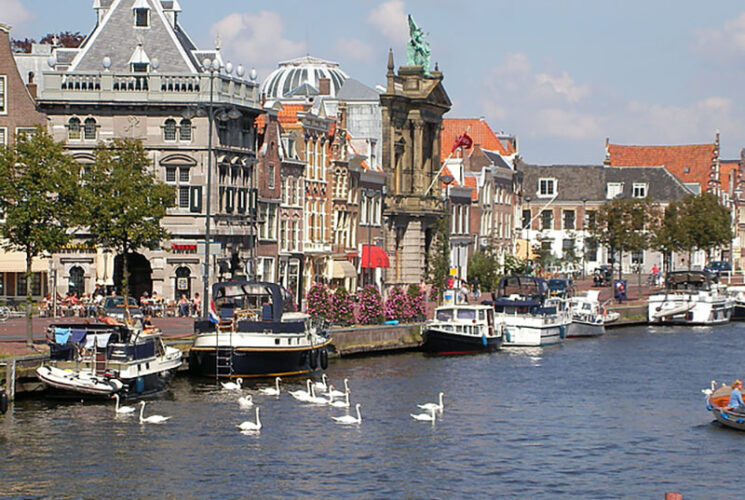 Boat and Bike Tulip cruise 2022
Experience Holland in the best possible way: a gorgeous spring short break dominated by flowers. This 5 day mini-cruise plows through the most beautiful season of the year and will take you to gorgeous areas such in "the Garden of Amsterdam". Enjoy some unforgettable days on board of a premium passenger barge with excellent service and an alternating itinerary.
Amsterdam is also called, by some, the smallest metropolis of Europe. There are many unique museums, enticing shopping and, recently added to the UNESCO Cultural World Heritage list, the canals in the heart of Amsterdam certainly make a visit to Amsterdam a highlight. Visit the famous flower market in the center of the capital and discover the "Zaanse Schans" open air museum including windmills, a traditional cheese maker, a clog maker and an authentic traditional Dutch village. Other highlights of this trip are the historic city of Haarlem, the world famous flower park Keukenhof, near Lisse. Optional is a visit to the world's largest flower auction* in Aalsmeer.
An impression of our newest ship

The Magnifique IV's upper deck features a spacious and tastefully-decorated salon with air conditioning, a bar and lounge area. Here you will find large panoramic windows, a widescreen TV, and information screens displaying the barge's real-time location. Wi-Fi is also available.
The comfortable and inviting restaurant is separated from the kitchen by a glass wall, so you can see our talented chefs in action. Large glass doors open onto a beautiful partially-covered teak sundeck, furnished with tables and chairs.
The front deck has space to accommodate bicycles, while the top deck boasts a hot tub and deckchairs, from which you can enjoy the scenery.
A variety of comfortable cabins
In addition to the bar and lounge area, the upper deck houses 10 generous suites, while the lower deck houses eight twin cabins and the dining room. The spacious suites, each measuring 16 m² (172 ft²), have two separate beds, set next to each other as a hotel style bed (200 x 160 cm – 78 x 62 inches), a cozy sitting area, and a large sliding window.
The twin cabins below deck, measuring 12 m² (129 ft²) feature two single beds and fixed portholes. All cabins have their own private bathroom with shower, basin and toilet; as well as individually-regulated air-conditioning, flat screen satellite TV, mini safe and hair dryer.
Enjoy the personal service, delicious meals and excellent accommodation on board of the premium barge.
*: The Aalsmeer flower auction is closed during weekends and on public holidays. This is an optional visit.
Tour Details Holland: Tulip Tour
Day 1: Amsterdam | Amsterdam – Zaandam Embarkation and check-in, where the crew will welcome you on board, takes place between 1 p.m. and 2 p.m. As soon as all guests have arrived a short cruise will bring you to Zaandam, a spot famous for its windmills. Here, your barge will berth in the center of the city for the night. Upon arrival you can enjoy taking your new bike for a brief test ride through the surrounding area. In the evening, enjoy a short walk through the picturesque center of Zaandam.
Day 2: Zaandam – "Zaanse Schans" – Zaandam | Zaandam – Haarlem (24 km/14 mi. or 34 km/21 mi.)
After breakfast you will enjoy a 5 km bicycle ride to the open air museum "Zaanse Schans" with beautiful windmills, traditional wooden houses, an old Dutch village, a cheese farm and a traditional wooden clog maker. In the afternoon you have a choice to make: you can either cycle (24 km/14 mi.) to Haarlem or take it easy and join the barge while enjoying the scenery. In Haarlem visit the historical inner city with the Grote Markt and St. Bavo church. Your barge will be berthed not far from the centre of Haarlem for the night, so you will have time to enjoy a short city walk in the afternoon or in the evening.
Day 3: Haarlem – Keukenhof – Oude Wetering (39 km/24 mi. or 57 km/35 mi.)
Today you will cycle to the Keukenhof, arguably the most famous flower park in the world where you can admire hundreds of thousands of tulips, daffodils, hyacinths and many other flowers in full bloom. After an extensive visit you will get back on your bicycle at noon and will head to Oude Wetering, a small village, where your floating hotel will be waiting for you.
Day 4: Oude Wetering – Amsterdam | Amsterdam Waterland cycling tour (28 km/18 mi.)
This morning you are in for a real treat – an early visit by bus (6.30 a.m.) to the biggest flower auction in the world at Aalsmeer. In the morning millions of flowers are auctioned off here and are instantly sent out to all parts of the world*. By 9 a.m. you will return on the your barge where a late breakfast will be waiting for you while sailing to Amsterdam. During the afternoon you either have the opportunity to make a last beautiful cycling tour through the wetlands of Waterland or to discover this amazing city. Visit the inner city flower market, go to a museum, do some shopping… there is just so much to do! Optional: end-of-day canal tour in Amsterdam.
*: The Aalsmeer flower auction is closed during weekends and on public holidays. This is an optional visit.
Day 5: Amsterdam
End of your tour: Disembarkation after breakfast until 9.30 a.m.
Good to know
Parts that are printed in italics parts will be covered by the ship.
All distances are "approximate distances" of recommended bike tours. The tour details are barring changes, a.o. as a result of nautical, technical or meteorological reasons.
On this Tulip Tour with more than 22 guests the daily cycling tours will be accompanied by 2 knowledgeable and multi-lingual tour leaders. On most days the tour leaders will offer a long and a short (or a quicker and a more relaxed) bike option.
Not all mentioned highlights will be visited during the short bike option.
You can also choose to ride individually with the help of a map and route notes (available on board). GPS tracks will be sent to you 4 weeks before the start date of the tour.
In case you prefer a day of rest, you can skip the bike tour and relax on board while cruising to the next town.
On the arrival day is it possible to bring your luggage on board from 11 a.m.
Inclusive:
5 days/4 nights
4 x breakfast
Packed lunches
4 x 3-course dinner
Coffee and tea on board
Welcome drink
Use of bed linen and towels
Daily cleaning of the cabin
Climate-controlled cabin
Daily briefings
Fully guided cycling tours (2 tour leaders, 2 groups)
Some short walking tours
Maps and notes for cycling tours (1 set per cabin)
GPS tracks
Use of a helmet
Use of a waterproof pannier bag
Water bottle
Entrance Keukenhof
Entrance North-Holland Dune reserve
Visit mill at Zaanse Schans
Fees for ferries
Wi-Fi
Exclusive:
Drinks
Bicycle rental or E-bike rental
Personal insurances
Gratuities (at your discretion)
Entrance fees and excursions (not mentioned under inclusions)
Transfers to/from the docking place
Parking fees
Additional options

Rental bicycle Premium: € 70 per week (optional)
Rental E-Bike Premium: € 134 per week (optional, only a limited number of electrical bikes available: pref. reservation by booking)
Parking own bicycle: € 7 per week (only a limited number of parking places available: pref. reservation by booking)
Parking + charge station own E-Bike: € 17 per week (only a limited number of parking places available: pref. reservation by booking)
| Cabins 2023 p.p. | March | April |
| --- | --- | --- |
| Twin cabin lower deck | € 819,- | € 919,- |
| Upper deck suite | € 1189,- | € 1289,- |
| Twin for single use | € 1228.50 | € 1378.50 |
| single | € 1129 | € 1279 |
| Bicycle rent | € 70,- | |
| E-bike | € 135,- | |