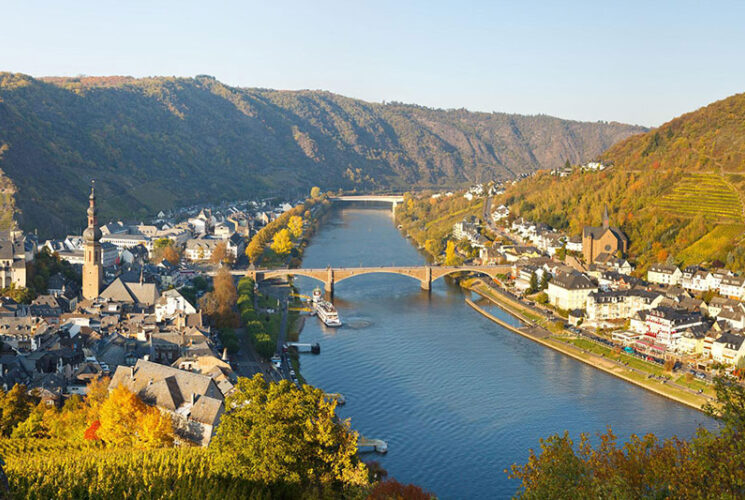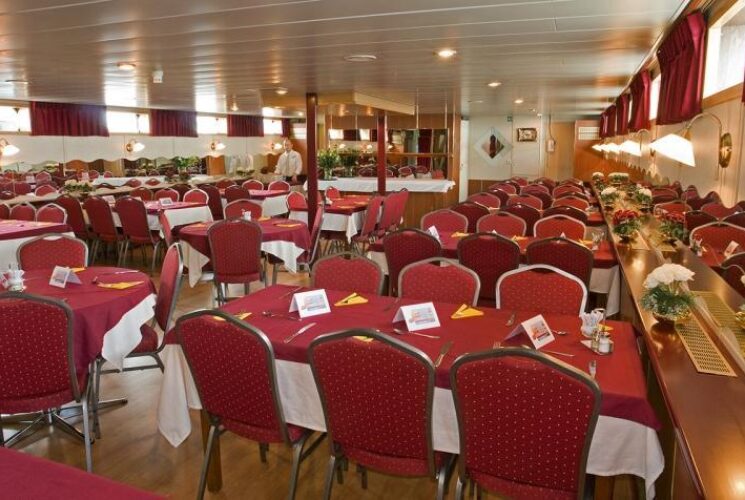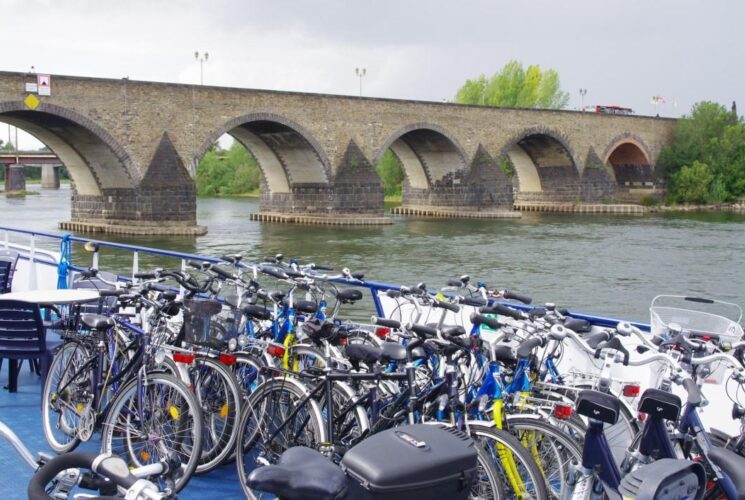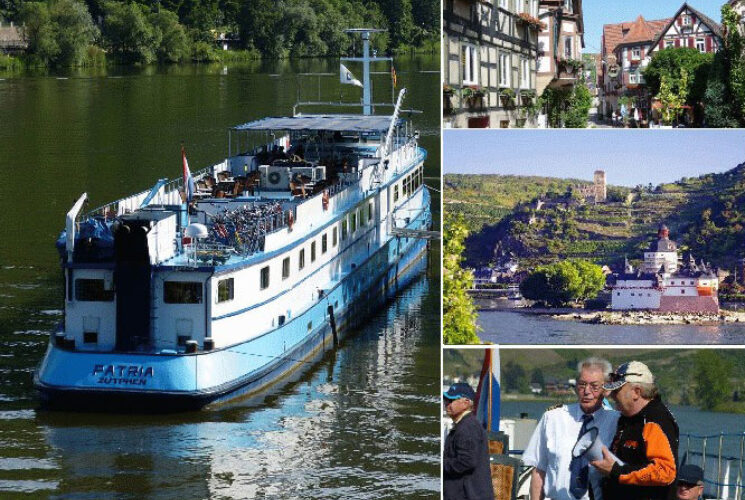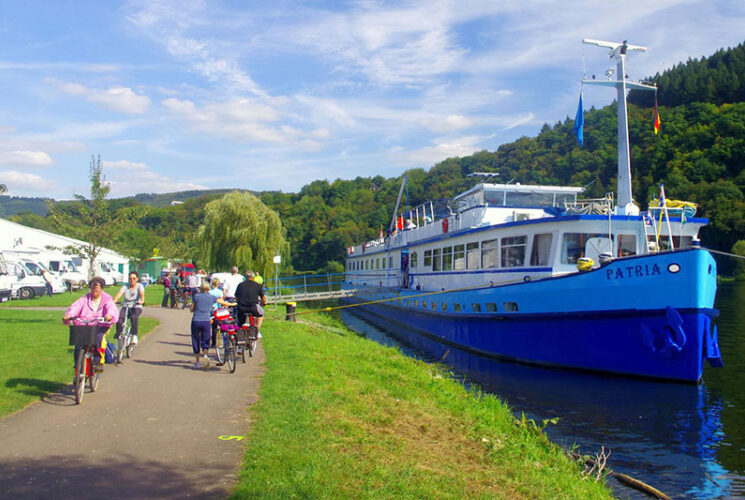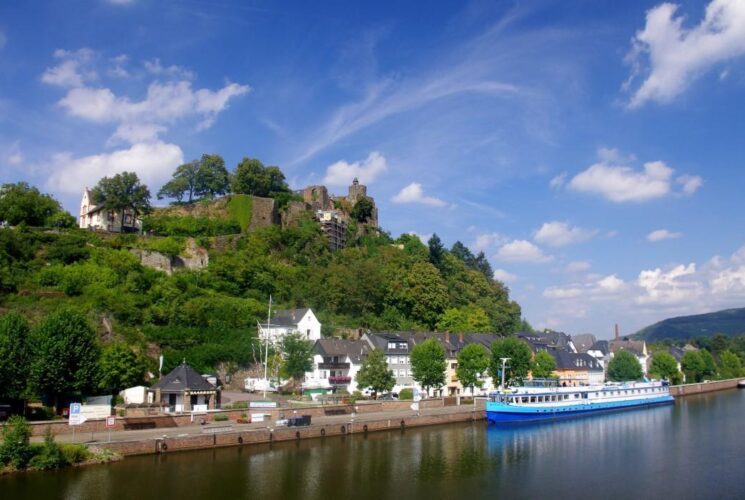 Boat Bike tour Bad Wimfpen Koblenz
Boat and Bike tour between Koblenz and Bad Wimpfen or vica versa. Enjoy a beautiful and unique cycling tour and cruise and explore the famous river valleys of Rhine and Neckar. It may be difficult for you to choose between the charms of these two rivers. Beautiful scenery, very nice cycling tracks along the rivers, famous cities and picturesque villages.
Is the Neckar more picturesque at Marbach, the birthplace of the writer and poem Schiller, or perhaps at the Odenwald, which the river flows through? Maybe you prefer "Father Rhine", which is associated with the famous Nibelungen saga, the Loreley rock, the city of Worms and the numerous museums in Mainz? The stretch of cycle path along the left bank of the Rhine between Bingen and Koblenz passes through the Rhineland Massif, which is fashioned by castles. You can make your own choice!
After you have returned home, you will enjoy browsing your photos: the Cathedral in Worms, the Nibelungentor, of course Heidelberg with its magnificent Castle, the narrow streets of the old town centers of Eberbach and Koblenz, which are just a few of the highlights of this trip along the Rhine and the Neckar. Every photo revives your pleasant memories. What more could you expect from such a wonderful trip?
The quality of cycling tracks is very good: usually you will cycle on paved tracks along the rivers without any gradients of note. This makes the trip also suitable for relatively unpractised cyclists.
You will live and travel on board the MS PATRIA, which has been a favourite ship for bike-boat holidays for many years.
Minimum number of passengers: 40 persons
Transfers between Koblenz and Bad Wimpfen by train & minivan are organized and offered by the tour leader on board.
Pre-application for transfer per minivan (approx. E 85,00 p.p. min. 4 pers., bike E 12,50) is required.
On other dates the ship is sailing the tour "Mosel & Saar" between Koblenz and Saarburg (info on request).
Day 1 (Sat): Bad Wimpfen: Arrival and embarkation

Embarkation as from 4 PM; the crew will welcome you on board. You will spend the evening and first night in Bad Wimpfen.
Day 2 (Sun): Bad Wimpfen – Eberbach (ca. 41 km / 25 miles)
By bike to Neckarzimmern, from here you can go on foot or by bike to the castle Burg Hornberg, where Götz von Berlichingen once lived. Continue your bike tour to the old picturesque town of Eberbach. In the evening a night watchman in traditional clothing waits for you to show you his city (optional excursion, bookable on board).
Day 3 (Mon): Eberbach – Heidelberg (ca. 38 km / 23 miles)
The first destination: Hirschhorn, the "Pearl of the Neckar valley". You cycle through the Odenwald to Neckarsteinach, then via Ziegelhausen to Heidelberg. A walk through town and a visit to the castle are highly recommended. Guided tour (optional excursion, bookable on board).
Day 4 (Tue): Heidelberg – Mannheim (ca. 25 / 16 miles km) | Mannheim – Nierstein
Cross the Neckar and have a perfect view of Heidelberg and its castle. Cycling to Ladenburg, founded by the Romans, to end in Mannheim. Enjoy lunch on board while sailing to Nierstein. Fully in style, you can explore the vineyards while sitting on a tractor wagon and have a wine-tasting and diner at the local winegrowers (optional excursion, bookable on board).
Day 5 (Wed): Nierstein – Mainz (ca. 17-26 km / 10 – 16 miles)
Leave the largest wine community in the Rhine valley and cycle to Mainz: Romance, Gothic, Renaissance, Baroque – today you will explore the city of Mainz.
Day 6 (Thu): Mainz – Rüdesheim (ca. 37 km / 23 miles)
Cycle from Mainz through the beautiful Rheingau, via the rose town of Eltville to the picturesque village of Rüdesheim. Make a stroll through the Drosselgasse. Night in Rüdesheim or Bingen.
Day 7 (Fri): Rüdesheim – Boppard (ca. 30 km / 19 miles) | Boppard – Koblenz
Today you cycle on the left bank of the Rhine along castles and through the Loreley valley to the UNESCO cultural heritage site of the Upper Middle Rhine Valley. In the afternoon you can enjoy sailing to Koblenz on the conjunction of Moselle and Rhine.
Day 8 (Sat): Koblenz
After breakfast you will disembark: End of tour.
Included

8 days/7 nights
7 x breakfast
Packed lunches or noontime snacks
7 x 3- or 4-course dinner
Coffee and tea on board till 4 PM
Welcome drink
Use of bed linen and towels
Daily cleaning of the cabin
Climate-controlled cabin (lower deck)
Daily briefings by multilingual (German/English) on board tour manager
Independent cycling tours (on board tour manager can be reached on his cell phone)
Maps and notes for cycling tours (1 set per cabin)
Excluded
Drinks
Coffee and tea on board after 4 PM
Bicycle rental or E-bike rental incl. pannier bag (bicycle only included for departures on Oct. 13, 2018 or on April 6, 13 and 20 and Oct. 12, 2019)
Helmet (not available on board)
Personal insurances
Gratuities (at your discretion)
Entrance fees and excursions
City maps
Fees for ferries
Transfers to/from the docking place
Parking fees
Wi-Fi (unlimited data package to be purchased on board: € 10 per device)
Extra information
Rental bicycle: €70 per week Rental E-Bike: €165 per week (only on request, limited number available) You can find a description of the bicycles when you click on ship.
Transfers: Between Koblenz and Bad Wimpfen by train (in 3,5 hrs. for ca. € 45 p.p. – group tickets can be bought through the on board tour manager) or minivan (approx. € 85 p.p., min. 4 pers., bike € 15). Limited availability, this will be arranged by the on board tour manager. To be paid on board.
Excursion program: when the cycle stages and docking times make it possible an excursion program is compiled, which is bookable and payable only on board. Depending on the nationalities of the participants the excursions are available if necessary bilingual German-English.
| Cabins 2019 | Prices p.p. |
| --- | --- |
| Twin below deck | € 829,- |
| Twin upper deck | € 939,- |
| Single below deck | € 1.244,- |
| Single upper deck | € 1.409,- |
| Bicycle rent | € 70,- |
| E-Bike | € 165,- |