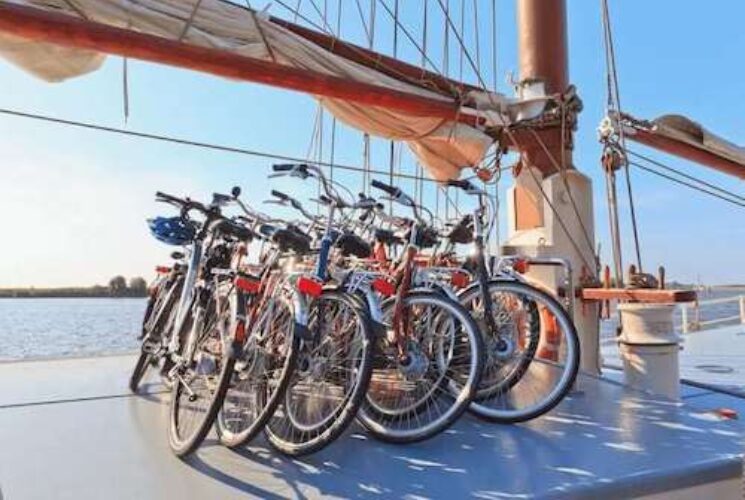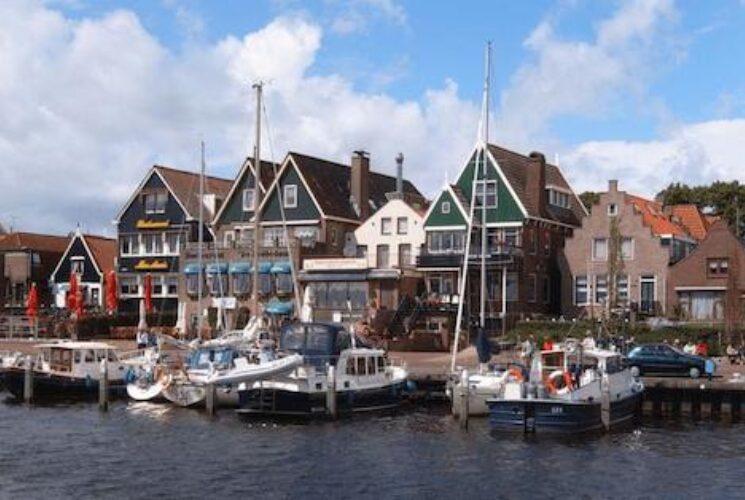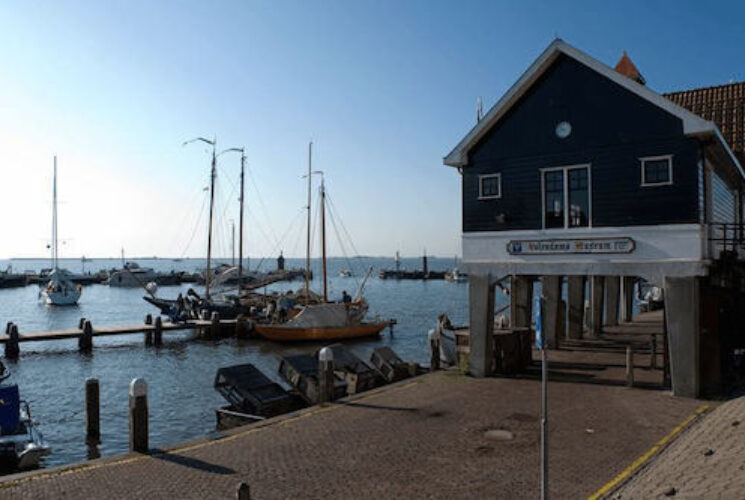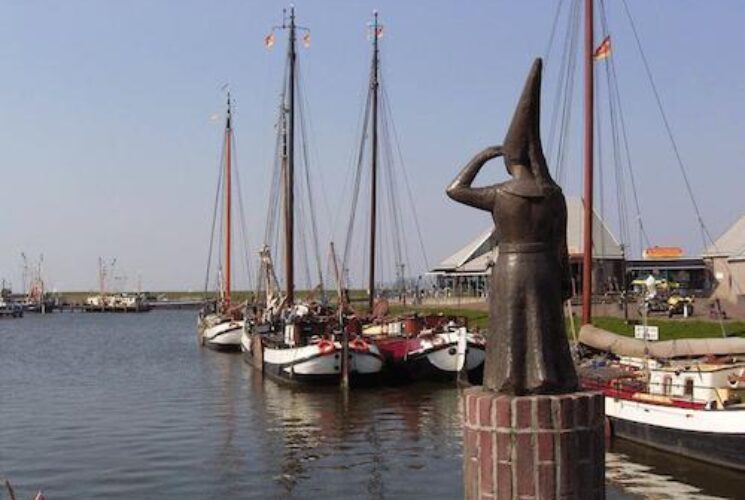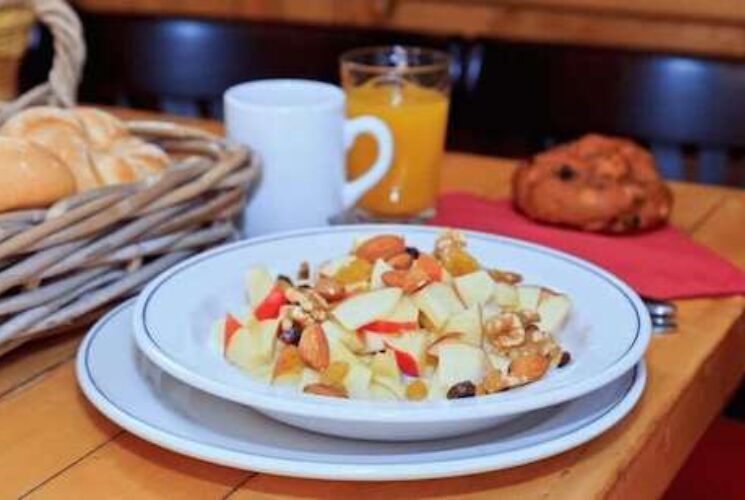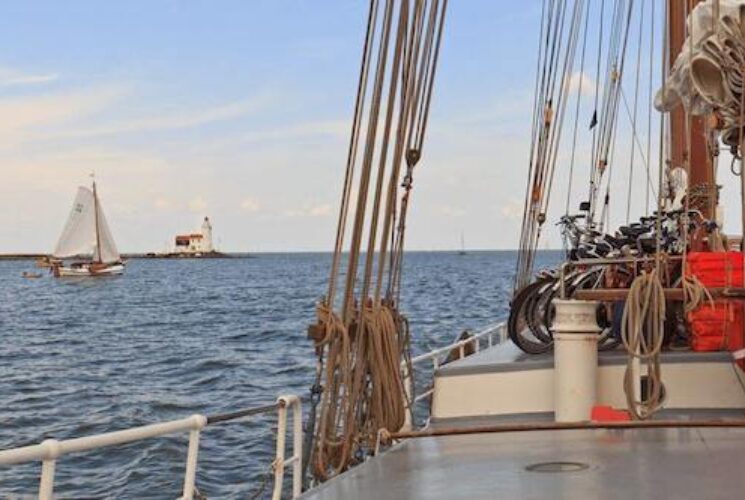 Sail and Bike Netherlands: IJsselmeer | Elizabeth
Sail & Bike along the coast of the IJsselmeer. Once a salty sea, now the largest sweetwater lake in all of Holland! Discover this unique part of the Netherlands aboard a magnificent and comfortably furnished sailing ship, and while riding excellent cycle paths and tracks. Sailing experience is not necessary. Just a desire to give it a go. Cycling can be done on your own or by joining a tour leader. Whatever you like best.
Up until 1932, the IJsselmeer was an inland sea called the Zuiderzee. Since the Middle Ages, the area played a major role in the economic development of the Netherlands, but was also often severely flooded. A 32 kilometer long dike, finished in 1932, put an end to the flooding and turned the salty sea into a sweetwater lake. Along its banks many picturesque, historical harbour and trading towns, centuries-old polders (fields of reclaimed land below sea level) and beautiful inland villages are still witness to a rich seafaring past. The IJsselmeer's now sweet water is home to a huge diversity of birds, plants and fish.
You will visit many of those historical towns and polders on both the western and eastern banks of the IJsselmeer. The tour also leads you through various Dutch national parks and gets you as far as the province of Overijssel. On the final day the ship sails back to Amsterdam, while you can relax on board. We do stop for a last short bike ride though: through the Oostvaardersplassen—a nature reserve known for its rewilding, meaning that the area is left alone to create its own natural balance of animal and plant life.
Day 1 (Sat): Amsterdam – Monnickendam / Volendam
Your week of sailing and cycling starts in Amsterdam. The crew welcomes you on board around 2 p.m. Once all guests have checked in, the ship sails under motor to Monnickendam or Volendam. From the port of one of these former fishing villages, a short warm-up ride leads you through the rural nature reserve of Waterland with its many villages.
Day 2 (Sun): Monnickendam / Volendam | Volendam – Hoorn (32 km/19 mi. or 51 km/31 mi.)
A very Dutch start of the day: you cycle to a nearby, family-run cheese and clog shop for a short demonstration of cheese and clog making, and of course a cheese tasting. Continue pedaling along the dikes to Purmerend, in the heart of a polder named De Beemster, 11½ feet (3.5 meters) below sea level. It was created more than 400 years ago, when the Dutch transformed an inland lake into pasture land. Divided into a tight geometric pattern of squares and quadrants, it is recognized by UNESCO as "a creative masterpiece".
Your next destination is Edam, a lovely town whose lanes and canals deserve a stroll. Edam is known worldwide for its cheese covered in red or yellow wax. This practical solution keeps the cheese fresh for a long time, so 17th century sailors could take it on their voyages or trade it for spices and other riches of the East. Via the main dike of the IJsselmeer you arrive at the promenade of Volendam, where the ship is docked. Later in the afternoon, the ship sails to Hoorn.
Day 3 (Mon): Hoorn – Enkhuizen | Enkhuizen – Urk (28 km/17 mi. or 39 km/24 mi.)
Through small rural hamlets and villages, today's ride brings you to Enkhuizen. Pass by windmill De Krijgsman (The Warrior), the highest windmill in the province of North-Holland and one of a handful of old Dutch windmills still in use to produce flour commercially. The area is also known for its many greenhouses, where vegetables are grown. In the 17th century, Enkhuizen was one of the wealthiest cities in Holland, thanks to its harbour that shipped then-costly spices from Asia. Be astonished by the stately mansions, canals, churches and city walls that to this day reflect the city's rich history and wealth.
In the afternoon, weather permitting, we sail across the IJsselmeer to the port of Urk. On board, you can help the captain sail the ship if you wish. Or you can simply sit back on deck and enjoy the invigorating journey, while keeping watch for marine bird life. In the evening you may stroll through the narrow streets and alleys of Urk. The houses in this picturesque fishing village were built close to one another on elevated grounds to protect them against the water, and that is still visible today.
Day 4 (Tue): Urk – Vollenhove (37 km/23 mi.)
After breakfast, cycle along the lake on a tarmacked cycle path to the former island of Schokland. Since the reclamation of the Northeast polder (Noordoostpolder) in 1942, Schokland – just as Urk – is no longer an island. Since 1995, it belongs to the cultural heritage of UNESCO. Continue your bike ride through the polder to Vollenhove, another charming, former fishing village.
Day 5 (Wed): Vollenhove – Giethoorn (37 km/22 mi. or 49 km/30 mi.)
From Vollenhove, cycle paths through open countryside lead you to the small town of Blokzijl. This is where you enter the Weerribben-Wieden National Park, the largest freshwater wetland in northwestern Europe and a peaceful oasis for plants, animals and humans.
A bicycle path through the center of the park takes you far away from roads, immersing you in the tranquility of this region. Keep your eyes peeled for a fleeting kingfisher or—if you're really lucky—an otter, the symbol of the park. You pass through Kalenberg, a village that till the fifties of the last century could be reached by boat only.
A twisting route through an agricultural landscape of narrow strip fields surrounded by dikes takes you to the lovely town of Giethoorn, known as "small Venice of the North".
Day 6 (Thu): Giethoorn – Lelystad
Today you can enjoy a full day of sailing and relaxing on board. Again, you can help the captain sail the ship if you wish. Or you can simply sit back on deck and relax. Early afternoon the Elizabeth will arrive in Lelystad, capital of the province of Flevoland that was entirely reclaimed from the sea.
Here you can stretch your legs and visit the Batavia Werf, an extraordinary shipyard, where ships with an important maritime history are taken from oblivion and returned to their former glory. Or go shopping at Batavia Stad, an outlet center with all the famous brands.
Day 7 (Fri): Lelystad – Blocq van Kuffeler | Blocq van Kuffeler – Amsterdam (20 km/12 mi. or 29 km/18 mi.)
In the morning you'll disembark for your last half day of cycling. You'll ride through the Oostvaardersplassen—a nature reserve on new land, left to find its own balance like nature did in old times on old land. Sections of the ride wind through forested areas, while others give you panoramic views of expansive reed beds and marshes. This is a birdwatchers' paradise.
The ship picks you up in the small harbor of Oostvaardersdiep for the return voyage to Amsterdam. Celebrate this marvelous week around the IJsselmeer while having a farewell dinner aboard the ship.
Day 8 (Sat): Amsterdam
Your tour ends today with a nice breakfast. Disembarkation afterwards until 9.30 a.m.
Good to know

The daily bike tours are individual, conducted at your own pace and without a tour leader. There are daily briefings on board and detailed bicycle maps and route notes are available. GPS tracks will be sent to you 4 weeks before the start date of the tour.
During the days when 2 bicycle options are possible, you can make a choice for the longer or the shorter option.
Not all mentioned highlights will be visited during the short bike option.
In case you prefer a day of rest, you can skip the bike tour and relax on board while cruising to the next town.
On the arrival day is it possible to bring your luggage on board from 11 a.m.
Important observations for the Sail & Bike program: A Sail & Bike tour is like a little bit of adventure: the only thing which is really fixed on this cruise is the departure and arrival harbor Amsterdam. The sailing routes to be taken depend largely on the weather and the wind. The captain will determine from day to day the exact sailing schedule and discuss the possibilities with the guests. The captain and his crew will do everything they can to offer you the program as planned so you can enjoy a fascinating week with a variety of activities, nature and culture, but it is possible that the departure and sailing times and/or the order of the program has to be changed. Enjoy and relax: the elements will lead you! Various parts of the tour will be sailed.
Included in this tour
8 days/7 nights
7 x breakfast
Packed lunches
7 x 3-course dinner
Coffee and tea on board till 4 PM
Welcome drink
Use of bed linen and towels
Cleaning of the cabin once a week
Daily briefings by the crew
Maps and notes for cycling tours (1 set per cabin)
GPS tracks
Use of a waterproof pannier bag
Wi-Fi
Excluded in this tour
Transfers to/from the docking place in Amsterdam
Other transfers
Rental of bike or E-Bike
Rental bike helmet
Parking fees
Entrance fees & excursions
Fees for ferries
Drinks on board
Personal (travel) insurances
Gratuities (at your discretion)
2023:
Rental bicycle: € 90 per week
Rental E-Bike: € 195 per week (only on request, limited number available)
Helmets: A helmet can be rented for € 10 per week, only on prior reservation and payment.
Limitation of liability (damage) rental bicycle €10/week (only bookable in advance)
Limitation of liability (damage) rental e-bike €25/week (only bookable in advance)
Parking own bicycle: € 10 per week (only a limited number of parking places available: pref. reservation by booking)
Parking own E-Bike: € 25 per week (only a limited number of parking places available: pref. reservation by booking)
Canal cruise Amsterdam: Ticket for a 1-hour canal cruise through Amsterdam – special price for our guests: € 15 (at the ticket desk approx.: € 20). Please book your ticket in advance and you can collect it on board of your ship on the first day of the tour.
PRICE REDUCTION FOR CHILDREN We will be offering a reduced rate for children on the Sail & Bike IJsselmeer tour with the Elizabeth in 2023: 15% reduction for kids up to incl. 15 yrs old, only applicable when staying in the cabin with 2 adults ( triple or quadruple cabin)

| Cabins 2023 Prices p.p. | June - Sept 2 | Sept 9 |
| --- | --- | --- |
| Twin cabin | € 1149 | € 999 |
| Twin cabin single use | € 1723.50 | € 1498.50 |
| Triple cabin | € 1099 | € 949 |
| Quadruple cabin | € 1049 | € 899 |