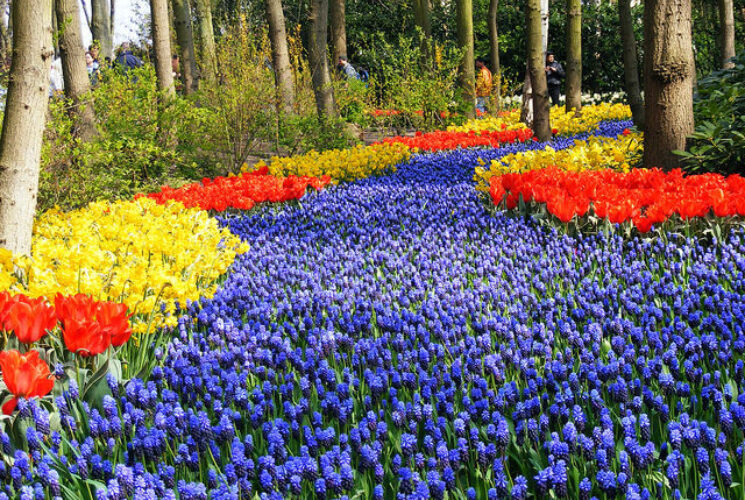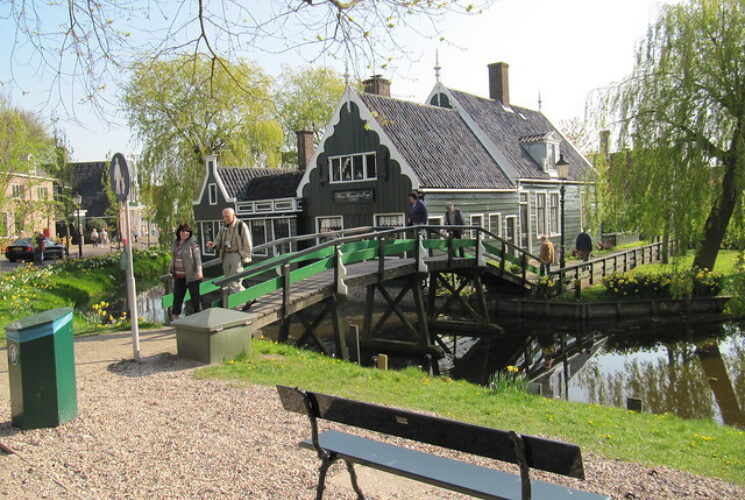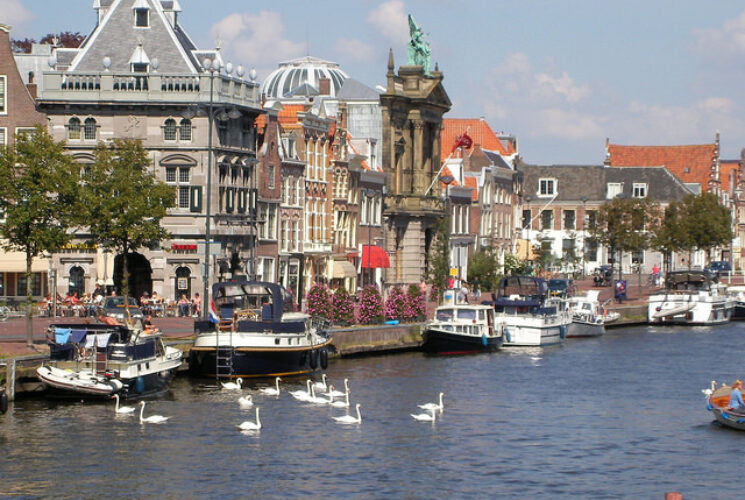 Sail & Bike Tulip Tour
Enjoy Holland in the springtime in an unforgettable way, exploring enchanting Dutch landscapes by wheels and water during our Tulip Sail & Bike tour.
Smell the tulips when cycling through the countryside, feel freedom in the breeze while sailing across the Wadden Sea and Lake IJsselmeer, and enjoy comfort and camaraderie on one of the beautiful sailing ships the Leafde fan Fryslân, the Mare fan Fryslân or the Wapen fan Fryslân.
Best tulip areas of the Netherlands During this fascinating Sail & Bike trip, you will discover the best tulip areas that the Netherlands has to offer. Not only will you visit the famous Keukenhof gardens, known for its hundreds of thousands of blooming tulips, hyacinths, daffodils, and other bulb flowers. You will also bike through less famous, but equally gorgeous areas where tulips bloom in the spring months. A visit to the Hortus Bulborum is also on the program, giving you the chance to ramble through this unique garden museum, dedicated to the preservation of rare and historic bulbs.
Polder landscapes But it is not only about tulips; during your week-long Sail & Bike tour, you will spend plenty of time in the historical cities of Alkmaar and Enkhuizen — gems hidden from mass tourism. You will discover typical Dutch cultural highlights and cycle through pleasant, flat polders, the result of centuries of extensive land reclamation from the North Sea and the former Southern Sea (now IJsselmeer). The region you will cycle through has undergone such extensive impoldering, that you will soon realize the truth behind the proverb, "God created the earth, but the Dutch made Holland".
Highlights of this tulip tour Given the Dutch love for cycling, the region is crisscrossed with many quiet cycle tracks that stretch from one end of the region to the other. You will be amazed by the beauty and expanse of the North Sea beaches, the extremely bicycle-friendly island of Texel, the splendid flat landscapes, small dreamlike farm villages, and romantic, picturesque harbor towns. And all of this completed with the occasional fields full of beautiful flowers.
Lend a hand or relax on board You will also sail across the large lake IJsselmeer to Enkhuizen and Hoorn. If you like, you may — instructed by the experienced crew — lend a hand during navigating and hoisting the sails. Sailing experience is not necessary. Of course you are also very welcome to just relax and enjoy the sailing and scenery.
Included: Full day bus excursion to the famous Keukenhof gardens.
Day to day program Zaanse Schans - Amsterdam
Day 1: Zaanse Schans
You are welcome to check in between 1 p.m. and 2 p.m., where your crew will welcomeYou welcomeyou with coffee and tea. The ship is docked next to the Zaanse Schans, a unique hamletyou hamletwhere people live and work alongside original houses and windmills built next to thewhere theriver Zaan. This tiny village is dominated by its operating windmills — the oldest ofriver ofwhich was built in 1673 — and these were used for grinding mustard seeds, spices, andwhich andpaint components; extracting plant oil; and for sawing wood into planks.paint
Late afternoon, you will have the option to take a little test ride.
Day 2: Zaanse Schans – Alkmaar (42 km/27 mi.)
Your first cycling tour brings you to Limmen and Egmond-Binnen, and andhere you have the chance to bike through colorful tulip fields. Nearby, you will visit thehere theHortus Bulborum, a unique garden museum dedicated to the preservation of rare andHortus andhistoric bulbs. More than 4,000 tulips, daffodils, hyacinths, and other special flowers arehistoric areplanted here. Your cycling tour continues to Egmond at the North Sea, once moreplanted morepassing through the tulip fields. Your ship will be waiting for you near the historical citypassing citycenter of Alkmaar. This town is well known as a Dutch cheese city. As you wandercenter wanderthrough the streets, you'll be amazed by the beauty of Alkmaar's old town, with its well-through preserved 17th-century buildings and narrow, winding canals.
Day 3: Alkmaar – Den Helder (30 km/19 mi. or 50 km/31 mi.)
Today you can take a bike tour north of Alkmaar where you will find the most beautifulToday beautifultulip fields on your way to the North Sea. The sandy beach here is one of the mosttulip mostwonderful to walk along in the entire Netherlands, the perfect spot for feeling the windwonderful windin your hair or simply enjoying the view. Close by — and certainly worth a visit — is thein theartist's village of Bergen. Then you will bike on through the North-Holland Dune reserveartist's reserveto Den Helder: this piece of land wedged between the North Sea and the IJsselmeerto IJsselmeerboasts the world's single biggest flowering bulb field. In one word: spectacular!
Day 4: Den Helder – Oudeschild | Wadden island of Texel: round trip (43(43km/29 mi. to 48 km/26 mi.)km/
During breakfast the ship will sail to the island of Texel, the largest of the Dutch WaddenDuring WaddenIsles. Today you can choose to cycle a shorter route or to take a longer tour around theIsles. theisland. You will cycle through delightful natural parks, and even on Texel you will bikeisland. bikethrough fields of blooming flowers! The signposts lead you through picturesque villagesthrough villagesand landscapes, and even to the Ecomare seal sanctuary. At the end of your cycling tour,and you can enjoy a locally-brewed, well-deserved beer during a visit to the small brewery near Oudeschild.
Day 5: Oudeschild – Enkhuizen | Sailing dayDay day
Today your ship will set sail to Enkhuizen. You may lend a hand during navigation and hoisting the sails. Previous sailing experience is not at all necessary. Of course, you are also very welcome to just relax and enjoy the sailing and scenery as you progress along the IJsselmeer. While sailing you will enjoy an extensive lunch on board. In the afternoon, the ship will arrive in Enkhuizen, an old city with many centuries of maritime tradition. You can spend some time exploring here; "the herring city" boasts a beautiful old harbor and an old town full of history. No dinner will be served tonight, to enable you to explore the city. You can make yourself a picnic meal or try one of the nice restaurants of Enkhuizen.
Day 6: Enkhuizen – Hoorn | Hoorn – Volendam (28 km/20 mi.)
In the morning you will join the ship along the Ijsselmeer to the former Dutch East India Company town of Hoorn, which was, in the 17th century, one of the world's foremost harbors. Your afternoon ride goes to Volendam, a small and picturesque fishing harbor on the shores of Lake IJsselmeer. Along the way, you will pass Edam, which is known for its famous Edam cheese, covered in red or yellow wax. While this adorable village is now renowned for cheese, it was once an industrious shipyard and port. That's why, in the 17th century, the town's specialty became one of the most popular cheeses in the world. Sailors took wheels of Edam on their voyages – the cheese doesn't spoil easily and could be traded for spices and other riches of the East.
Day 7: Volendam – Keukenhof – Amsterdam | Full day bus excursion
Today a beautiful bus ride leads you through the oldest tulip fields of Holland to the famous Keukenhof Gardens. You will have plenty of time to discover the most beautiful bulb park in the world — Keukenhof is the place where spring springs. It features an overwhelming blaze of colors: seven million flowering tulips in a magnificent 80-acre setting of traditional and modern gardening architecture. You also can admire various hyacinths, daffodils, and many other vibrant flowers. In the afternoon the bus will bring you back to Amsterdam to spend a restful night here in your floating hotel.
Day 8: Amsterdam
End of your tour: after breakfast, you can disembark until 9.30 a.m.
Good to know
Cycling route distances in the travel program are approximate.
On some days you can choose between a longer and a shorter cycling route. Please note that on the shorter routes you may not be able to visit all the highlights mentioned.
If you prefer not to cycle on a particular day, you're welcome to stay on board and relax while the ship cruises to the next landing place.
The tour itinerary and route are subject to possible changes due to nautical, technical or meteorological reasons, or other unforeseen events.
On the arrival day, you can leave your luggage on board the ship from 11.00 am.
Detailed cycling maps, route tips and a GPS app are available for guests who wish to cycle individually and at their own pace. The tour guide is always available via cell phone in case of questions, breakdowns or emergencies.
ABOUT THE SAIL & BIKE TOUR: A little bit of adventure is part of every Sail & Bike tour. As for the rest, the planned daily sailing routes partially depend on the strength and direction of the winds. The skipper decides day by day on the best route and discusses the options with his guests. The crew does whatever it can to run the program according to plan and to offer you a fascinating, varied and active week, in which nature and culture play a major part. It is however possible that departure times and the time spent on the water – and even the order of the program itself – have to be adjusted. So, enjoy the ride and let yourself be led by the elements!
Whenever possible, various passages will be undertaken fully rigged. Anyone who likes to help the crew sail and steer the boat is welcome to do so. Of course this is absolutely up to you. Sailing experience is not necessary.
Included
8 days / 7 nights
7 x breakfast
5 x packed lunches & 1 x 3-course lunch on board
6 x 3-course dinner on board & 1 x packed dinner
Coffee and tea on board till 4 p.m.
Welcome drink
Use of bed linen and towels
Daily cleaning of the cabin
Daily briefings
Fully guided cycling tours
Some short walking tours
Full day bus excursion including Keukenhof Gardens
Maps and notes for cycling tours (1 set per cabin)
GPS tracks
Use of a waterproof pannier bag
Wi-Fi
Excluded in this tour
Drinks
Coffee and tea on board after 4 p.m.
Bicycle rental or e-bike rental
Helmet rental
Personal insurances
Gratuities (at your discretion)
Entrance fees and excursions
Fees for ferries
Transfers to/from the docking place
Parking fees
Additional options & information - 2023
Rental bicycle : €90 per week (optional)
Rental E-Bike : €195 per week (only a limited number of electrical bikes available: pref. reservation by booking)
Helmets: A helmet can be rented for €10 per week, only on prior reservation and payment
Limitation of liability (damage) rental bicycle €10/week
Limitation of liability (damage) rental e-bike €25/week
Parking own bicycle: €10 per week (only a limited number of parking places available: pref. reservation by booking)
Parking + charge station own E-Bike: €25 per week (only a limited number of parking places available: pref. reservation by booking)
Parking in Amsterdam (valet parking): prices and pre-booking on request.
Travel during corona time
On our tours we make sure that you can travel safely! We follow all possible safety measures on board by observing hygiene rules, equipping staff with face masks and with extra cleaning and sufficient ventilation. All guests, crew and tour leaders complete a health declaration in advance, and during the trip we take care that everyone stays healthy!
| Prices p.p. 2023 | Apr 1 - 9 | Apr 15 - 30 |
| --- | --- | --- |
| Twin cabin | € 1.089,- | € 1.159,- |
| Twin cabin single use | € 1.633,50 | 1738.50 |
| bike rent | € 95,- | |
| E-bike rent | € 195,- | |
| Helmets | € 10,- | |